What Knee Brace is Right for Me?
There's no doubt that knee braces are helpful to manage knee injuries or prevention. But choosing which one is right for your needs can be a bit overwhelming. From hinged and immobilization to compression and prevention, we break down everything you need to know to help you find the right knee brace for you.
Types of Knee Braces
From ACL to LCL instabilities to patella and arthritis pain, there are a number of knee injuries that can sideline your training and daily activities. However, there are a variety of braces to choose from that can help you recover quickly and prevent re-injury to the knee, whether it be for sports, daily functions, pain reduction or post-surgery.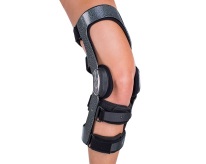 Hinged
A hinged brace is ideal for athletes who need protection and stabilization post-surgery, ACL, MCL or PCL injuries. A bad twist, poor knee to ankle alignment, or wrong way to land are common ways athletes sustain ligament injuries. A hinged brace offers protection to the athlete's knee, delivering support and stability to heal quickly. Hinges can prevent hyperextension of the knee and offers protection of the ACL, and other ligament injuries, to athletes who don't want to lose speed by weighing themselves down with a heavy brace.
Hinged knee braces come in two forms: rigid and soft hinged. Soft hinged knee braces are ideal for mild to moderate support whereas rigid hinged knee braces are ideal for moderate to maximum support and offer better protection and stability for contact-sports.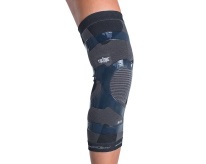 Compression/Sleeves
For mild to moderate chronic knee pain and arthritis can be minimized with sleeves and compression braces. These support braces redistribute the weight-bearing load and increases the ability to perform your best during training and sports, helping decrease pain from day-to-day movement, which is no small feat. Can fit under clothing for daily comfort.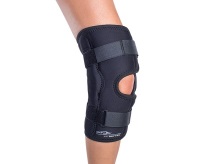 Wraparounds
Wraparound styles for athletes provide bracing solutions for mild to moderate knee pain, patellar instabilities and dislocation. Simple and easy to put on and off, allow you to customize the fit for comfort and knee protection. Wrap-style bracing can be worn during activity allowing you to focus on your performance without all the bulk.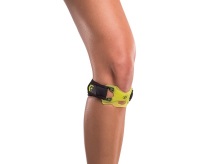 Bands/Straps
Help ease runner's knee pain, patellar tendonitis (jumper's knee) or acute knee pain with strap and band bracing. These are designed to apply a comfortable, effective pressure on the knee to help alleviate pain. Simple to wear (fits under clothing), and easy to put on, straps can be worn during daily activities and sports.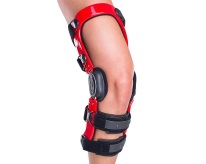 Custom Knee Braces
Custom knee braces are ideal for those looking for a knee brace. Measurements of your knee will be taken and a custom brace will be created for you. We offer custom knee braces available for contact and non-contact sports.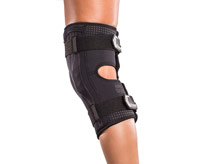 Open vs. Closed Popliteal
The popliteal is located on the back on the knee brace. An open popliteal has a small opening behind the knee which can help keep the body cool when moving. The closed popliteal means there is no opening on the back of the knee. The closed popliteal can help keep the leg warm when moving in cooler temps.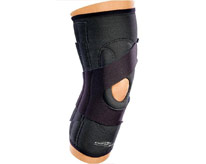 Open vs. Closed Patella
You may see some knee braces with an opening at the knee cap while others are covered. The braces with an open patella help relieve knee pressure and support the knee cap with tracking assistance. A closed patella brace can help offer compression and knee support. If unsure, you can contact our customer support team for assistance, or speak with your doctor on the better option for your needs.
Top
---
Why and How Do Knee Braces Work for Knee Pain, Injury and Instability?
Whether it's a knee sprain, arthritis, torn ACL, runner's knee, knee instabilities or knee discomfort, knee braces help support and manage pain. Depending on the injury will determine how the brace will work. But most braces support the knee and help keep it aligned.
"There are a variety of knee braces out on the market today that are specifically designed to provide relief and support for specific conditions," says Anna Muñoz, M.Ed., ATC, DonJoy Performance® and DonJoy Advantage® Product Manager. "Knee braces have a variety of features and benefits depending on the condition, you may see a buttress for patella support/tracking, a metal hinge for ligament stability, or compression sleeves for swelling. These design features are incorporated into the brace design to help specifically provide relief and support for the Consumer's condition."
When should you start wearing a knee brace?
In general, you can wear a knee brace once you start to experience knee pain or want to prevent a previous knee injury. A knee support can be worn during rehabilitation period like post ACL surgery. It's best to consult with your primary caregiver about when to wear a knee brace.
Top
---
Top 3 Knee Injuries
The knee joint is complex and made of many muscles and ligaments, which can make it vulnerable to an array of injuries. These knee problems can happen to anyone at any age during any activity. From participating in activity to getting up from the couch or walking, knee injuries can have a big impact on your day-to-day. While wear and tear to the knee happens over time, ligament damage tends to occur from a sudden twist or reactive movement-especially in sports.1 Here are three common knee injuries and which knee braces can help manage symptoms.
Meniscus
The meniscus2 is piece of cartilage that acts like a pad between your femur or thigh bone and tibia or shin bone. A wrong twist can easily injury the C-shape cartilage which can be a partial or total tear. If you experience a small meniscus tear, then the meniscus stays connected to the front and back of the knee. If you have a total tear, then the meniscus may be left hanging by a thread of cartilage. Depending on the size of the tear and location will determine the seriousness of it.
Braces that can help manage a meniscus tear:
DonJoy

Regular Price: $133.36

Special Price $100.00
ACL (Anterior Cruciate Ligament) Injury
An ACL tear or sprain is most common during sports that involve sudden stops or change in direction, jumping and landing (such as soccer, basketball, football or downhill skiing). Many athletes hear or feel a "pop" in the knee when an ACL injury occurs. Your knee may swell, feel unstable and become too painful to bear weight.3
Braces that can help manage an ACL injury:
Hyperextended Knee
A hyperextended knee occurs when your knee is pushed past its normal range of motion from a straightened position bending too far back in the wrong direction. While mild knee hyperextension may feel sore and uncomfortable-and can take 2 to 4 weeks to heal-serious knee hyperextension can cause damage to the anterior cruciate ligament (ACL) or posterior cruciate ligament (PCL) and cartilage injuries in the knee, which may require surgery.4
Braces that can help manage hyperextended knee:
DonJoy Performance

Regular Price: $105.99

Special Price $88.39

DonJoy Performance

Regular Price: $70.99

Special Price $55.24

DonJoy

Regular Price: $133.36

Special Price $100.00
Consult your physician if you have experienced any of the above knee injuries. Your doctor will be able to advise you on the best treatment, benefits of using a knee brace, and may prescribe physical therapy exercises to help you recover.
Top
---
Proper Knee Brace Fit
Knee braces provide support, stability and more depending on the type of brace. To ensure that you get the benefits of a knee brace, it's important to have the right fit. Most knee braces will require you to measure three areas: One at knee center, one at the thigh and the other at the calf (6 inches above and below the kneecap). Some supports only require the circumference of the kneecap. We provide sizing guidance, so take a look at the size charts and measuring instructions to get the appropriate size.
When wearing, you'll want the brace to feel snug, but not so tight that it constricts movement or cuts off circulation. If it feels too tight, you may want to consider a different size. You can consult our bracing experts for additional help.
Top
---
Our Top 10 Best-Selling Knee Braces in 2019
Struggling with knee pain? Whether it's knee instabilities, a ligament injury or runner's knee, here are our top 10 best-selling knee braces in 2019 that can help you manage knee pain symptoms and help prevent re-injury.
Suffering from anterior pain? The DonJoy® Reaction WEB is one of our top solutions to help manage anterior pain. The innovative brace design helps shift weight away from painful areas in the knee. It's shock-absorbing, flexible and breathable, which is why this brace is one of the best for runner's knee, jumper's knee, meniscus tear or instability issues.
Top
---
With bilateral hinges for moderate level of support, the DonJoy® Deluxe Hinged Knee brace is best to help active individuals manage ligament instabilities, meniscus injuries, knee sprains, or arthritis.
Top
---
DonJoy

Regular Price: $196.99

Special Price $157.59
Ideally suited for runners, weekend warriors or those who need extra support during daily activities, the DonJoy® Tru-Pull Lite provides mild to moderate support for those suffering with patella instabilities, knee dislocations, or knee tracking issues. The Tru-Pull Lite is one of our best knee braces to help reduce pain when it comes to patellofemoral problems.
Top
---

One of our top patella stabilizing knee braces, the DonJoy® Lateral J Patella has a lateral "J" buttress that runs alongside the knee to provide support against the patellar subluxation. You can wear this brace for daily support, during activity, and water sports.
Top
---
Working best for MCL and LCL support, the DonJoy Performance® Bionic™ Knee can help athletes manage hyperextension and meniscus injuries too. The soft hinges help prevent hyperextension and support knee instabilities.
Top
---
Dealing with ACL recovery? The DonJoy Performance® Bionic™ FULLSTOP can help you perform your best with high-quality protection. The Bionic™ FULLSTOP delivers maximum ACL support, has hinges to prevent hyperextension, and can help improve joint mechanics in both surgical and non-surgical knees.
Top
---
When knee pain dampers your performance, it can be address in many ways. The DonJoy Performance® Trizone® Knee Brace combines three essential components of support: compression, cooling, and comfort to help maximize knee pain relief.
Top
---
DonJoy Performance

Regular Price: $105.99

Special Price $88.39
Working best to help manage medial/lateral ligament protection, knee instabilities, sprains and strains, hyperextension, meniscus injuries, and arthritis, the DonJoy Performance® Bionic™ Drytex™ aids in knee stabilization so you can move comfortably throughout the day and during activity.
Top
---

A hybrid design, the DonJoy® Trizone® Knee Sleeve combines three zones of compression around the knee joint and bracing in a single sleeve. The Trizone® Knee Sleeve is a low-profile performance product that will help you move in comfort and support.
Top
---
An innovative knee strap that combines compression and silicone web, the DonJoy Performance® Webtech™ knee strap distributes pain-relieving pressure on the Petellar Tendon. The Webtech™ Knee Strap is one of our best tools for overcoming runner's knee.
Note: Top braces are based on our top-selling knee braces
Top
---
Need More Help?
Our bracing experts will help you identify the best brace from our bracing collection, whether you need support for preventative care, daily use or sports. Shop our Knee Braces or check out our Brace Advisor for a shopping guide.
Top
---
Sources