The Aircast Air-Stirrup for Ankle Sprains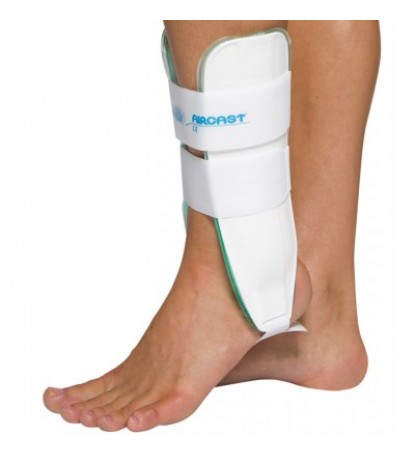 For over 30 years, Aircast has been providing ankle braces to help patients.
A major reason for Aircast's success is because of the Aircast Air-Stirrup Ankle Brace. It's even been cited in over 100 medical journals for its exemplary performance in ankle rehabilitation. Part of what makes the Aircast Air-Stirrup such a great instrument in healing ankle sprains is that it allows patients to walk around and use their ankles while they recover from their injury. This type of "active" healing is called functional management, which is known for helping ankle injuries heal faster than resting or staying off the ankle. That's why having an ankle brace such as the Aircast Air-Stirrup is so important.
The Aircast Air-Stirrup Ankle Brace has rigid outer shells that help stabilize the ankle to prevent it from rolling over unexpectedly as you walk around. It also fits comfortably in normal walking shoes so you can resume regular movement. Most importantly, the Aircast Air-Stirrup comes with inflated aircells that gently apply pressure to massage your ankle as you move around – helping reduce swelling and improve blood flow to encourage healing.
Check out the Aircast Air-Stirrup Ankle Brace today to have the best in ankle injury recovery!