You're currently on: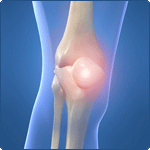 Knee Hyperextension
As its name suggests, knee hyperextension occurs when your knee is pushed past its normal range of motion from straightened position. Basically, it is bent back too far in the wrong direction. A hyperextended knee can often cause ligament damage and cartilage injuries in the knee.
Causes of a Hyperextended Knee

Hyperextension typically occurs when the knee absorbs strong, sudden force while the leg is straightened. This can happen during activities such as basketball (sports that involve a lot of jumping and changes in direction at high speeds) and gymnastics (sports that involve a great deal of flexibility), or during an event such as a car accident or falling while the foot is caught.

Symptoms of a Hyperextended Knee

The most obvious symptom of knee hyperextension is pain behind the knee or on the sides. Patients will often hear or feel a pop at the time of injury. Swelling will usually start shortly after the time of injury, and the patient may have trouble walking or continuing activity due to pain and/or instability.

How to Treat Knee Hyperextension

A visit to the doctor to ensure that the ligaments and cartilage in your knee are intact is usually recommended. As with any injury, your doctor will be the best source of advice on the appropriate treatment method for your situation. For minor knee hyperextension, typically rest, ice, and elevation for 2-4 weeks will allow the knee enough time to heal. For more severe injuries which may include ligament or cartilage tears, surgery may be required. In these cases, it typically it takes 6 to 9 months after surgery before return to full activity.

A knee brace can help support a hyperextended knee during recovery and prevent re-injury. Our brace coaches recommend the

DonJoy FullForce Ligament Knee Brace

and the

DonJoy Drytex Playmaker Knee Brace

. These knee braces provide stability when moving and help absorb forces during sports and physical activity.

Weak surrounding leg muscles can place you at higher risk for knee hyperextension. A physical therapist may suggest different strengthening and stretching exercises to help build up the muscles around the knee.