You're currently on:
Health & Beauty > Health Care > Supports & Braces
11-0386-X-06060
in_stock
34.99
Product Description

Product Reviews
Ideal Application:
The Wrist Wraps Support is ideal when limitation of range is needed in one direction only, such as extension, flexion, ulnar or radial deviation. It is also ideal for sports-related and job-related injuries allowing freedom of the hand from splinting. Can be used in football (linemen) for prophylactic use as well as jobs requiring repetitive hand/wrist movement.
Features & Benefits:
Neoprene inner lining for comfort
Interchangeable foam inserts for variable support
Woven nylon outer shell for durability
Opposing straps limit rotation of brace
Measurement:
| | |
| --- | --- |
| Size | |
| S | 5-6" ( 12.75-15.25 cm) |
| M | 6-7" (15.25-17.75 cm) |
| L | 7-8" (17.75 cm - 20.25 cm) |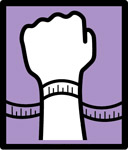 5
1
DonJoy Wrist Wraps - Wrist Brace reviews
Hosea
I ordered some of these last year for my junior year in high school football down in Miami. The rating for this is product is a 10 off the rip. This product is wonderful man! I haven't had a wrist injury since. I love these wrist wraps. I'm going to buy some more before the season kicks off. Thanks betterbraces.!!!! -
Hosea
Questions on DonJoy Wrist Wraps - Wrist Brace
Sort by
From Luis at

5/26/2015 7:34 AM

Does this brace provide support for swimmers with scafo-lunate instability?
Luis
This brace can be used for this type of injury. The wrap will give compression and support to the wrist but still allow some movement

From Murphy at

4/27/2015 7:36 AM

I am a server and having difficulties - both wrist are weak and the one actually has torn ligaments. Was hoping to find a supportive brace to assist in carrying trays. Would this brace be suitable? What would you recommend? (other than new job:)
Murphy
Yes I would suggest the wrist wraps for your issue

From Marian at

4/18/2015 6:34 PM

Will this brace be suitable for a tennis player who has stress on the right side of the right wrist?
Marian
The wrist wraps will give you compression and support of the wrist while playing tennis and still allow full use of the hand

From Lance at

1/28/2015 2:52 PM

From Andrew at

1/12/2015 10:38 AM

How will the wrap fit while wearing a football glove? (Offensive Line) And can I use these wraps as replacements for wrist tape?
The wrap will have to go on over the glove

From Debbie at

1/3/2015 8:46 AM

I have RA in both wrists, and would like to continue the practice of yoga. Would these wraps be suitable for use/support?
Debbie
The wrist wraps will provide mile support to the wrist but still allow motion, so if you would like to use them for Yoga, they should allow you to still move

From Conner at

11/15/2014 11:41 AM

Would this be an ideal brace for swimmers -- trying to prevent backward bending similar to the way a wrist is bent during a regular push-up? Also, chlorine damage is a concern. Thank you. :)
Conner
Yes you can wear these braces for swimming to help prevent too much wrist extension. Make sure to rinse the braces with tap water after getting out of the pool and let the braces air dry.

From Spencer at

10/20/2014 5:13 PM

Is it just one brace? Or are they sold in pairs?
The brace is sold as one brace

From Scott at

9/6/2014 8:02 AM

Should I size up if I'm planning on wearing these with football gloves?
Only if your measurment is at the end of the sizing chart, to where a few cm will take you to the next size.

From Cameron at

8/7/2014 8:17 AM

When you receive these after ordering them, will they say: Wraps by Donjoy on them? Also, will you be able to see the blue? I noticed NFL players such as Andre Williams and Luke Kuechly wearing these and they look totally different.
The wrist wraps look exactly like the picture on the website. The reason they look different on Pro FB players is that they cover up the logos for advertising purposes and they use a sharpie to cover the blue

From Andre at

6/5/2014 6:10 AM

When you buy this, do you get one or two wrist wraps? So when you pay the $34.99 do you get one wrap or do you receive two for both wrist?
Andre
When you buy this product you get one wrist brace

From Melanie at

5/2/2014 5:57 PM

From isaac at

4/15/2014 12:25 PM

I have a old tfcc injury in my right wrist would this wrist wrap work or are the cxt a must?
Isaac
These braces should be fine for you old injury, there is not need to go to a CXT

From Andy at

3/18/2014 12:41 PM

Do you measure the circumference of your wrist for the sizing?
Thank you for your question. Yes this measurement is a circumference of your wrist.

From Thomas at

1/29/2014 11:27 PM

Are these the same kind of wrist brace that NFL line backer Luke keuchly wears?
Thomas
Yes Luke wears those wrist braces

From Lafreceia at

10/10/2013 8:05 PM

My son is a stud running back for our school.. He has beening dealing with some pain in his wrist for about 2 yrs.He fell on it doing a game and hurt it.He went to the Dr. They did X-rays and MRI and found out he had a old break in his wrist..they are going to fix it after football season. The Dr said he can play he just have to wrap his wrist really good!! I want to know do y'all have a brace that will help give him a little support if he falls or tackle someone? I need a good wrist brace.
Lafrecia
Thank you for contacting product support. Take a look at the DonJoy CXT & SXT Functional Wrist Brace: http://www.betterbraces.com/all-sport-dynamics-imcs-wrist-sport
This brace has maximal support for the wrist and can be engineered to limit wrist extension if need be. It has an open palm so he will still be able to grip the ball. This brace was designed for athletes in mind. Hope this helps

From Rebecca Lauriault at

9/23/2013 4:29 PM

I have carpal tunnel. Is this brace going to protect my wrist the same way that a brace designated for carpal tunnel will. I need something that will impede my wrist from moving at all in the water.
Rebecca,
This brace does not offer the ridged support. It will give you some compression and mild support to your wrist. If you are interested in one of our carpel tunnel braces keep in mind, of our braces are designed to be worn in the water (pool, beach, lake). We suggest hand washing them after each use with light soap and water along with air drying. If you have any further questions please feel free to call us 800.553.6019
Thank you.

From kara at

4/3/2013 7:55 PM

Is there anything at all touching or wrapping around the thumb?? this is what I need. nothing at the thumb but more than just a tensor around my wrist. in my job it is unsafe for anything to be obstructing the thumb.
Hello, Kara -

No, there is nothing that is obstructing the thumb with the DonJoy Wrist Wraps Wrist Brace.

Thank you and have a wonderful day!

From Steve at

12/12/2012 2:18 PM

I'm looking for a wrist wrap that I can use for Olympic Weightlifting. When holding a wide grip heavy weight over head (lift is called the snatch) I need to prevent ulnar deviation. I know the description for this wrap specifically mentions this, but the picture on the site doesn't seem like it could possibly work.

In my mind I need something that does not interfere with the palm of my hand so that I can grip the bar, but I also need some sort of splint like object that supports the side of my hand up to the knuckle of my pinky finger.

Am I just not understanding from the picture how this wrist wrap could prevent ulnar deviation?
Hello, Steve -

The foam inserts which provide the support are interchangeable depending on what areas you would need the support. The picture does not depict all of the variable positions that the brace's supports can be worn. As far as supporting the entire length of the hand up to the pinky, the length of the brace does not extend that far up the hand through the base of the fingers - the design is intended for wrist support, not finger/hand.

If you have further questions, please feel free to contact our product specialists at 888-405-3251.

Thank you and have a great day!

From Mike at

8/20/2012 5:24 PM

Is the wrist brace interchangeable for the left and right wrist? I need braces for each wrist and I want to make sure I get a proper brace for each wrist.
Yes, it fits on either wrist.

From Marc E at

2/26/2011 8:35 AM

Do you sell a non-leather wrist guard for a gymnist?
DonJoy does carry the Wrist Wraps, that are ideal for football, gymnastics and diving. These braces have a Neoprene liner and a Nylon outer shell material. There is no leather on this brace.

From benm861 at

2/12/2011 3:02 PM

Are these braces suitable for use in the sport of diving?
Yes, the Wrist Wraps Support is ideal when limitation of range is needed in one direction only, such as extension, flexion, ulnar or radial deviation.

You'll need to rinse the brace off with fresh water after immersion.
Ask Your Own Question
You'll receive your answer via email either the same or next business day