You're currently on:
Health & Beauty > Health Care > Supports & Braces
11-0445-X
in_stock
114.99
Product Description

Product Reviews
UltraSling IV provides a 3-point advantage
UltraSling IV leads the way in comfort and convenience. The three-point strapping system is easy to put on, while its unique design eliminates pressure on the neck, leading to increased patient comfort and compliance. The soft, breathable inner lining with mesh laminate helps improve ventilation. And, a new, contoured cushion provides the needed abduction while relieving pressure on the ulnar nerve.
Features & Benefits
3-point strapping system evenly distributes weight and takes pressure off the neck
Soft padded, customizable straps provide maximum comfort
New contoured cushion design eliminates pressure on the ulnar nerve and provides comfortable 15 degrees of abduction<./li>
Larger vents promote proper airflow
Soft liner wicks away moisture and helps increase ventilation
Color coded stress ball and label by size for quick identification and accurate dispensing
Sized, universal sling design converts from right to left
Ideal for post-operative treatment following:
Rotator Cuff repairs
Bankart procedures
Capsular shifts
Glenohumeral dislocation/subluxation
Soft tissue repairs/strains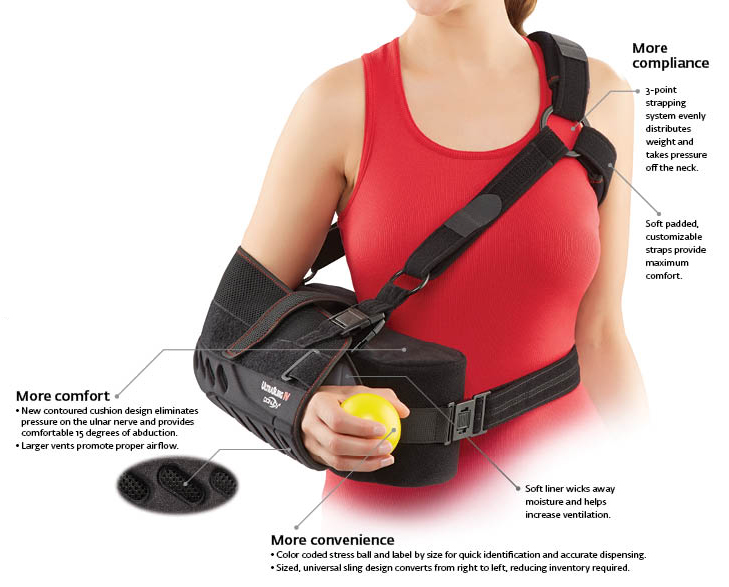 Sizes: Measure elbow crease to base of the index finger for correct size.

| | |
| --- | --- |
| Size | |
| S | Up to 11" (31.5 cm) |
| M | 11" to 13 1/2" (31.5-39.5 cm) |
| L | 13" to 15&quot (39.5 cm+) |
| XL | 15" and up; (31.5-39.5 cm) |
4
2
DonJoy UltraSling IV reviews
alan
The scratches my back up. you have covers for the front but none for the back and none for the back. I get hot and cannot wear a shirt all the time. Since I am stuck at home I should be able to go without a shirt but can't because your sling scratches me:( The sling is otherwise great. -
alan
Bill S
Better than the DonJoy UltraSling III. The strap rests on your opposing shoulder and not on your neck. The abducting pillow/bolster has been improved going from the III to the IV. Most comfortable. -
Bill S
Questions on DonJoy UltraSling IV
Sort by
From Mike at

11/2/13 9:24 PM

Can the sling be washed and if yes how.
Mike
All of our braces and supports can be hand washed in a mild detergent and air dried. You can just seperate the sling from the pillow and wash the sling then when it dries attach back on the velcro of the pillow.

From Kay at

1/23/14 4:28 PM

When I measure my arm as described it is 13&3/4 inches but I have a very large upper arm would I need to order a large or extra-large?
Kay
the thickness of your arm doesn't matter with the sling, you should order a large

From Arturo at

3/29/14 4:11 PM

I had ORIF surgery and will be in a sling for 12 weeks. How do I choose between an ultrasling II, III or IV? Doctor orders are rotation OK up to neutral.
Arturo
The only differences betwenn these slings are material and strapping. The Ultrasling II has a cotton material in the sling, we had complaints of it being too hot so the Ultrasling III was made with a mesh materila in the sling for more ventilation. Those two slings have the same strpping over the opposite shoulder across the back to your waist. The Ultrasling IV has the same material as the III but the strapping system is a loop around the opposite shoulder to take pressure off the neck. All fot the slings come with a 15degree abduction pillow and will not rotate you shoulder at all.

From Lisa Southard at

4/7/14 6:50 PM

Can the IV strapping be purchased for the III sling?
The straps cannot be purchased alone on BetterBraces.com. There is a Strap kit for the Ultrasling IV available direct through DJO customer service 800-336-6569

From Dennis Rhodes at

4/9/14 7:29 PM

Is the sling strapped to the pillow, so that if I bend forward my arm will not move forward?
The sling is attached to the pillow by a velcro strap so yes your body and arm will move together
Ask Your Own Question
You'll receive your answer via email either the same or next business day