You're currently on:
>

DonJoy Tru-Pull Advanced System
Health & Beauty > Health Care > Supports & Braces
11-XXXX-X
in_stock
119.99
Product Description

Product Reviews
Ultimate Support and Relief from the Pain of Patellofemoral Dislocations!
The patented Hinged Tru-Pull Advanced System and the Tru-Pull Advanced System are designed to place a dynamic pull on the patella during knee extension to normalize tracking in the intracondylar groove and reduce anterior pain. An ideal solution for patients requiring ultimate support for patellofemoral malalignment, subluxation and dislocations. Available with aluminum hinges for additional medial/lateral support and control of knee hyperextension.
Tru-Pull® Advanced System's Features and Benefits
Elastomeric pull device, with pull straps above and below the patella, has a rubber band type effect providing a strong dynamic pull on the patella as the knee extends.
Independent anchors prevent rotation of the brace and provide a "True" and consistent pull on the patella to avoid lateral subluxation.
Trimable adjustable buttress allows for versatility of contact area.
Choice of 1/4" and 3/8" buttresses to give the patient the leverage they require.
Breathable material makes the brace light and comfortable.
New unique materials give it a modern nonmedical look.
Ease of application leads to excellent patient compliance.


Aluminum Polycentric Hinge Technology for additional medial/lateral support and control of knee hyperextension.
The exciting new Hinged Tru-Pull® Advanced System was developed to give patients a dynamic, comfortable and easy way to effectively reduce patellofemoral pain. Aluminum Polycentric Hinge Technology for additional medial/lateral support and control of knee hyperextension.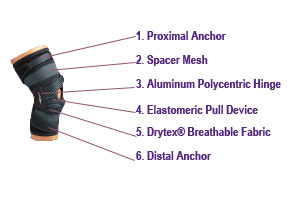 Merchant axial radiographs taken at 45 degrees knee flexion demonstrate the dramatic ability of the Tru-Pull® technology to stabilize patella subluxation.
Patellofemoral Brace Indications
Ultimate support for patellofemoral malalignment, subluxation and dislocations. Aluminum hinges add medial/lateral support and control of knee hyperextension.
Unique 6 Component System
1. Proximal Anchor
2. Spacer Mesh
3. Aluminum Polycentric Hinge
4. Elastomeric Pull Device
5. Drytex® Breathable Fabric
6. Distal Anchor
***NOTE: This item can take up to 2 weeks to ship***
Shop our complete selection of knee braces or browse additional DonJoy products.
Take the measurement of your thigh and calf 6" above and below your kneecap using a flexible type tape measure. Use the diameter you measure here to choose your size.
| | | | |
| --- | --- | --- | --- |
| Size | Thigh | Knee Center | Calf |
| XS | 13" - 15 1/2" | 12"-13" | 10"-12" |
| S | 15 1/2" - 18 1/2" | 13"-14" | 12"-14" |
| M | 18 1/2"- 21" | 14"-15" | 14"-16" |
| L | 21"- 23 1/2" | 15"-17" | 16"-18" |
| XL | 23 1/2" - 26 1/2" | 17"-19" | 18"-20" |
| XXL | 26 1/2" - 29 1/2" | 19"-21" | 20"-22" |
| XXXL | 29 1/2" -32" | 21" -23" | 22" -24 |
| | |
| --- | --- |
| | 1.Stand with your legs shoulder-width apart, legs slightly bent and leg muscles contracted. |
| | 2. Measure up six inches from the center of your knee with a tape measure, as shown. |
| | 3. Measure the circumference of your thigh at the 6-inch mark, as shown. |
| | 4. Measure down six inches from the center of your knee with a tape measure, as shown. Then measure the circumference of your calf at the 6-inch mark. |
Questions on DonJoy Tru-Pull Advanced System
Sort by
From mickey at

5/13/10 6:46 PM

What are the pros AND cons of a closed and open pop? I've not had much experience either way - so how do I choose?
The popliteal is the area in the back of the knee where your knee bends. When a knee brace has an opening it is described as an "Open Popliteal" knee brace. An open popliteal knee brace is tends to be more comfortable than other knee braces that are closed in the back. There is less pinching of the material when your knee is bent. They are also a bit cooler as more skin is exposed. Some people prefer a closed popliteal knee brace because they have a bit more compression and are bit more restrictive offering a bit more support.

From Patty at

9/28/10 4:37 PM

Can the DonJoy Tru-Pull Advanced knee brace be washed or laundered?
We recommend washing by hand in cool water with a mild soap and lay flat to dry. Do not put in the washer.

From Sanjib Chaudhuri at

10/12/10 12:42 PM

I would like to order one Donjoy Tru-Pull Advanced System for my daughter.
Her size is medium but I am confused about the Style
Her Patella normally slides to left so I believe 'Lt Closed Pop' would be the style.
But I don't know the difference between with and without Hinge option.

Waiting for your opinion and suggestion.

Thanks
Hello Sanjib,

The Hinges will add stability to the knee as well as assist in controlling the patella motion.

If you are concerned about instability, choose the style with hinges.

From justin at

11/2/10 3:12 PM

I have had dislocations of both knees about 4 times each, all from playing sports. When my patella dislocates it stays out until I or a doctor put it back in place.
This season I will be snowboarding and would like to upgrade my current knee brace to a DonJoy Tru-Pull Advanced System or similar. Do you recommend this brace and if so what is "closed pop/ open pop" also "Lt/Rt", and hinge vs. no hinge? I really want to choose the best option for my left knee. Thank you in advance.

-Justin
Hello Justin,

The open pop would be an opening behind the knee, and closed would have no opening behind the knee, and if you need extra stability in your knee you would choose hinges, otherwise go with the sleeve.

LT and RT are left and right leg braces.

If you already use a rigid DonJoy brace ( EX: DonJoy Armor Knee Brace) for protection, you can simply buy the DonJoy Tru-Pull Advanced Attachment and add it onto the brace.

http://www.betterbraces.com/donjoy-tru-pull-advanced-attachment

From Haylee at

11/19/10 11:02 AM

I was looking at the true pull advanced brace, and I was wondering where I need the hiinges. I have purchased a donjoy brace vefore that had hinges in it, but I dont remember what we put down when we bought it. I have PFD in my left knee, so I need a hinge for what side of the knee? Left or right?
Hello Haylee,

The Tru Pull Advanced has hinges on both sides. You'll just need to indicate right or left leg.

From Elizabeth at

12/23/10 8:14 PM

I am looking at the DonJoy True-Pull brace for my son. He is 14 and very athletic. He has been wrestling competively since he was 6. He has had several patellar dislocations and I need to decide if this is the most appropriate brace for this type of competition. I realize that the hinges provide additional support, however he can not have "metal" hinges; can you describe the hinges? Also, can you order with a closed buttress over the knee cap? Any suggestions are truely appreciated.
Hello Elizabeth,

The DonJoy Tru-Pull Advanced System can be ordered without hinges as an option, however the patella opening is standard on all DonJoy Tru-Pull Advanced Systems.

If you'd like to have more questions regarding the hinges, please give us a call at 800-553-6019 and we'll be happy to assist you.

From Beau at

6/6/11 10:41 PM

I play basketball and have had dislocations on both patellas..is this the best brace for making sure this doesnt happen again? my knees are strong again but i just need the extra support...or is there another brace you could recommend
The Tru-pull Advanced System is a great choice. It is the brace I would recommend for your patellas. This brace is going to give you the support and protection for your knees while allowing you to be functional and active.

From Rick at

10/17/11 5:32 PM

Hi, my so has had a patella dislocation on his left knee. I have read the questions above and understand more. His knee dislocates to the left during golf, so I assume the left leg brace will pull (hold the knee) to the right? Please confirm.
Hi Rick,

Yes, if your son's knee dislocates to the left you would order the left leg brace.

If you have additional questions please call, 1-800-553-6019

Have a nice day.

From ALAN at

2/16/12 9:27 AM

My son is 16 and baseball pitcher. He has a dislocated patella with mpfl tear. he is in rehab know. When he is ready to start pitching again will this be a good brace from him. He has also had a miniscus tear with a acl strech injury about 6 months ago.
For his condition and athletic activity we would recommend the TruPull Lite, Reaction or a Rigid Knee Ligament brace with the Tru Pull Advanced Attachment also known as the TPAA.

From chase at

4/8/12 9:23 AM

hi, i dislocated my kneecap surfing. I am going to do the PT and training to get additional strength in my supporting muscles but for a while i want to try using a brace to be safe. Will this brace work well for surfing? can i use in salt water and just hand wash after? i looked at the recommended braces for surfing and they seemed pretty weak...thanks for your time!
Hi Chase,

The DonJoy Tru-Pull Advanced System or the DonJoy Tru-Pull Lite are appropriate for your injury and can be worn while surfing. The Tru-Pull Lite is a lower profile brace. If you do wear the products in the ocean make sure to rinse them with fresh water after every use and air dry.

Have a nice day.

From Fardeen at

1/14/13 4:04 AM

i am a sports person and i play all kind of sports.but many times my patella is been maltracked it twists and comes back on its own position so i was suggested to buy a brace so tell me which brace is better

Lateral J Knee Brace OR Tru Pull Advanced Systems

Thanks In Advance
Hello, Fardeen -

Both of these braces will serve the same purpose in assisting the tracking of your patella. The Tru-Pull Advanced system will provide a more aggressive overall patella stability because of its buttress design. If you have minor maltracking issues and have not dislocated or subluxed your knee cap, the Lateral J Knee Brace will suit your needs fine.

If you have further questions, please feel free to contact our product specialists at 888-405-3251.

Thank you and have a wonderful day!

From Connor at

2/10/13 2:01 PM

Is this brace a good brace to wear while i am playing basketball? or is there not a certain brace for athletics?
Hello, Connor -

Yes this brace is appropriate to wear during basketball. However, you did not mention what type of knee injury you have. This brace is specifically designed for people who have dislocated or subluxed their patella or have patellar tracking issues. If you suffer from this type of injury, then this is the appropriate brace for you.

If you have further questions, please feel free to contact our product specialists at 888-405-3251.

Thank you and have a wonderful day!



From Sam P at

3/27/13 4:11 PM

Hello,

I am 28 and dislocated my right knee for the first time 12 years ago. After the first time I was on crutches for weeks. I dislocated it many more times after and could easily walk straight after. It dislocates to the outside of my leg.

Two weeks ago I dislocated it again for the first time in 6 years and I am on crutches again this time. I really need to try something new to stop it happening. Which brace would you recommend? I prefer the tru-pull lite based on it being more compact but I just want to do whatever will work.

Thank you.
Hello, Sam -

Yes, you have chosen the correct brace for the dislocation issues you are having. Because of the frequency and severity of your dislocations, you may even want to try the Tru-Pull Advanced with a hinge for additional support:
http://www.betterbraces.com/donjoy-tru-pull-advanced-system-1

If you have further questions, please feel free to contact a product specialist at 888-405-3251.


Thank you and have a wonderful day!

From Robyn at

6/4/13 3:51 PM

I had a total knee replacement of the left knee. I am 6 months in and today we found out that my knee cap is off to the side (towards the outside of the knee) It is painful when I bend the knee and put weight on it. Will this brace help realign my knee cap along with therapy of course?
Hello Robyn,

Yes the Tru Pull Advanced will support your Patella, if you are interested in a smaller version, we have the Tru-Pull Lite. Its 9" in length the shortest brace we have available for Patella Instability.

Please contact a Product Specialist with any additional questions. 1-888-405-3251.

Have a Great Day.

From Treva at

6/19/13 6:49 PM

what is the weight of this brace? Is it heavy and cumbersome to slow down in basketball?
Hello Treva,

This is a soft goods brace, it's made of neoprene/lycra/mesh material. It's extremely light weight, and would be appropriate to wear during any athletic activity.

Thanks for contacting Donjoy.



From Dale at

7/1/13 4:08 AM

I have had a TTT and lateral release on m y knee and my knee is slowly now wring away. It partially dislocates then pops back into place. I have instability in my ligaments and need a lot of Physio on it. I am a personal trainer and do a lot of physical work so I need something very supportive but flexible to allowe to move. What would youneccomend? This or the j support?

I also have large thighs so would it suit or are they easily adjustable.
Hello Dale,

I recommend the Tru-Pull Lite. It is the shortest brace available, and it provides the most support to the knee cap.

Thanks for contacting Donjoy.

From Omes at

7/1/13 1:28 PM

Does this provide the same type of support as a "j" brace? My right knee pulls to the right. I've had multiple "release" surgeries and wear the j brace for running...but looking for more support...
Hello Omes,

I recommend the Tru-Pull Lite. It is a short 9" brace that provides the most support to the knee cap. There is an adjustable buttress that comes with the brace.

http://www.betterbraces.com/donjoy-tru-pull-lite

Thanks for contacting Donjoy.

From Karen Summers at

7/14/13 8:30 AM

Dr just put me in a Donjoy TruBrace for patella sublux(right kbee). I am in the pool quite a bit both teaching and swimming. Can I wear this brace in the pool and immediately wash afterwards or will the chlorine break down the materials? Thanks so much for your help.
Hello Karen,

We recommend rinsing the brace with water after exiting the pool or ocean. You may handwash the brace and air dry.

Thanks for Contacting Donjoy.

From Kaitlyn at

7/17/13 3:18 PM

I'm a competitive high school basketball player. I've had soft tissue damage, pulled/torn ligament/tendon, and patella dislocation. I keep getting injured while wearing my brace, so i'm looking for a new one. Would this be the right one? (and the doctor didnt say what ligament and tendon)
Hello Kaitlyn,

The Tru-pull is a Patella Knee Brace, do you have a Patella Injury? I recommend the Tru-pull Lite for patella suport against dislocation. It measures 9" in length and great for athletics.

If other Knee Ligaments are involved with offer Braces for those injuries as well.

Thanks for Contacting Donjoy.

From Steven Paige at

8/24/13 2:10 PM

Hi,

My son a slight knee subluxation where he has some discomfort around the meniscus. He plays high school football and cannot have any metal showing. What do you recommend ??
The hinge in the Tru-Pull Advanced is covered it would not show. This would keep his knee cap in line and take stress off of his meniscus.

From Matthew at

9/23/13 12:24 PM

I have dislocated both my patellas on multiple occasions. I am an avid snowboarder who has been wearing the the tru pull lite for 2 seasons now. Since wearing this brace I have not had a dislocation. However sometimes I still do feel my patella shift. How much more support would this brace provide?
The buttress in the Advanced System is much larger. It comes in a "C" shape covering the superior and inferior aspects of the patella as well as the medial side. The Lite has more a crescent shape providing most of its support along the medial aspect. Also because the brace is longer in size, that will also add support to supporting structures. The Advanced system also comes with the options of hinges and a popliteal cutout.

From Erica at

9/24/13 8:45 AM

I have used this brace for about 10 years, but I have a couple new questions since my kneecap has started dislocating again with the brace ON (pattellar subluxation on right knee).

1. Last year I reordered the brace to replace the one I had 10 years ago that was falling apart, and it has a different type of pad inside. The shape of the new pad is a large "C" fully touching my knee from top, outer-side, to bottom. The old brace used to have a smaller cressent-shaped pad - not a full C, and only applied pressure to the outside part of my knee - where I need the most support. The old version also came with 2 thicknesses of this pad. Is there any way i can order the smaller cressent pad? or perhaps even a thicker version of the new larger C pad (and then I could cut it down to the size I like)? I could not find any of these pads in the "accesseories" pages of this site.

2. Since my knee is dislocating with the brace on, perhaps I need the brace with the hinge. Is there a way I can tell if my brace has the hinge? Is the hinge internal or external? I cannot remember what I ordered. Also, do you have a photo of the brace with the hinge? I assume the photo on this page is for the non-hinge version.
Erica,

Thank you for your email. We are happy to hear after 10 years of use you are considering another one of our products.
The Ttru-Pull Advanced System comes with 2 buttresses a1/4" and 3/8". These are available to buy direct. A product specialist can help you by calling us at 800.553.6019.
This brace comes with several options, one of which is hinges. The hinges are located on the lateral and medial sides of the knee. We use Aluminum Polycentric Hinge Technology for additional medial/lateral support and control of knee flexion and extension. The picture on the site shows the hinged brace. The hinges are located on each side of the knee under the fabric with our logo.
If you have any more questions we are happy to help you out. You can email or contact us directly at 800.553.6019


From Natalia at

10/3/13 2:48 AM

Hi, I've had my MPFL (on the left knee) torn and reconstructed after multiple knee cap dislocations but this year it tore again completely. I'll have a new MPFL surgery next year but I want to snowboard this winter with my MPFL torn. Doctor said it might be possible with an appropriate brace.
Could you please tell me if you would recommend me Tru Pull advanced brace or a different Don Joy brace?
And also, for snowboarding - should it be open or closed in the back of the knee?

Thank you
Natalia,
The Tru-Pull Advanced would be a good brace for you. I would recommend talking with your doctor to get his approval that it is the "appropriate brace".
As far as the opening in the back, that will be a personal preference. I would recommend going with the hinge option for increased support
Thank you for contacting DJO Global

From Pete at

11/13/13 6:41 AM

Hi,

Recently I have been diagnosed with a bipartite patella and a slight chondromalacia of that patella on my left knee.
Surgery is not an option for the moment (thing becomes painful only due to some serious activity) I am looking for a brace that would support the patella in order to prevent pain during such acitivities (especially skiing).
The ACL and MCL in my troubled knee are quite healthy and I have never had a patella dislocation, but I can't really find a brace that was designed specifically for such problem as patella bipartite.

Will a Tru-Pull advanced brace be suitable and effective for such purpose?

Thank you.

Pete
Thank you for contacting product support. The Tru-Pull Advanced brace is for those who have had a acute kneecap dislocation or chronic issues with the kneecap and dislocation. A better choice for you might be the DonJoy Reaction Knee Brace. http://www.betterbraces.com/donjoy-reaction-knee-brace . This brace is made for those of suffer from anterior knee pain associated with chodromalacia and patellof femoral disfuction. The web design of the brace disperses force away from the patella to decrease pain Take a look at it on BetterBraces.com

From Kate at

11/29/13 5:41 PM

HI,
My daughter suffers from recurrent subluxations of both knees, she is 13. She has used the Tru-Pull lite in the past, but her knees subluxed while wearing the brace several times. We switched to a different brand of brace and now she seems to be having problems with those too. We thought the problem with the Tru-pull lite was that it gets stretched out or maybe was just too big to begin with even though we got the smallest size. She does competitive cheer so we are trying to find something to help prevent these occurences. She thinks that she can get the brace on tight to start but after bending her knee too many times it loosens up and the buttress isn't really supporting her knee anymore. I wondered if this advanced brace would provide her better support. Any advice or suggestions?
Kate
Thank you for contacting product support. The Tru-Pull Advanced System is our most ultimate support for knees with a dislocating patella, so this might be the most logical step if the Tru-Pull Lite is not working.

From James at

3/1/14 9:48 AM

Hi
I have laterally dislocated both my patellas over 15 times. I have just had surgery to stabilize my patella. I am deciding whether to but the true pull lite or advanced.

Am I correct in saying the advanced would provide slightly more support. And is it suitable to wear during sports.

Any recommendation would be appreciated because I am confused about which brace would give provide most lateral support. Thanks
James
You are correct, the Tru Pull Advanced System would give the most support for someone who is a chronic dislocator. You can wear these with sports, so I would reccomend this brace

From Kate at

3/7/14 5:38 PM

Hi,
I have dislocated my left knee about several times and recently had lateral release surgery to help pull the knee cap back in line due it locking up and being out of place. They gave me a J brace made by BioMed but I really can't stand it. It ripped at the seem & the hinges are really uncomfortable.

I am trying to decide between the Tru Pull Advance or the J Lateral Brace. I have to have hinges but because I will most likely have to wear it daily for a long time I wondering which will be the most comfortable and most supportive option for me. I need to make sure my knee cap is completely supported and protected from sliding out. Can you offer advice on which brace to purchase?
Thank you for your question. Both of these braces will be perfect options for your situation. The hinged Lateral J come in a Drytex option that is a very breathable material (unlike neoprene) and the Tru-Pull Advanced also comes in a breathable fabric and has the ability to adjust the pull. If you have any further questions please feel free to call us.

From Matthew at

3/11/14 5:43 PM

I currently have a DonJoy knee brace, and it is several years old. I don't know the exact model, but it looks very much like the Tru-Pull model. My current brace has a Velcro horseshoe shaped pad on the inside that helps keep my knee in place as well. Does this model have that, or is there another brace that I need to look at.
Thank You for your question. The DonJoy Tru-Pull Advanced System has a buttress that is removable, however it only lines up against the side of the knee. It does not have a horseshoe to it. A brace that has the adjustable horseshoe-buttress would be the ProCare Patella Stabilizer w/ buttress.

From Katie at

3/19/14 12:17 PM

Good afternoon! I had surgery about 15 years ago to repair a torn patella tendon and the MFPL. I recently had hip surgery, and found out I am pregnant, and my knee has loosened up significantly as a result. My kneecap is tracking incorrectly, pulling laterally, and recently subluxed again. I'm not doing anything terribly athletic currently, but for daily use, combined with elliptical use and frequent walks, my physical therapist recommended I use a brace. Complicating matters, I have severe hypermobility syndrome. I don't want to overdo it and get more brace than I need, but I do want to be protected. What do you recommend?
Katie
We have a few braces to choose from for someone with a subluxing patella. The Tru-Pull Advanced system is going to give the most support because of the longer design. The sleeve has a donut pad on the inside that rests against the outside of your knee cap. The straps are attached to a rubber piece that will push up against the buttress on the outside, and you contraol how much force is applied by pulling the straps across the knee and wrap them around. We have a liter verision of this brace called the Tru-Pull Light which is a smaller sleeve with a soft buttress attached to the straps that is placed against the outside of the kneecap and pressure is applied when you pull the straps around the brace. http://www.betterbraces.com/donjoy-tru-pull-lite
The last brace we have is the Lateral J Knee Brace. This is a sleeve with a sewn in lateral buttress and two straps that pull across the buttress to keep the kneecap in place. http://www.betterbraces.com/donjoy-lateral-j-patella-knee-brace
I think the Tru-pull light would be a good place for you to start.

From Cheryl B at

4/21/14 10:32 AM

My right knee is bone-on-bone and I am awaiting a total knee replacement.. Suffice it to say, my knee is VERY unstable. I just had a left total knee replacement
and need a brace to help support my right knee while I rehab. my left knee. Is this a good brace for someone who has a very unstable knee?
Cheryl
The Tru-Pull Advanced System is a brace for kneecap instability. For general knee instability you would want to get a hinged knee brace. I would reccomend the DonJoy Playmaker II http://www.betterbraces.com/donjoy-playmaker-ii-knee-brace-2 This brace will protect your knee while rehabbing the other

From Ron at

6/5/14 9:15 AM

I have had three lateral subluxations in my right knee. I rebounded from the first two well but the last one has been tough. My kneecap is unstable and my knee quickly loses mobility after exercise. I need knee stability to run and perform plyometric exercises. Should I go with the True Pull Lite or Advanced?
Ron
I would suggest the Advanced, it has more support for someone that has chronic patella subluxations

From Ruthmaria at

6/6/14 7:28 AM

Hello,

I'm a soccer player and two years ago I had a patella liberation surgery on my left knee. My knee got re-injured and now I have patella tracking problems. Apparently my kneecap has a wide range of movement and it tends to "pop-out" to the left. Which knee brace do you recommend the most: the DonJoy Tru-Pull Advanced, or the DonJoy Tru-Pull Lite??

Thank you!!!
Thank you for your question. The Tru-Pull Advanced System will give more support to the knee. With you activity level and severity of injury the Tur-Pull Advanced System would be a good option for you.

From Rose at

6/16/14 7:21 PM

My daughter has gone through 3 braces over the past 6 months. We have to keep buying new ones because the the top part of the hinge breaks through the material covering it and digs into her leg. What can we do to prevent this from happening and having to buy a new brace every couple of months?
Rose
I apoligize that you have had defective braces. My suggestion is to try a different brace. The Tru-Pull Light or the Lateral J knee Brace are similar to the Tru-pull Advanced http://www.betterbraces.com/donjoy-tru-pull-lite or http://www.betterbraces.com/donjoy-lateral-j-patella-knee-brace

From Brynne Edwards at

8/13/14 10:20 PM

My doctor recently gave me the tru pull lite right. It is a 3x and embarrassingly it is still tight in the back and even rolls down some causing pinching and pain. Clearly I have fat knees and was wondering if there is a version that is not a sleeve that will provide the same support. I know that 3x is the largest size available. What suggestions do you have for me? (Besides losing weight in my knees :))
Brynne
The only tru-pull we have in a wrap style is the Tru-Pull Wraparound and it does come in a 3XL. http://www.betterbraces.com/donjoy-tru-pull-wraparound Take a look

From Eric at

8/29/14 9:20 PM

My 10 year old son has an acl tear in his left knee that occurred playing flag football. He did PT and now reinjured it again 3 months later jumping off a 3 foot ledge as his knee buckled.

I am leaning towards an advanced brace vs the light. His thighs are large for his age at 16" , center is 12.5" and calf is 11.25"...advanced small?




Eric
The Tru-Pull Advanced System is not for ACL injuries. Take a look at the DonJoy Full Force Ligament knee brace. This brace is for ACL injuries and protecting the ACL. http://www.betterbraces.com/donjoy-fullfource-ligament-knee-brace
If you want something that is not as rigid then the Playmaker II with a fourcepoint hinge would be another option. http://www.betterbraces.com/donjoy-playmaker-ii-fourcepoint
Your son would need a XS

From Allison at

8/31/14 10:55 AM

I just had lateral release surgery and suffer from patella problems. I am high allergic to neoprene, does this brace contain Neoprene?
Allison
The brace is made of a mesh material and it also has our Drytex material which is not neoprene but looks similar.

From Robert at

9/27/14 9:45 AM

I dislocated my patella for the first time a couple weeks ago. The brace the orthopedist gave me is quite uncomfortable and slips down my leg after just a few steps and bunches up behind my knee, restricting range of motion . Being as the brace is hinged, I would like to stick with a hinged with the option to remove the hinge as I build the muscle back up. I'm considering the Tru-pull lite and Tru-pull advanced. Which would you recommend?
Robert
The Tru-Pull Lite might be the better choice as you can remove the hinges in the brace and it is a lighter material in the back of the knee so no bunching up.

From Rex Kramer at

10/7/14 7:47 AM

59 active MTB'r since 35 when I started recover from a patellar tendon graft that was done because of a failed old school method for ACL repair that left 2 ft long zippers on my left knee because of multiple dislocations from sports.....wheew

Knee is shot but MTB'n has saved it for me...however, every time my wheels leave the ground or I have to unexpectedly put down my left foot Im expecting a 'POP'. Im looking for protection that wont interfere with 2+ hr rides sometimes in hot temps.
Thanks
Rex
Rex
The Tru-Pull Lite is a low profile brace that keeps the patella in the correct postion during activity. The brace is light wieght and protects form dislocations and subluxations http://www.betterbraces.com/donjoy-tru-pull-lite

From Todd at

10/31/14 5:39 PM

I have a 14 yo son that has torn his MPFL. He can't have surgery yet. His ACL and MCL are intact. I am a therapist by trade , so I have personally been in charge of his rehab. He is ready for sports now. He wore the tru- pull lite during training. But was wandering if the advanced system would be better. I was wandering your thoughts. Also can I remove the hinges if I order the brace with them. Depending on his sport and need for the hinge??
Thanks.
Todd
The Tru Pull Advanced should offer more support than the Tru Pull Lite. The hinged version has re-movable hinges. The brace comes with two buttresses and the elastomeric strap to anchor the brace.

From Kevin at

11/14/14 11:57 AM

What would be the best knee patella brace for football? I have had dislocations in both knees. I'm wanting to play football but afraid without the best brace I may have a dislocation.
Kevin
The Tru Pull Advanced System would be the best most supportive patellofemoral brace we have for someone who dislocates the patella. The brace has a inner buttress then also has the tru-pull attachment to give more support than any other braces.
Ask Your Own Question
You'll receive your answer via email either the same or next business day
You may also be interested in the following product(s)
| | | |
| --- | --- | --- |
| Hot and cold therapy eases away pain, inflammation and stiffness | NON-MOTORIZED. Anatomic cuff design for complete coverage of the ankle area | A low-profile, and extremely comfortable patella support brace for mild to moderate patellar dislocations. |