You're currently on:
Health & Beauty > Health Care > Supports & Braces
11-3235-X
in_stock
33.99
Product Description

Product Reviews
Designed to meet the needs of demanding athletes.
The new Stabilizing Speed Pro ankle brace reduces the chance of ankle injury by 61%1. Featuring a contoured design made with rugged ballistic nylon, reinforced eyelets, 3" circumferential compression strap and removable articulated stays. The Stabilizing Speed Pro brace give trainers confidence that the vulnerable ankles of their athletes are protected. In addition to all the benefits of the Stabilizing Pro, the new Stabilizing Speed Pro brace features a "speed-lacing" system that makes applying the brace exceptionally fast and easy.
Features & Benefits
Circumferential 3" Elastic Strap - Provides tibia/fibula compression and stability. Secures all strapping
Strapping that performs consistently. Non-stretch figure-8 straps lock calcaneus providing ideal inversion/eversion control
Articulated Stays (inside). Removable medial/lateral stays provide additional support and stability without compromising comfort
New & improved streamlined design. Fits comfortably into athletic or street shoes
Non-Stretch Ballistic Nylon. Rugged material for demanding athletes. Delivers comfort, performance and durability
View our full selection of ankle supports, DonJoy ankle braces, or DonJoy products.
Measuring Information: Measurement is circumference, taken from the base of the heel around ankle, while wearing an athletic sock.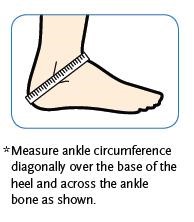 | | |
| --- | --- |
| Size | Circumference |
| XX-Small | 9" - 10" |
| X-Small | 10" - 11" |
| Small | 11" - 12" |
| Medium | 12" - 13" |
| Large | 13" - 14" |
| X-Large | 14" - 15" |
| XX-Large | 15" - 16" |
| XXX-Large | 16" - 17" |
Questions on DonJoy Stabilizing Speed Pro Ankle Brace
Sort by
From Jason at

10/21/2013 2:16 PM

I'm looking for a product that will limit dorsiflexion. I'm curious if the Speed Pro Ankle Brace could help. I am 34-years old and active, but have severe arthritis in my right ankle because of a post-op infection.
Jason,
This brace does not prevent dorsiflexion. However, it would offer support and compression which may help with your arthritis. The Speed Pro will also offers figure-8 straps to provide inversion and eversion control. Most of our arthritic ankle braces offer compression and light support; being an active person this brace is an excellent choice. Thank you for contacting DJO.


From Rich at

10/28/2013 9:35 AM

what brace will support a rollever ankle best that I can wear in a cowboy boot
Rich,
The Speed PRO would be a good option for you. It does have 2 metal stays that can be removed. Itfyou feel that they are too rigid in your boots, you can take them out. You will still have compression and the figure 8 strapping for support. Thank you for your question.


From Charissa at

11/12/2013 6:35 AM

I'm recovering from an ankle sprain, and would like to know if this would give enough support and compression to help with the recovery and also for it's use after I've recovered. Will I be well supported?
The DonJoy Stabilizing Speed Pro Ankle Brace will offer you a good amount of support during the recovery phase of your injury and into injury prevention. The brace features a 3" circumferential compression strap and removable articulated stays. You will also find the lace up design and the figure 8 strapping help to lock the heel in place to control inversin/eversion (rolling the ankle). Thank you for your question.

From matt at

11/25/2013 8:12 PM

I need an ankle brace that will fit into a Vibram type toe shoe for beach volleyball. Will the Donjoy speed fit inside one??

Thanks
Matt,
Our functional ankle braces are designed to fit inside athletic shoes. The DonJoy Speed Pro Ankle Brace might be a little bulky to fit in a Vibram shoe. AirCast makes the A60 Ankle Support, which is more steam line.
http://www.betterbraces.com/aircast-a60-ankle-support-2
Thank you for contacting DJoO.

From Austin Greathouse at

12/2/2013 4:38 AM

My left ankle has been rather unstable and I have sprained it 4-5 times in the past two years since a bad gymnastics accident left me with two torn tendons and a high ankle sprain.

Rothman gave me what looks to be equivalent to the regular Stabilizing Pro Ankle Brace. I myself am a professional Parkour/Freerunning athlete so I need a durable brace that will last me a long time even with a lot of use that could be rough (ie wearing it over a sock, but no shoes - typically on softer surfaces). My previous brace is essentially splitting in half but it feels super good for my ankle! My question is, what is the difference between that brace, and a speed brace, and is this one more durable for athletes?
Hello,

Our Stabilizing Pro Ankle Brace and the Speed Pro and the same brace the only difference is the lacing. The Speed has velcro on the ends of the laces, so you don't have to tie them up. The laces velcro attach on the Speed Pro.

The New Stabilizing Pro is made of a non-stretch nylon material, great for performance and durability. Both braces are made of the same material.


Thanks for Contacting Donjoy.

From Sue at

12/5/2013 6:55 AM

My daughter plays competitive volleyball but has recently started playing rec basketball and is worried about rolling her ankle. She does not wear any brace/support at present but as her level of volleyball increases she feels that she would like to start. Is there a brace/support that would offer her good protection for both sports but that will not interfere with her range and mobility?

Sue
Thank you for contacting product support. The DonJoy Stabilizing Pro Ankle Brace would be the brace that I reccommend. It is a lace-up ankle brace with two figure eight styraps that will give her great stability and will fit into her shoes.

From Will at

2/25/2014 10:57 AM

I'm an upper level gymnast with chronic minor ankle and foot issues. Normally, its nothing that I can't bear. However, recently I've done some tendon damage on the in the extensor digitorum brevis area of my foot. This causes issues in the foot when the ankle is rotated. I was hoping to get some advice on a brace that would mainly help with the ligament issues but also that would provide a little dorsiflexion support. However, the main concern is the extensor brevis issues when the ankle is rotated. Dorsiflexion support would be a plus.
Thank you for your question. This brace is designed to give compression and stability to your ankle. The brace will also help to control inversion and eversion of the ankle. Because, the extensor brevis helps extend digits 2 through 4, the brace would add compression but not assist with the dorsiflexion.

From Gary at

7/9/2014 7:02 AM

Hi..I play serious tennis and have developed an ongoing situation where after a few games the area on my outside foot below and just forward of actual ankle is painful..I borrowed an ankle brace with laces which reduced the pain etc by at least 80 percent. I attempted to find a brace at local drug stores however the products did not extend far enough on foot..the lace up appears to extend approximately half way down foot which is what I need..Am I correct in this assessment. Thanks
Gary
The Stabilizing Pro Ankle brace should come down to the mid foot

From B. at

7/13/2014 12:58 PM

What product would you recommend for limiting dorsiflexion? I am hoping for a cloth laceup brace which does not any bulk or seams whatsoever on the sole/heel.
B
Ankle braces usually limit inversion and eversion of the ankle not plantar flexion /dorsi flexion. The DonJoy Stabilizing Pro may limit it somewhat, but all of the out braces are going to give you dorsi flexion movement to some extent, be cause you need that motion to walk normally. The Stabilizing Pro will fit into a tennis shoe with no problems.

From Justin at

8/22/2014 1:49 PM

I sprained my ankle and going to the beach in a few days. Can the speed pro be used in salt water and what's the best way to clean the speed pro brace?
Justin
It can be worn in the water just rinse with after. It is washed by hand with a mild soap and air dried

From Frank at

10/17/2014 5:40 PM

I'm a 46 yo man who practices Jiu jitsu- I recently suffered an ankle inversion injury during drilling- I have a grade 2-3 sprain to the lateral aspect of the ankle. I'd like to rehab and prevent this happening again- would this brace be a good fit or should I be looking at another model?

Thank you

Frank
Frank
Yes the Don Joy Stabilizing Pro ankle brace would be the best brace for you. It can be worn during your activities and will stabilize the ankle well.

From jody at

3/25/2015 11:27 AM

I am looking for a brace to help heal a sprained ankle and also be used for support of a weak ankle during crossfit workouts and while playing/practicing roller derby, I need to have full mobility while wearing it.
Jody
The Stabilizing Pro Ankle brace is similar to getting your ankle taped. It is a lace-up brace with two figure-of-eight staps, to simulate a ankle tape job, except this brace will not loosen up after 20 minutes of actifity like tape will. The brace will provide support for the ankle yet still allow normal ankle movment.

From Penny at

3/26/2015 8:39 AM

Hi,
I sprained my right ankle (doctor said its grade /level 3 severe sprain).
I am fallowing RICE as mentioned by the Doctor.
I am a avid walker,I love long walks.

My question is will this Don Joy Stabilizing Speed Pro Ankle Brace give me enough support to continue my walks? and do some Mild Stretching and Yoga exercises?

Can I wear this with my hiking shoes or other walking shoes / sneakers?

Can I go on the tread mill wearing these braces without any problem?

Penny
The answer to all of your questions is yes. Once you are ready to start doing more walking and need a brace the Don Joy Stabilizing Pro ankle brace is a great choice. The brace will stabilize the ankle and can be worn in shoes easily. You should still be able to do yoga and the other activities that you want to do

From Tim at

3/30/2015 10:31 AM

My 15 year old son plays competitive club and high school soccer. He rolled his ankle pretty good in a game this past weekend. Based on what I've read probably a moderate Grade 1; definitely not a grade 2. Is the Speed Pro a good selection to wear (during games) while he's playing again after his recovery time?
Tim
Yes the Don Joy Stabilizing Speed Pro is a good brace for your son to wear when he returns to sports. The brace will provide excellent support and is low profile to fit into shoes and cleats.

From alisa at

4/4/2015 8:42 AM

Why are they all black?! I broke my ankle and must wear the stabilizing ankle brace into the summer. I am a woman of a certain age and the black brace is so obvious and unattractive. I would love a beige or nude colored one!
Alisa
Unfortunatly the Stabilizing Speed Pro only comes in black. The Stabilizing Pro does come in white but it is only available by calling DJO Customer care to order. 800-336-6569

From piper at

5/2/2015 7:49 AM

my 7 year old landed on her foot wrong dr recommended she wear a brace for the week end can you recommend one ? I can't seem to find one at any pharmacies that fit her shoe size is 1 but her foot is swollen? Any ideas
Piper
We really do not have anything that small. The only brace i could suggest is the Aircast Air Stirrup Light. It will provide some stability and is supposed to be no taller than 6.5" http://www.betterbraces.com/aircast-air-stirrup-light
Ask Your Own Question
You'll receive your answer via email either the same or next business day
You may also be interested in the following product(s)
| | | | |
| --- | --- | --- | --- |
| An extremely comfortable brace that offers an extra level of support to help prevent ankle sprains. Great for the active person! | Take the HyperIce Utility ice compression wrap on-the-go to ice your ankle, wrists, elbows, and more caused by strains, sprains, bruises, or bumps. | Low profile ankle support fits in any shoe without sacrificing fit | 60° molded stabilizer proven to reduce ankle roll and sprains |