You're currently on:
Health & Beauty > Health Care > Supports & Braces
11-3234-X
in_stock
33.99
Product Description

Product Reviews
Is the Stabilizing Pro Ankle Brace right for me?
Designed to meet the needs of demanding athletes in recovering from or prevention of an acute ankle sprain.
Designed to treat and protect:
Best for:
Football
Basketball
Soccer
Baseball
Enhance Knee Brace Comfort With This Undersleeve Knee Brace Sock
The Stabilizing PRO Ankle Brace is designed to meet the needs of demanding athletes. It features 800D ballistic nylon and reinforced eyelet area for outstanding performance and durability. A full circumferential elastic strap secures all strapping and provides tibia/fibula compression and stability. Lace-up design and trimable figure-8 strapping locks the calcaneus into place and controls inversion/eversion. Removable, articulated medial/lateral stays enhance proprioception and stability. Fits easily into an athletic or street shoe. Universal to fit right and left.

A recent study of over 2,000 high school football players proves that wearing the Stabilizing Ankle Brace reduces the incidence of acute ankle injury by 61%. Wearing the brace did not increase the incidence or severity of acute knee injuries or other lower extremity injuries. Bracing also offers a low-cost alternative to athletic tape. (Source: McGuine T.A., Brooks A. AM J Sports Med.2011 "The Effect of Lace-up Ankle Braces on Injury Rates in High School Football Players").
Product Features…and the benefits you'll experience!

Performance & Durability

Constructed of non-stretch nylon for performance and durability.

Compression & Stability

Full circumferential elastic strap secures strapping and provides tibia/fibula compression and stability.

Universal

Can be worn on the right or left foot.

Controls Inversion/Eversion

Lace-up design and trimable figure-8 strapping locks the heel bone into place and controls inversion/eversion.

Removable Medial/Lateral Stays

Enhance Proprioception and stability.
Wash & Care
Hand wash with mild soap and air dry.
Looking for more options? View our full selection of DonJoy ankle supports to find the perfect ankle brace.
Measuring Information: Measurement is circumference, taken from the base of the heel around ankle, while wearing an athletic sock.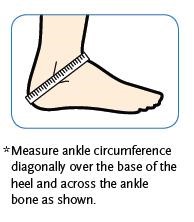 | | |
| --- | --- |
| Size | Circumference |
| X Small | 10" - 11" |
| Small | 11" - 12" |
| Medium | 12" - 13" |
| Large | 13" - 14" |
| X Large | 14" - 15" |
| XX Large | 15" - 16" |
4.65
3
DonJoy Stabilizing PRO Ankle Brace reviews
Laddie
This brace is amazing. The doctor gave me this brace for my stress fracture and my severe sprain. I wear it during practice for the sprained ankle and have not sprained it while wearing the brace. I can wear it barefoot for gymnastics and it does not rub or cause blisters. It has been washed numerous times and still holds up. I has not worn out and I use it 15 hours a week and I have had it for 2 years. Truly the best ankle brace for any gymnast. I am a level 6 and it keeps my ankle protected during my intense practices. I highly reccomended this brace to anyone with ankle pain or instability -
Laddie
Rodger
I love this brace. I have weak ankles from years of sports and injuries. So at 49 I took up Kung Fu and I was struggling with some movements and sprained an ankle. I started with the neoprene brace on each ankle till my injury healed and then I switched to this brace. I wear it everyday while I practice and I have not have any ankle issues! I have landed from a jump that would have normally sprained the ankle but not with the braces on. Now I am jumping, spinning, etc.. and I do not worry about twisting an ankle. -
Rodger
Mark
Son plays high school varsity football. He uses this brace as a preventative measure. He plays defensive tackle, linebacker and running back. He typically will wear out a pair of these braces a year, but I understand that is much better than the other braces that are suited for football play. He has had no ankle injures in the two years wearing this brace. -
Mark
Questions on DonJoy Stabilizing PRO Ankle Brace
Sort by
From Trey at

5/29/2013 12:14 PM

I'm coming off a non surgical ankle fracture and I am looking for a brace for regular/athletic activity - baseball/basketball/hiking/hunting. Also, what size would be best for a mens size 10 shoe?
The Donjoy Pro Ankle brace is similar to having your ankle taped. It slides on like a sock, laces up and has 2 stirrups to prevent inversion/eversion. It's appropriate if your Physician has cleared you to return to athletic activities. If you would like a more rigid brace I recommend the Velocity. As far as sizing, measure from the base of your heel to the top of your ankle, then look at size chart: http://www.betterbraces.com/donjoy-velocity-ankle-brace


From Doug at

8/30/2013 10:14 AM

What circumference measurements are associated with the various sizes (S,M,L, etc.)? Thanks.
The circumference of the heel up around the front of the leg where you have the crease where the ankle bends.

From Kyle at

9/11/2013 2:41 PM

Would you recommend this brace for a cross country runner with weak ankles?
Yes, this brace is used by football, basketball, soccer and baseball players. It is designed to be used for any athletic activity to help support the ankle.

From Charlotte K. Smith at

12/21/2013 9:46 AM

Had a fx tibia where it attaches to ankle. Plate and several pins installed. What brace would be most comfortable and secure to wear in a ski boot.
Please advise, thank you.

The Stabilizing Pro will offer you a great deal of support. The compression and strapping combined with the medial and lateral stays will give you compression and stability. If the stays are uncomfortable in the boot, they can be removed.

From Amee at

12/24/2013 7:31 AM

My daughter recently suffered an ankle injury in gymnastics after months of sporadic heel/ankle pain and ankle rolling. X-rays showed that she has a congenital anomaly called an accessory navicular bone in each foot which is causing excessive stretching of the tendons attached to this bone during athletic activities. Her orthopedic doctor has recommended that she utilize an ankle brace with arch support during athletic activities to lessen her pain and chance of injury. He recommended the Ossur GameDay ankle brace with stays. DJO Global is a network provider recommended by my insurance, so I am trying to determine which of the ankle braces that you offer would be best for this problem. My daughter does gymnastics as well as plays volleyball and basketball. Would you recommend the Donjoy Pro Ankle Support or would one of the Aircast models or ProCare Lace-Up be better options?? She has to have substantial arch support due to the positioning of that extra bone in addition to the ankle support. Thank you!
The Stabilizing Pro Ankle Brace is a very good ankle brace used to prevent ankle injuries. The arch support may be a little lacking unless you use the figure eight strap to pull up on her arch. Another option for you is the Aircast PTTD Airlift ankle brace: http://www.betterbraces.com/aircast-airlift-pttd-bracee This brace has both ankle support and a inflatable air pocket under the arch to give arch support. This brace might be a better choice for your daughter.

From Clint W at

5/4/2014 8:37 AM

I am a bullfighter and recently suffered a severely dislocated ankle, torn ligament in ankle and a fracture in the back of the ankle. The dislocation required screws be put in to bring everything back together. Also sustained a fractured tibia just below my knee on the same leg. Was wanting to know if this brace would help me with stability once I am able to return to the arena?
With that type of injury to your ankle you may want to use a maximum supportive ankle brace. We would suggest the Velocity Ankle Brace ES.

From Brian C. at

6/13/2014 2:31 AM

i went to my doctor with a swelling ankle and tenderness/pain at my outside ankle bone, on my right foot. doctor said I have peroneal tendinopathy, and recommended that i get an ankle brace with figure 8 straps. i have so far tried three different kinds and they are one size fits most and I am not most. However, the ones that had some stays or rigid sides relived the tenderness at my ankle bone. I stand all day at work and most of my movement is lateral as i stand at a work table. I also have a flat arch and arthritis in the bones in the middle of my foot; where I do wear an ace bandage brace. Is there a brace you would recommend? My foot size is 13 wide and ankle circumference of 14"-15". Thank you in advance for your time and response.
The Stabilizing PRO sounds like it is exactly what your doctor is asking for. It has rigid piece on each side of your ankle and figure 8 strapping. The brace comes in various sizes, one of which should accommodate your ankle. The measurements for this brace are taken from the base of your heel, up to a 45 degree angle across the ankle bones, and over the top of the foot (where your shoe laces would tie). if you are 14"-15" and XL would be appropriate.

From Jeannie hart at

6/15/2014 4:41 PM

I have ankle tendinitis. What product do you recommend?
The DonJoy Stabilizing Pro will give you moderate support of the ankle and therefore decrease pain. If you have tendonitis of the posterior tibialis tendon then the Aircast airlift Ankle Brace would be best. http://www.betterbraces.com/aircast-airlift-pttd-brace This brace has a air bladder under the arch of the foot that can be inflated to lift up the arch taking pressure off that tendon.

From Liz at

7/10/2014 7:27 PM

I have a DonJoy stabilizing brace that I will soon start using. Do you have directions that would give information on how tight the brace should be to use it correctly. I was told very tight but when doing so I have deep indentations when I remove it. I did not know if you could have it firm but not tight and have it work appropriately. Thank you.
The fit should be snug, but comfortable. It will be somewhat of a personal preference, some people like it more snug than others. The brace should not shift around, yet it should not cause discomfort from being too tight.

From Tracy at

7/25/2014 6:10 AM

Many years ago I had an injury to my ankle, torn/stretched ligaments. I constantly have the problem of lack of stability and my ankle turning. I use a lace up brace when working out and hiking-gives some support but not enough (still turns on me) We are fixing to do a mud run/obstacle 5k - will this work for me or what do you recommend?
Thanks
This brace is a lace up ankle brace with two figure eight straps that should give you more stability than just the lace up brace.

From Panos at

9/30/2014 4:52 PM

Can I wear the PRO while swimming?
Yes, make sure to rinse in tap water and let it air dry afterwards.

From Christina at

2/4/2015 9:31 AM

From Cali at

2/13/2015 3:53 PM

My orthopedic just gave me this brace-and I think its a little big. Will it still work?
Yes, the brace should still work you will just need to make sure the straps and laces are tight to give you the support

From Ron at

4/16/2015 11:14 AM

Hi, I'm looking for a brace to use while skateboarding after several ligament tears over the last ten years. I'm always told whatever brace i get should fit in my shoe properly and allow movement but they fit poorly into my shoe giving it a bulky feel. On top of that my movement is too restricted to be able to get the kind of maneuverability I need and there is usually a lot of uncomfortable pressure points. What makes your product different then many I have used in the past regarding the problems I have.
In order to stabilize the ankle after several sprains the brace is going to have to restrict some motion. If you want a brace that doesn't do that then a basic ankle sleeve is what you are looking for. Low stability, more movement low profile. The DonJoy Stabilizing Pro Ankle Brace is very similar to having your ankle taped except that this brace will not loosen after 30 minutes as taping the ankle would. We offer many different braces that will give you varying amounts of stability, the Stabilizing Pro is moderate stability, will fit into your shoe and will allow full up and down movement of the ankle.

From Diane at

5/7/2015 8:14 AM

I understand how to take a measurement from the sizing chart but if the athlete has an extra wide foot would you recommend ordering a size larger?
The brace should fit the size based on your measurement even if the athlete has a wide foot.

From Harrison at

6/11/2015 7:00 PM

My measurement is exactly 14". Should I purchase a Large (13"-14")or X-Large (14"-15")?
Thank you!
We always suggest going up to the next size to make sure it is not too tight. I would suggest the XL based on this measurement.
Ask Your Own Question
You'll receive your answer via email either the same or next business day
You may also be interested in the following product(s)
| | | | |
| --- | --- | --- | --- |
| An extremely comfortable brace that offers an extra level of support to help prevent ankle sprains. Great for the active person! | Comfortable, breathable, and customizable padded athletic tape that acts like a second skin to protect from abrasion and injury | Low profile ankle support fits in any shoe without sacrificing fit | 60° molded stabilizer proven to reduce ankle roll and sprains |