You're currently on:
Health & Beauty > Health Care > Supports & Braces
11-1319-X-06000
in_stock
99.99
Product Description

Product Reviews
With the increasing physical demands placed on contact athletes, the need for cooler and more advanced shoulder joint protection has increased dramatically. As such, DJ Orthopedics is very pleased to announce the launch of the DonJoy Shoulder Stabilizer Shoulder Pad Attachment (SPA). This product was designed with Dr. Tom Sawa and Mr. Tory Aggeler, MA ATC/L and is based on the proven efficacy of the Shoulder Stabilizer.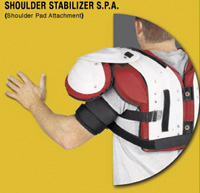 The DonJoy Shoulder Stabilizer Shoulder Pad Attachment (SPA) is used to treat or prevent the following injuries:
Designed to protect against abduction, external and internal rotation
Range of Motion control can be customized with easy strap adjustments
Adjustable for athletes specific needs without unnecessary restriction
Comfortable - nothing to poke or rub during play
Easy to Use - Arm cuff and straps attach directly to the shoulder pads which remain attached when not in use.
Player can attach it themselves
Cool - just an arm band, no chest vest.
Excellent for hot summer months
Universal design - Five sizes for the perfect fit
Shop our complete selection of shoulder braces or browse additional DonJoy products.
Measurement:
Measurements around center of flexed bicep muscle
| | |
| --- | --- |
| Size | |
| M | 13.1" - 14.5" |
| L | 14.6" - 16" |
| XL | 16.1" - 18" |
| XXL | 18.1" - 20" |
| XXXL | 20.1" - 22" |
Questions on DonJoy Shoulder Stabilizer Shoulder Pad Attachment (SPA)
Sort by
From Dina Peak at

8/6/2010 9:04 AM

my son has loose shoulders that tend to pop out to the back. Will this brace help secure his shoulder and help it to keep it from popping out.
Hello Dina!

Thank you for your question!

The DonJoy Shoulder Stabilizer Shoulder Pad Attachment (SPA) will definitely help prevent the shoulders from "popping out".

From Rick McDiarmid at

9/1/2010 11:03 AM

My son dislocated his shoulder last year. The dislocation went down while making a tackle in football. He is a receiver and is concerned that any brace will limit his ability to reach above his head or to the side to catch the ball. Do you make a brace that would be affective but also allow for freedom of movement for this position?
Hello Rick,

Unfortunately any shoulder brace will limit the range of motion slightly, however the brace will also serve to remind the player of an existing injury as well as providing support The DonJoy Shoulder Stabilizer and the DonJoy Shoulder Stabilizer Shoulder Pad Attachment are both designed to be worn during contact sports, such as football.

From Shawn at

10/1/2010 5:16 AM

My son is also a WR/CB, he dislocated his shoulder whilemaking a tackle. How much limited motion will there be using this product? I am looking for extra padding to ease his mind and Mom's to get him back in the Game.....

Thank you for your time,
Shawn
Hello Shawn

There will be some limitation in motion as when wearing any brace. However the DonJoy Shoulder Stabilizer Shoulder Pad Attachment (SPA) is excellent at preventing further dislocation, and will help raise awareness of the potential to dislocate.

From joe at

4/13/2011 2:45 PM

If I have a bankart fracture, how much limit of range of motion will be limited
A Bankhart Lesion is a tear of the shoulder capsule. It is up to your physician, physical therapist, or athletic trainer to determine your limited range of motion during your recovery and rehabilitation.

From Laura Schellinger at

5/31/2011 6:15 AM

With regard to limiting mobility how does this compare to the Sully Brace? My son has a bilateral Sully Brace (both shoulders) but it is VERY hot so we are looking at this as an option. Also, can you get this as a bilateral brace or is it a matter of overlapping 2 separate braces? If you have to use 2 separate braces is that comfortable or do you think he's better off sticking with the Sully Brace?
The Donjoy Shoulder Stabilizer offers superior shoulder stability over the SPA and the Sully. The Shoulder Stabilizer can be ordered as a special for bilateral shoulder bracing however; it won't be much more breatable than the Sully. You can attach the SPA bilaterally which will be more breatheable but offer less stability. Please let us know if you have any other questions.

From Sara at

7/5/2011 9:45 AM

With the Shoulder Stabilizer SPA brace...how is it attached to football pads? Would specific shoulder pads be needed to use this?
It is attached to the breast plate of football pads. There would need to be a rigid breast plate design for the shoulder pads used with the SPA.

From Susan at

8/8/2011 8:53 PM

My son has a left shoulder injury. Your instructions are too difficult to understand and it looks as though it is for a right shoulder injury. I don't understand how you put this thing on and correctly wrap it. Can someone guild me through this?

thank you,
This is for either the left or the right arm. It does go on the injured arm and the the straps hook to the athletes shoulder pads, we can do more trouble shooting with the product support with DonJoy 1-888-405-3251

From Nellie at

9/25/2011 6:16 AM

My son plus a strong safety in football, should I feel confident enough that his shoulder will stay in place? For I am scared of a recurrent dislocation!
I would suggest him going with the DonJoy Sully. It's going to help control his shoulder, while still giving him some range of motion to be functional in the activities he needs to do.

From Alex at

1/5/2012 10:26 AM

I am a RB in football and my shoulder is kind of messed up. My labrum is torn and there is a part of my joint socket missing. It popped out several times and I will probably have surgery in fall. The football season in Austria is in spring though. My shoulder hasn't popped out since October 2nd and it's feeling pretty healthy. So my question is which one of the shoulder supports would be the best for my situation?
Sidney Rice, the Seahawks WR has the sully and Jamaal Charles (RB-Kansas City) has a thing that kinda looks like the shoulder stabilizer...
So which one would be the smarter choice? I don't really care about movement restriction, because I usually just have to keep my arms on the ball.
Thank you for the help!
Alex
Are you only playing football or are you playing other sports? If you are always playing football with shoulder pads, I would recommend the SPA. Shoulder Pad Attachment. This will allow you to set the strap in a position so that you can still catch a ball and run plays yet protect your joint from popping out. Should you have any questions call us at 800-553-6019.

From Norman at

6/12/2012 10:33 PM

How would this work for a nose tackle with a torn labrum?
It would work well. You can set the arm in a position that he can still tackle and not hurt his shoulder.

From Dawn at

8/11/2012 9:01 AM

Hi my son suffered a broken collar bone two years ago. Since then his shoulder dislocates or "pop out" when extending his arm up or tackling in football. Which brace would be best? He is a running back, but also plays offensive lineman, he is concerned about moblitiy, but also needs his shoulder stabilized. His right arm suffers most frequently, however his left does this occasionally too, do you recommend a bilateral, and does this offer the same support, and mobility if worn on both shoulders?
You should look at the bi lateral sully. It will provide support and some range of motion restruction. It can be worn underneath the shoulder pads and can be worn for other sports as well as football.

From Tina at

8/12/2012 9:17 PM

My son plays defensive end and will possibly try out for slot. He has hyperextended his shoulder during a tackle last season. He may have damaged some of the cartlidge but our surgeon is trying to avoid surgery. Will this brace be the best one for him to use?
This brace attaches to the shoulder pads, it will restrict his range of motion and keep his shoulder in a comfortable range. If he plays other sports you may want to look at our Sully Shoulder brace. It will do the same thing but can be worn without shoulder pads so it can be used if he participates in sports besides football.

From Vonna at

8/18/2012 11:34 AM

My son had right shoulder surgery last year and now has hurt his left shoulder. He pops out the back so I would like to know if this would keep him from having shoulder surgery right away. He really wants to play this season.
This product is designed to restrict range of motion.

From Molly at

8/23/2012 5:11 PM

Can you show diagram for proper installation. How many parts and straps come with this?

Molly, i will send you the directions for this brace.

From Lelia at

7/10/2013 12:17 PM

My son has slight torn labrum and the shoulder comes out of socket at least once during football? He plays wide receiver and cornerback. So he needs enough mobility to catch and enough to keep the shoulder stablized. Which product would be best for football and which product would be used while playing basketball? The surgery was suggested but we decided against it because they told us no quarantees. Therapy does help.
Hello Lelia,

Here are your options;

Shoulder Stabilizer-limits shoulder flexion and external rotation. Very durable, high strength, best for football athletes. Capable of limiting motion, keeping athletes out of the danger zone for dislocation which is anything above 90degrees of flexion/and 90 abduction.

Sully-great for basketball, baseball. More flexible stabilizer made of neoprene. Great for shoulder multi-directional instability without injury. Straps made of neoprene capable of limiting motion.

SPA- biceps strap only. Is drilled into shoulder pads by Athletic Trainer or Equipment Manager. This does not include chest brace. It's just the biceps strap that will limit shoulder flexion.

All these braces are designed to keep the athlete from raising their hand up in the air, because this is the position where dislocations happen.

I recommend speaking with the schools Athletic Trainer and get their recommendation regarding trying to play with such an injury.

I recommend the Sully, due to his position. He needs to be able to reach above his head, but know that this will not prevent his shoulder from Dislocating.

Thanks for Contacting Donjoy.

From Isaac at

8/3/2013 1:19 PM

I have a bicep tendon injury would this be helpful?? I am an O Lineman
Hello Isasc,

The Spa Attachment is for Shoulder Dislocations. If your injury is Biceps Tendonitis or Biceps strain, I recommend a Sleeve for compression until the injury heals.

Thanks for Contacting Donjoy.

From melanie at

8/6/2013 7:00 AM

Will this help with a grade 1 ac joint separation?
Hello Melanie,

The SPA is a shoulder dislocation brace. If you have a AC Separation I recommend the AC Shoulder Brace.

Thanks for Contacting Donjoy.

From TigerPT at

8/20/2013 5:43 PM

Can you buy a arm cuff without buying the entire brace?
Unfortunately there are no replacement parts for this brace.

From nic at

12/11/2013 9:59 AM

Hi,
After 39, yes 39 dislocations and 5 operations i need every support i can get when sporting!
This product looks great for possible contact avoidance.
Is this product ready to use or do you need the DonJoy Shoulder Stabilizer and then add these on top of that?

Because it says attachment I have the idea i need to attach it to something...

Coulkd you help me out.

Thanks
Nic

Nic
This is an attachment to shoulder pads for a football player. If you want a shoulder Stabilizer you could either get the DonJoy Shoulder Stabilizer http://www.betterbraces.com/donjoy-shoulder-stabilizer or the Sully Shoulder Stabilizer http://www.betterbraces.com/saunders-sully-shoulder-support Either of these will help to restrict motion in the shoulder during activities.

From howard at

3/7/2014 8:20 AM

my son plays two tackel he had a sever shoulder seperation last year his shoulder pops out when he extends his arm high but pops right back in what brace would be best
Thank you for your question. DonJoy Shoulder Stabilizer Shoulder Pad Attachment (SPA) would be a good brace if your son is a line man. If he needs more range of motion the DonJoy Sully Shoulder Stabilizer would be a better option. If you have any further questions, please feel free to call us.

From Jacob at

5/6/2014 4:54 PM

I play cornerback and have to rely on my hands to swat passes and jam receivers, what is the farthest i could loosen this brace without risking my shoulder to re-dislocation (I have a torn labrum and hills-sachs lesion)?
Jacob
You will need to ask this question to your physician, physical therapist or athletic trainer

From zach at

8/1/2014 10:58 AM

I wanted to know which one you considered better for a defensive lineman. The sully or the shoulder stabilizer spa and why?
Zack
It depends on what motion or motions you want to resrict. The Sully gives you the ability to restrict the shoulder in more motions and instabilities. The SPA will only restrics shoulder abduction and external rotation.

From Jake D at

8/9/2014 11:29 AM

I need this brace for both shoulders. Do I buy 2 or will one do both?
You will need to buy one for each side

From rich at

8/18/2014 2:02 PM

the dr. recommended this for my son last year. it worked well. the anchor point that attached to the pads somehow didn't stay with the rest of it. probably still bolted to a set of shoulder pads in storage or lost in the coach's stuff. can I buy the anchor point separately? the two inch strap with metal ring and mounting bolts.
Rich
Unfortunatly we do not have parts for that support, you would have to purchase the entire support

From Nick D at

8/30/2014 6:02 PM

I dislocated my shoulder earlier this year amd also tore the back of my labrum. Will this help prevent against re-injuring my shoulder
Nick
The SPA will only work if you play football, it has to be attached to the shoulder pads. If you do not then the DonJoy Shoulder Stabilizer will do the trick.http://www.betterbraces.com/donjoy-shoulder-stabilizer

From Steve at

9/29/2014 2:03 PM

My son plays competitive ice hockey as a forward at a high level. He is a physical player who has endured shoulder surgery on each shoulder due to a torn labrum. Do you make a brace for both shoulders and if so, which brace would you recommend for his sport and situation? Furthermore, can the recommended brace be customized to fit in a pair of hockey shoulder pads and who would you suggest we reach out to get this done asap in Colorado?

Thanks!
Steve
Bilateral shoulder stabilizers are made as a custom brace so you would need to see a DJO Sales rep to get this done. You can find your local sales rep by following this link: http://www.djoglobal.com/contact-us/sales-rep-locator
Which brace depends on what you want the brace to do and what motions do you need the brace to limit. The Shoulder stabilizer will only limit shoulder abduction and exteral rotation, but the Sully will limit multi-directional instabilities. The DonJoy Sales rep should be able to help you choose if you tell them what type of surgery your son has had

From ross at

10/3/2014 6:40 PM

I play offensive line. I am about 6 3 275. My shoulder subluxes often because i have a torn labrum and am attempting to finish the season. What size should i get? I also already have the donjoy sully shoulder support brace. Is purchasing the spa a good combiniation for the support brace?
Ross
You will need to measure your bicep in a flexed position and check the size chart to get the correct size. The SPA can be used in conjunction with the Sully if you are not getting the support you need with the Sully alone
Ask Your Own Question
You'll receive your answer via email either the same or next business day