You're currently on:
>

DonJoy Reaction WEB Knee Brace
Health & Beauty > Health Care > Supports & Braces
11-0215-X
in_stock
99.99
Product Description

Product Reviews
Reduces anterior knee pain by dispersing energy across the knee.
The DonJoy Reaction knee brace utilizes an elastomeric web design, which absorbs shock and shifts the peak loads away from the painful area of the knee. This dispersion of energy helps reduce the anterior knee pain you suffer from.

Another advantage of the elastomeric web is it dynamically stabilizes the patella on all sides, thus bringing the patella into proper tracking position to reduce pain caused by general patellofemoral instabilities.

The DonJoy Reaction knee brace is extremely comfortable to wear because the open framework of the elastomeric web and mesh backing makes the brace breathable, unlike the traditional elastic and neoprene sleeves.
The DonJoy Reaction knee brace is used to treat or prevent the following injuries:
Chondromalacia patella
Quadriceps or patellar tendonitis/tendinosis
Osgood-Schlatter disease
General patellofemoral tracking issues
Mild OA
Product Features…and the benefits you'll experience!
Progressive Pain Relief
The web absorbs shock and shifts the peak loads away from the painful area of the knee and stabilizes the patella on all sides to ensure proper tracking position.
Sustained Comfort
The open framework and mesh backing makes this brace breathable and comfortable during use.
Dual-Axis Hinges
These hinges are flexible and work in conjunction with the elastomeric web for optimal fit and support, and providing energy dispersion to the knee.
Undersleeve Included with Purchase. Made with 85% Nylon and 15% Spandex
Now available: Limited edition U.S. Ski Team REACTION WEB knee brace, featuring the U.S. Ski Team logo and a red and white undersleeve.
Sizes: Available in sizes: XS/S, M/L, and XL/XXL and XXXL. Click on Size Chart tab above for sizing info.
Colors: Grey, Orange, Pink, Red, Yellow, Green, Blue and US Ski Team Limited Edition (USST)
Accessory: The Reaction comes with an undersleeve that is sized slightly smaller than the actual brace. If you measured on the upper end of the size chart, you can order a larger size by Clicking Here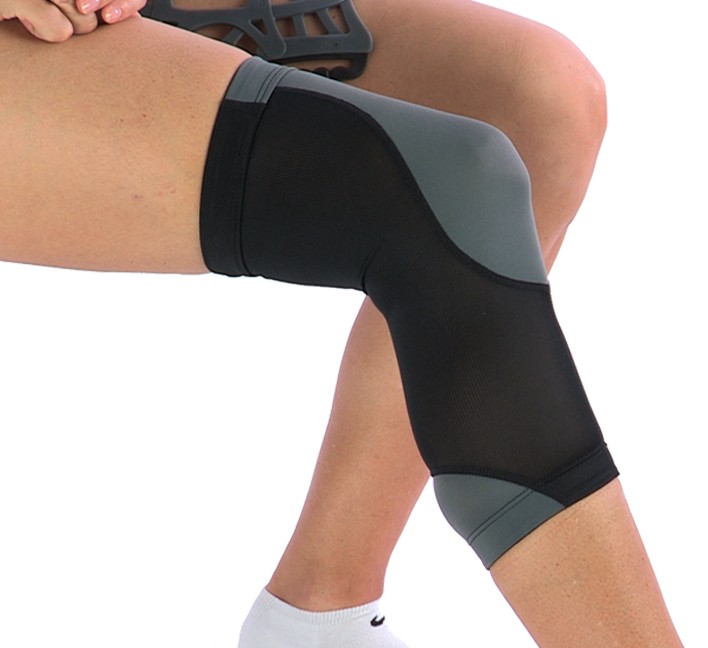 Shop our complete selection of knee braces or browse additional DonJoy products.
Take the measurement of your thigh 6" above your kneecap using a flexible type tape measure. Use the circumference to choose your size.
Note: This product runs small. If you measure between sizes we recommend going up one size for optimum comfort and fit
| | |
| --- | --- |
| Size | Thigh |
| XS/SM | 13" - 18 1/2" |
| M/L | 18 1/2" - 23 1/2" |
| XL/XXL | 23 1/2"- 29 1/2" |
| XXXL | 29 1/2"- 32" |
4.65
18
DonJoy Reaction WEB Knee Brace reviews
The brace worked great. It felt liked it helped me do the workouts on my knee better and with less pain. - Christian

Great alternative to a knee sleeve. - David

I found this brace relieved patellar tendon pain during stairs and standing squats. - David

From the minute I put it on and walked, the pain was relieved. - Jamie

This brace was comfortable to wear 2 weeks after Lateral Release surgery and easy to use. - Cathy

I've had this for a year and have used it everyday for practice and soccer games. The velcro will eventually wear down and won't sick anymore, so I now have to tape it. I will have to order two more. One for each knee. - Destiny

My daughter's Oscgood Schlatter's pain has really improved since she started wearing this brace. A lot better than the McDavid knee brace we had bought at Sports Authority. Great job DonJoy - Ronnie

Male 32 Years old. Volleyball Middle Blocker. Chronic Patellar Tendonitis (Tendonosis) I have tried the following to correct my issue: Platlet Rich Plasma Injections (4) 4 months of Preventative Physical Therapy with taping strategies Surgery to remove distal edge of patella and clean up tendon (followed by 6 mths PT) More braces and straps than I care to admit. This brace has been the most effective (and cost effective) way to correct my chronic issue. I can play in an all day Volleyball tournament (10 hours, 15 games) and the only thing that doesn't hurt is my knee. Its miraculous! I also wear one on the other knee to help with patellar tracking issues and mild subluxtions. Best Brace EVER. - Middle Blocker Nate

Great relief when I do Squats and no residual pain. Also able to stand on the sidehill with a radio without the killer pain later in the day. Worth every penny. - Parker

I injured my knee 4 months before my first marathon. Was able to complete the marathon using this brace. Helped stabilize my knee but wasn't too bulky or heavy. I'm continuing to use it but now 4 months later the velcro isn't fastening as well as it used to so I'll have to buy a new brace soon. - TJ

This brace did help stabilize my knee without too much pressure. I have tried other stabilizing braces that push my kneecap too much. This brace was especially useful on stairs. I did find that the brace stretched out over the 3 months that I had it though and one of the rubber webs actually snapped recently. The brace was effective so I am going to return it (it is still under warranty) for a replacement. The BetterBraces customer service is great and they have made the return process VERY easy. I have found that the brace runs large. I am an average height, adult female (my legs are kind of thin) and the XS/SM is a bit big on me. - Marie

I injured my knee two years ago in a lacrosse game. I have chondromalacia patella and have issues with my knee, I couldn't run or do anything of the sort, and lacrosse was definitely out of the picture. One of the team moms is a physical therapist and recomended this knee brace. It wasn't hard for me to get used to wearing since I'd been in other knee braces, none of them worked this well though. I immediatly noticed a relief of pain. It helps my knee cap track the way it is supposed to. The only bad thing about it is that the velcro will wear off and I actually had to sew on a new piece of velrco. I also have holes on the actual part that goes on the back of my leg. I also have rips in the rubber. But I have had it for a year, and wear it all day everyday, and I am very hard on my knee braces or any brace for that matter. Overall, it is a wonderful knee brace and it is worth every penny. - Meagan

A year ago I began hiking, despite some pretty bad OA pain in my left knee. I've been using the Reaction since then and just this summer scaled two of the highest peaks in Southern California. They are comfortable enough to wear on my daily walks as well as my big hikes. My knees (I now wear this on both knees) feel great especially on steep downhill descents where the forces are greatest. They are slim fitting enough to fit under all of my hiking and training pants. After a year they show no wear or tear and are as comfortable as they were on day one. Thanks DonJoy! - Larry

I love the Donjoy Reaction brace. Only drawback is the Velcro and material it attaches to. After about a month, the material the Velcro attaches to wears out and the Velcro doesn't stick very well, even with pressure applied to it. During a mid run the Velcro will snap off and have to constantly stop to reapply. It's irritating. I hope the Donjoy manufacturing company will fix it. Betterbrace customer service is very helpful and knowledgable about products, so 5 stars for customer service. :-) - Mari

I have had some painful patella tracking issues and found this brace to work very well. I wore the brace for 24 hours each day for 1 week and then only during day for week two, followed by only when working out for next 4 weeks. I also did 5 days of PT for all 6 weeks. I never missed a soccer practice or game the whole time. Totally tracking with the knee. The brace stabilized my knee and reduced inflammation so I could build the correct muscular balance around the joint. - High school soccer player

This brace is Awesome! My biggest issue was up and down stairs and when I would sit for a little while an try to get up it was like a knife stuck in my knee. Very painful and embarrassing especially if I was out to eat. My hubby would have to help me up and still there was pain. I have only had the brace a couple of days but from the very beginning I could tell it was going to work out. You have to get the hang of putting it on and adjusting it. Once it is adjusted just right I stood up off the couch and NO PAIN! I then went to our stairs and walked up the stairs with both feet and again with no pain. It's lightweight and easy to put on. Very quick delivery from Better Braces. - Michelle

I play high school volleyball and have osgood-schlatters in both my knees. I only bought one brace, but WOW this brace is amazing. As soon as i put it on i took away about 95% of the pain in my knee. Great Brace. Highly Recommend. - BW97

Jonny
Are you tired of knee braces that are clunky or handicap your knees movement ? If so this brace it for you! I am very picky about knee braces and I have tried so many I stopped counting. This brace feels amazing, it fits and forms to the body so naturally. I hardly notice I have it on but I know it is there cause my knee is stable. I wear this brace when doing any sports or related physical activity to stabilize my knee cap. Sports like BMX, tournament paintball, bombing big hills on my longboard. (I haven't tried it surfing yet) I have hated 90% of the many braces I have tried and this one has left me more excited about a knee brace than I ever thought I could be.The groove where my knee cap sits is slanted it to one side, making my kneecap extremely vulnerable to pop out of place. Cause of this I have had separate 3 surgeries to repair ligaments and cartilage, latest one was a partially reconstruction. (they gave me a brand new ligament) I am only 20 and half of my cartilage is gone due to countless times I dislocated my knee. This make's my knee feel the best it has felt in a long time. I'm very active but my knee does hold my back and I feel this brace has set me free again. -
Jonny
Anita
The BEST knee brace I have ever worn! Lightweight, easy to get on and off and it truly relieves my knee pain! I am looking forward to wearing one on both of my injured knees! Thanks DonJoy for such a great knee support!! -
Anita
Todd
I bought this to replace my neoprene knee sleeve that my orthopedist gave me. I needed an alternative that wasn't so hot while playing tennis outdoors. This definitely gives relief relative to a neoprene strap for keeping sweat down, BUT I couldn't make it tight enough (without cutting off circulation) to correctly support my patella from a side to side motion. It also felt more restrictive overall than my other strap and the concept of the rubber exoskeleton makes sense, except when you straighten or bend you knee as it moves out of shape. I'm sad that it didn't help! Back to heavy knee sweating, but less pain! -
Todd
Eliza
I have had meniscus surgery and found out I also have arthritis on the back of my knee cap. I am 34, I was told I could go MAYBE 20 yrs (if I do nothing to agrivate it) before a knee replacement. Shortly after surgery I had a cortisone shot then a few days later, I fell hard right on to my knee. No more damage, but was told that a brace may help relieve some pain. I just got the brace today, put it on and felt better! I am excited to see if this will help. I was training for a half marathon before my surgery. Ready to get back outside and running. May invest in another for my other knee which I had surgery on last year. -
Eliza
Rob
We got this for our 12 year old daughter who plays soccer. She has Patellofemoral pain and Chondromalacia. She was completely relieved of the pain in her knee from the very second she put it on - had her first practice with it last night and she came off the field smiling from ear to ear. This is the first relief she has had in 6 weeks and is completely thrilled! -
Rob
david
The brace works very well. I wear two of them much of the day. However, I need to have a shoemaker replace the Velcro with industrial grade Velcro in approximately one month. -
david
Hiker
Our patient was hesitant about the brace and didn't want to wear one. After I put it on her she immediately felt less pain and loved it. I just heard from the patient and therapist today that she recently climbed Mt. Kilimanjaro while wearing the brace with barely any knee pain, something she couldn't imagine doing before this brace. -
Hiker
US Ski Team
I trust and recommend the DonJoy REACTION WEB knee brace for our athletes on the US Men's Alpine Ski Team. We have used it for relief of various anterior knee pain conditions including general knee pain and tendonitits. It's effective, low-profile design provides athletes the confidence to compete without showing any weaknesses as competitors. The additional sleeve provides extra support and warmth on the slopes. Chris Antinori, MS, ATC Men's Alpine Head Athletic Trainer United States Ski & Snowboard Association -
US Ski Team
Amanda
I've been playing volleyball for many years and have tried many braces for my PFPS. This brace is by far the best one I've used to date. Too bad this brace wasn't developed sooner then I could have saved all my money spent on the numerous braces I've tried. -
Amanda
JohnC
I'm 46 and have severe osteoarthritis, zero cartilage and big alignment issues in both knees from injuries when I was 16. Until I get them both reconstructed, I've needed to use a brace on the right to limit its movement and keep the joint from locking. For the past several uses I've been using an Rx Donjoy brace which has never fit right, constantly slides, rotates, and restricts but has never felt supportive. Based on a recommendation, I tried this Reaction model and am sort of shocked at how much better it is. It is lightweight, very comfortable, allows much more movement and actually feels like it strengthens the joint. For the first time in years, I feel like I have some capabilities back, and on long walks, the left knee know feels much worse than the braced right one. Such a huge difference that I've now ordered one for the other leg. The web design gives it so much more flexibility in multiple directions than a more conventional design, and it feels like it is always giving the most benefit where it is needed at a particular time. I would recommend only wearing it with the spandex sleeve, however, as the rubber web pinches and pulls bare skin. Overall, this product is fantastic and is definitely improving my quality of life. -
JohnC
Erc the Volleyball Destroyer
Ok, so I might be wrong.. since I just got this brace and I've worn it about 10 minutes now.. but holy fecal matter, I noticed a difference right away! I was able to walk down the stairs.. literally walk, not my normal almost-hopping-on-one-foot-as-I-hold-on-to-the-rail-like-I'm-80.. I can even stand up from sitting in my chair without having to lift myself up first with my hands. My real test will be later when I attempt to play volleyball and see how that goes.. but I have a good feeling about it so far! Only downside so far is the sizing seems to be a little off, at least me. I got the XXL/XXXL because I have some insanely muscular thighs and calves.. and I barely got it on.. my patella also barely fit, so I will be getting the XXXXL version and see how that fits. 5 stars! -
Erc the Volleyball Destroyer
Southern Utah Hiking
I hike in Southern Utah a lot. I have cracked cartilage in my left knee and this has been the best knee brace I have ever owned. Only issue I have with it is that when you get a bit sweaty it runs uncomfortably. -
Southern Utah Hiking
kmnj
former elite distance runner that had to hang up the shoes due to a knee injury -many years later when I try and run I get a half mile into it and knee goes-tried it out today on a run-got in a few miles and knee seems to be okay-I tried this yesterday for biking too-I find that although great for running (so far day one) I dont like it for biking and prefer the sleeve style for that on a side note it took me a while to figure out how to put in on(guess I am not too bright lol) but figured it out-should have watched u tube on it too -
kmnj
cmo
Awesome Reaction knee brace, post knee surgery -
cmo
KJP
First off let me say that I love the design and concept of this knee brace. I think my problems have more to do with the way my leg/knee are and perhaps less to do with the brace itself. Nevertheless, I want people to be aware of a couple key points. First the positive- Lots a breathability. Negatives- I had to tighten the brace to the point that it was nearly cutting off my circulation in order to keep it from sliding down my leg/ The soft backing is held onto the web via harder plastic loops which I would agree is a necessity for reinforcement and stability however they do not put any padding on the corners and the bottom left one dug into my leg so badly that it left a bruise. Great idea but needs some refinement. -
KJP
Baller
I play basketball and tennis and love that this knee brace dampens the blow and force to my knee when landing on the ground. -
Baller
Pita
I had knee surgery and the heavy bulky knee brace I first received was a hassle and I didn't get any relief. I went online and purchased this reaction brace and noticed the difference right away. But t their needs to be an improvement on the Velcro problem but I plan on purchasing another when this one wears out. -
Pita
Tennis Player
I love this brace. I have patella tracking issues and IT Band issues. Nice! This brace has really helped. I would have given it a five star rating but the Velcro does not last. I have to use vet wrap on the top and bottom because it does not stick. (Vet wrap is a breathable tape) I started having problems with the Velcro within two weeks of wearing it. I am from south Texas and play tennis in the heat and humidity so that could have something to do with the straps going bad so quickly. That being said, it is the reason that I can play again. LOVE IT!!! -
Tennis Player
Questions on DonJoy Reaction WEB Knee Brace
Sort by
From ward davies at

3/16/11 4:11 PM

I have severe minicus tears in both knees and I need a brace that keeps the knee from dislocating with any twisting movements. I have arthritis and overall degeneration..Ive had surgery's to correct some of the damages(acl repairs,etc), but no knee replacements yet...this brace looks like it might offer me fairly good overall support. Im I correct?
The the DonJoy Reaction Knee brace is mostly used for Patellofemoal issues, i.e. patella tracking, patella dislocations, & tendonitis, just to name a few. With the injuries and issues you have going on with your knees, and if you are active, I would recommend looking at a more sturdier brace that will protect from dislocations, ligament problems, arthritis and degeration. The brace that I would recommend would
be the OA adjusted, it will help protect the ACL you have had repaired, as well help off load the torn menicis that you have, and with the strapping and extension stops available, this brace will help prevent against hyperextending the knee.

From Mark at

4/18/11 11:09 AM

Hi.
Concerning the Donjoy Reaction knee brace, can you tell me what the hinges are made of and the side supports coming from the hinges? Thank you for your help,
The hinges are made of a flexible plastic.

From Don at

4/21/11 9:08 AM

My daughter has had an ACL replacement and is now suffering from pain due to what the doctors are calling runners knee, she plays soccer on her high school team and is very active
She would need something that would allow her to run but still offer some support
Is this the correct brace for that??
Thanks,
Don

Yes, the reaction brace would be good for that condition. If she ends up thinking it's too much brace, you can try the Donjoy Cross Strap as well.

From scott at

7/13/11 4:18 PM

My measurement is 18-18.5" at 6" above mid-patella. Do I go high or low for a better fit?
Go with the M/L size.

From Anthony at

7/23/11 8:39 AM

My Son suffers from patella tendinitis and Osgood-Schlatter disease would this brace be a good one for him to wear during his high school football games as a linemen?
Yes, this is a good brace for him to where for both of those knee conditions. It will help with the discomfort he gets, as well as still be functional enough for him to still move around in.

From Jaz at

7/25/11 4:46 AM

Hello,
I have a pcl
injury. This product look like it wuould aid in bringing the shinbones forward and take pressure off my pcl, while providing some protection to the front of my knee to prevent further injury. Is that the case?
I play semi contact sports so I cannot use the ligament braces because they may injure other players.

Thanks.
No the Donjoy Reaction Knee Brace is designed for Patellofemoral injuries not for PCL injuries. Actually the Armor would be the best Off the Shelf PCL brace for contact sports, you may use a sports cover to protect your teammates/opponents.

From Leonard at

7/26/11 11:34 AM

i will be playing college football for the next 4 years. I am just wondering about the overall durabiltiy of the DonJoy reaction Knee Brace and how long would this brace last for practice and weightlifting purposes?
There is a 6 month warranty for the Donjoy Reaction Knee Brace, that is how long we verify that it will hold up to
the activity you will place on it.

From leonard at

7/26/11 11:42 AM

i will be playing college football for the next 4 years. and i was just wondering about the overall durability of the DonJoy Reaction Knee Brace for practice and weightlifting use; how long would it last?
There is a 6 month warranty and that is how long we verify that the product will work.

From Jaz at

7/27/11 5:34 PM

I note that it isn't designed for PCL injuries, however at the web design at the front of the brace look like it would aid in pulling the shinbones forward while reducing the force of knocks to the front of the knee.
The main benefit of the Donjoy Reaction knee brace is the relief at the knee cap and patellofemoral stress reduction, not PCL stability.

From Mom at

8/10/11 10:05 AM

My daughter dislocated her patella playing volleyball. The ortho has recommended this brace. The players usually wear their kneepads just below the patella to help them slide when hitting the floor. The webbing on the front looks like it would prevent sliding, and maybe cause more injury? Would she be able to wear a kneepad over the brace? What's the best fix for volleyball?
Yes, I would advice her to wear a pad over the webbing. The webbing will prevent her from
sliding. Another good brace for dislocations is our Tru-Pull Lite.

From Cindy at

8/10/11 1:44 PM

I am now wearing the OA Adjuster brace, and have been for two years. I have osteoarthritic in my right knee. Will the progressive pain relief brace help me better with the pain I am still having when I move around.
If you are still having pain and are already in an offloader this may not give the most relief for you. It may help some with the shock absorption, but will not offload any area.

From nick at

10/13/11 10:50 AM

i have a patella that keeps dislocating and a streched mcl in the same knee also. would the reaction knee brace be a good brace or what do you think would be the best? thank you
The Reaction, Tru-Pull Light or Hinged Lateral J would all be good options because they all have lateral patella buttresses to keep your knee cap in place and hinges to protect your MCL.

From Monica at

11/9/11 3:24 PM

Hi,
My 12 year old
daughter has multi-directional patellar instability and Osgood-Schlaters. She has had her fat pad (ligamentum mucosa?) removed.We have this reaction brace, but it irritates the bump on her knee where the patellar tendon is pulling away and she won't wear it. I would like a support that has a little room for some growth. What do you recommend?

Thanks,
Monica
The Tru-Pull Lite or the Deluxe Donut may be better options for her to consider using.

From Kevin at

12/15/11 6:02 PM

I am a male currently on a professional stunt team (like collegiate cheerleading) and a competitive cheerleading team where I do a lot of stunting (tossing and holding one female standing in my hands over my head) and tumbling. I have had my ACL reconstruction once and scoped twice (meniscus tears). I have no stability issues in either knee, but both knees (
specifically above and below the knee cap) have pain during and after these activities, patellar tendinitis, and osteoarthritis. Patella straps help some, but I have to wear one above and below the knee cap and add tape to get more coverage in both areas...this looks like it would provide plenty of pressure all around the knee (which is pretty much what I do with all the tape). I know I will never be pain free but will this help relieve some of that pain?
Yes the Donjoy Reaction Knee Brace would be recommended for you with your condition and activity levels.

From Melissa at

1/31/12 4:23 PM

My daughter plays high school soccer. Braces cannot have exposed metal parts, is this brace legal. She has chronic patella tendonitis, with her kneecap not being on track, will this help aleviate the pain?
Hi Melissa,

Yes this brace is appropriate for soccer, there is no exposed metal. The web design helps with patellar tracking and will distribute shock and force across her knee as opposed to one area.

If you have additional questions, please call 1-800-553-6019.

Have a nice day.

From Catherine at

2/2/12 4:50 AM

I am 48 year old female and walk 30 minutes a day. I used to run, but knee pain has limited me to walking or other non-weight bearing exercise. I have been using Hypafix and Leukotape to correct a patella tracking issue. This has been very helpful, but I was looking for something more long term. Would you recommend the Lateral J or the Reaction? Thank you!
The Reaction Knee Brace would be recommended for your
condition and activity level.

From Fran at

2/9/12 6:41 PM

Does the undersleeve come with this brace when you order it?
Yes, one undersleeve comes with the DonJoy Reaction Knee Brace. We offer replacements if you ever need a second one or would like to have an extra while the other may be in the wash.

From Cody at

2/18/12 7:06 PM

Hi, I am 12 years old with Osgood shlatter and play lacrosse and football and was wondering if this brace would work for a contact sport?
Yes the Donjoy Reaction knee brace would be recommended for your condition and athletics.

From Madison at

3/9/12 4:11 PM

I am 13 years old and play all sports. Track season now and summer I play a little softball and volleyball. I have Ogsgood-schalauters in my knee and was told I had arthiritis in my knee. I hurt my knee during the 200 sprint relay about a week ago and is giving me excrutiating pain. Would this be a good brace to have for all sports? Is it easy to run in? Light weight?
Yes the Donjoy Reaction Knee Brace would be recommended for your condition and activity level.

From Carol at

3/9/12 9:58 AM

Hi, I have knee tracking problems in both knees. 2 1/2 years ago I had microfracture, meniscus repair, and a lateral release on the right knee. I have a meniscus tear in the left knee. I am a tennis player and am experiencing soreness in both knees about an hour into playing and after I play. Would this be a good brace for me?
The Donjoy Reaction Knee Brace will provide support around your knee cap and moderate support to the knee in general, if you are getting a lot of instability or buckling of the knee joint you may want to try the Donjoy FullForce knee brace instead. That's best for athletes who have knee instability.

From Loren at

3/9/12 2:06 PM

I have a Donjoy Reaction brace and it does work well for my mild OA but I am expierencing migration down my leg with the lycra sleeve. If I wear it with out the sleeve It eats into my skin and is very uncomfortable. I also
have tried a neoprene sleeve brace and it will not stay in place. Any suggestions.
There is a 90 day money back guarantee if the product is not working for you. For OA you may want to try the OA Fullforce if you are an athlete. Otherwise, the OA Adjuster or the OA Everyday (with no joint instability) would be recommended.

From Scott Franklin at

3/26/12 2:47 PM

My son plays high school basketball and he has been diagnosed by with patella instability which causes him a lot of pain. I am looking for a brace for both of his knees which will help his pain. What brace would you recommend.

Thanks,
Scott Franklin

The Reaction knee brace would be appropriate for your son or the DonJoy Tru-Pull Lite. Both knee braces will help with patellar instability problems. The Reaction is also designed to distribute shock and force around the knee away from the painful areas. He might find a
bit more relief while wearing the Reaction compared to the Tru-Pul Lite.


From Jeremy at

4/12/12 1:11 PM

Is this brace left or right specific?
Hi,

The brace can be worn on either leg.

Have a nice day.

From Ray M at

5/23/12 7:22 AM

i have been diagnosed with patella femoral syndrome in both knees. Supposedly no arthritis at age 59 per doctor review of X-RAY. Been taping, doing therapy for 7 weeks with PT supervision. I play 6
hours of singles tennis every week . Pain level has deminished 50% since therapy but is definitely not gone. Still feel it up and down stairs, sitting in a restaurant. What brace do you perscribe to help me and why?
The Donjoy Reaction Knee brace would be appropriate for you and your condition and activity level.

From A.J. at

6/1/12 11:06 AM

I have tendonitis under my knee and MCL pain, my knee also pops easily would this brace help my knee and good for playing sport with?
Yes the Donjoy Reaction knee
brace is sufficient for your condition and activity level.

From Scott at

6/5/12 4:29 PM

Can this brace be used in watersports?
Yes it can.

From Shannel at

7/6/12 7:31 PM

Hi,i have this brace and I use it during volleyball because I have patella dislocation in both knees however the brace has torn down the center.Is there some type of warranty to replace the brace with a new one?
Hi Shannel,

The Reaction has a 6 month warranty. Please call customer care at 1-800-553-6019, they can help process an exchange.

Have a nice day.

From Kelsey at

7/25/12 8:36 PM

I have plica syndrome and have had surgery to remove the tissue in one of my knees. I currently wear a bulkier brace and am about to start college soccer. Would this brace fit with my injury and my level of play?
The Reaction Knee Brace is used to help the Pateklla track through the knee's range of motion in a natural fashion.

From Priscilla at

8/19/12 1:44 PM

Do you guys sell the black pad separately?
We sell the brace and the undersleeve toghether. You can buy
another undersleeve.

From Jean at

8/20/12 6:39 AM

Will this brace control a patella that dislocates laterally?
Can it be used without the sleeve effectively?

Yes this brace can be used for Patella Subluxation. The sleeve is there for comfort, it is not necessary for the brace to be effective.

From Jasmyn at

11/21/12 7:14 PM

Can I find this specific brace in stores? If so which one I need it as soon as possible.
Hello, Jasmyn -

No the Reaction cannot be bought in stores, however you can order it through Better Braces and have it overnight shipped to you. You would have to place the order immediately if you want it shipped out today. Because of the holiday, our next overnight shipments won't go out until Monday.

Thanks and have a great day!

From BART at

1/4/13 9:16 AM

measure 21 1/2 will m/l do?
You would be a M/L (11-0215-3).

Thank you and have a great day!

From anonymous at

1/9/13 8:53 AM

How heavy are the braces?
It weighs 1/2 pound.

From Sophie at

1/16/13 12:42 AM

Hi!
My name is Sophie and I play basketball twice a week and do pe classes - typically running or exercises. I have sore knees when running in basketball and pe, I have a kneecap that moves and just wanted a knee support to help so I can do running, sports carnivals, exercises in sport (
jumping forward and landing, squats, suicides and burpies) as well as basketball without sore knees!!! So would you recommend this support or another one? and not wanting to spend a huge amount!
Thanks,
Sophie
Sophie,
This is an excellent brace for an active person with kneecap issues. This brace would be a great choice for what you are looking for.

From Kiera at

1/28/13 10:33 AM

I'm a rower and I have serious pain in both of my knees. On the sides and above my patella. My physical therapist said that I have weak hips and because of them more problems have been caused. My diagnosis for my knee pain is patella mal-tracking, my patellas track medially inwards and I need braces to push them out. I
tried the DonJoy Reaction Web Knee Braces, but they bunch up so much in the back that I can't get a long enough stroke in and they only helped a little. I need full mobility that would allow my knees to be fully compressed. Would ANY brace work for me?
Hello, Kiera -

The lowest profile brace that would suit your needs would be the DonJoy Tru-Pull LIte:

http://www.betterbraces.com/donjoy-tru-pull-lite

Since you have medial tracking issues, you would order the strap to track your patella laterally.

If you have further questions, please feel free to contact our product specialists at 888-405-3251.

Thank you and have a wonderful day!

From Ben at

1/31/13 12:38 PM

Few months ago..I torned my acl during badminton tournament, jump smash and landed with one leg(left). A month ago i had the acl reconstruction, so will this brace help? for badminton will this brace give enough support? and can it prevent acl
injury?
Hello, Ben -

This brace is not designed to support the ACL. It was designed to assist and support the patella with tracking issues.

If you have further questions, please feel free to contact our product specialists at 888-405-3251.

Thank you and have a wonderful day!

From Chadd at

3/14/13 11:13 AM

I play college basketball and was diagnosed with chondromalacia two years ago. And got the donjoy Lateral J brace from my PT. I lost the brace however a year ago and continued to play as e pain was more bareable.I came here simply looking to replace the J brace, but noticed this brace and it interested me cuz its more adjustable, after a while the j brace would slip and slide and not seem to fit properly. So I was wondering if this is a good replacement for the j brace, or if I should just get the j brace again?
Hello, Chadd -

Yes, the DonJoy Reaction Knee Brace will assist you with your chondromalacia and is a good replacement for the Lateal J Brace.

If you have further questions, please feel free to give our product specialists a call at 888-405-3251.

Thank you and have a wonderful day!

From Peter at

4/20/13 3:46 PM

My son has Sinding-Larsen-Johansson Syndrome. Would this brace provide pain relief or would you make another recommendation?
Hello, Peter -

The DonJoy Reaction can provide mild pain relief and support for your son. It will help disperse the shock and stress put on the knee joint. However, we do not have a brace specifically designed for his syndrome.

If you have further questions, please feel free to contact our product specialists at 888-405-3251.

Thank you and have a wonderful day!

From Erika at

4/26/13 1:20 PM

I have a patella tracking disorder as well as medial/lateral instability and end stage OA. I would like to have a brace that I can wear in the water while kayaking and that will support my knee/patella while walking on sand/mucky river bottoms. Would this brace be good for that or should I try something else? Optimally, I'd like a hinged brace that wraps around since I will be putting it on and taking it off while wet.
Hello, Erika -

The DonJoy Reaction Knee Brace allows for mild to moderate support for patella tracking issues and overall knee instability. It can be worn in the water, however we do recommend that after each use, you rinse the brace in tap water to make sure there is no residue, salt, or chlorine that remains on the brace or in the hinges.

If you have further questions, please feel free to contact our product specialists at 888-405-3251.

Thank you and have a wonderful day!

From Sandra at

5/16/13 12:22 PM

I am status post my first series of 3 Synvisc injections for a total loss of cartilage of my medial aspect of the right knee. A partial knee replacement is in my future but I'm trying to postpone as long as possible since I'm pretty young and had been very active (running, skiing, hiking, biking etc). The injections did help but it wasn't until I tried the Kinesiology tape along with Pilates that the most improvement happened in terms of pain relief and improved range of motion.
I'm looking for a brace for activities such as walking and biking rather than wearing the tape. I've not been told if my patella is off track but without the tape I can feel it popping pretty significantly along the lateral aspect along the patella femoral area.
The DonJoy Reaction brace sounds like it might be the best option. We do a fair amount of traveling so something light weight is also a consideration.
Hello, Sandra

Thank you for contacting Donjoy.

I believe you are a great candidate for an OA Brace. What an OA brace does is off-load either medial or lateral compartment. In your case you would want to off-load the medial compartment if your injury is to the medial knee. We have 2 OA braces that would work for you.

OA Nano-lighest brace available, in the OA Line
http://www.betterbraces.com/donjoy-oa-nano-knee-brace


OA Fullforce- designed for athletes
http://www.betterbraces.com/oa-fullforce-knee-brace

Please contact your Physician to see if an OA Brace is an option for your treatment.

Any further questions please contact a Product Specialist at 1-888-405-3251

Have a Great Day.


From pat at

5/17/13 7:31 PM

I have mild OA in my right knee can this be used during swimming or is there a better alternate that will standup to the day to day mile swim I do?
Hello Pat,

Yes the Reaction Knee Brace is appropriate for Mild OA.

We do have other OA braces that will provide more Off-load and pain relief. The link to those braces are below.

http://www.betterbraces.com/donjoy-oa-nano-knee-brace

If you would like to speak to a Product Specialist please call us at 1-888-405-3251

Have a Great Day


From becky at

5/18/13 1:06 AM

I have a severe neoprene allergy , is there any neoprene in this brace? having a hard time finding a brace without it in there.
Hello, Becky -

The DonJoy Reaction Knee brace does not contain any neoprene in the brace.

If you have further questions, please feel free to contact our product specialists at 888-405-3251.

Thank you and have a wonderful day!

From Meg at

5/26/13 7:05 AM

I asked this before and can't find the answer. My son suffered a severe traumatic brain injury 6/4/11. Was in a coma and went through 1.5 years of therapy and serial casting to try to get his left leg /ankle to at least be in a 90 degree angle. They decided to cut his hamstring, heel cord and all his toes on that left foot because of the spasticity he was still having. They could barely get his foot to 90 degrees.

Now his leg sometimes hyper extends. I was hoping this brace above would work so he can build up strength in his leg. I don't want him to rely on braces forever and neither does he. I am ordering his wrist brace now. Sorry to have to ask again, but I can not find the reply. Thank you
Hello Meg,

Your interested in a Brace to prevent HyperExtension? We have several Rigid Knee Braces that you can add an extension stop to prevent the Hyper-extension and prevent falling or giving out of the knee.

Please call us to speak to a Product Specialist so that we may better assist you. 1-888-405-3251.

http://www.betterbraces.com/donjoy-fullforce-ligament-knee-brace



From dave-o at

5/31/13 10:35 AM

I am interested in purchasing this Brace.
Are they true to size? I am male, 5'9", 185lbs.
Using the sizing chart my measurement is 17.5"
Does that really mean that I'm an XS/S?
Thanks for your help.

Hello Dave,

Yes, that is correct if your thigh, 6" above your knee measures 17.5 inch's, your a Small.



Take the measurement of your thigh 6" above your kneecap using a flexible type tape measure. Use the diameter to choose your size.

Size Thigh
XS/SM 13" - 18 1/2"
M/L 18 1/2" - 23 1/2"
XL/XXL 23 1/2"- 29 1/2"
XXXL 29 1/2"- 32"


Have a Great Day.

From Nicola at

6/2/13 9:46 PM

Hello, I have been diagnosed with patella femoral arthritis and have had arthoscopic surgery in both knees with lateral releases. I still experience most of my pain going up and down steps. I am also chubby and have problems with any previous brace slipping down. My measurement above the knee is @ 23", if I did it correct. What do you recommend?
Hello Nicola,

I suggest going with the larger size. XL-23"

Take the measurement of your thigh 6" above your kneecap using a flexible type tape measure. Use the diameter to choose your size.

Size Thigh
XS/SM 13" - 18 1/2"
M/L 18 1/2" - 23 1/2"
XL/XXL 23 1/2"- 29 1/2"
XXXL 29 1/2"- 32"


We also have the Tru-Pull lite. Great low profile, short brace.

http://www.betterbraces.com/donjoy-tru-pull-lite

Please call us with additional questions. 1-888-405-3251.

From jarvis at

6/22/13 4:37 AM

From tim at

6/26/13 8:52 AM

hi, i am planning to buy the fullfource brace as i tore my acl and meniscus. however, i do have some pain around my shin and patellar. is it possible to add the reaction to my fullfource brace? or do i have to wear one or the other?

thank you for advise.
Hello Tim,

We do not have an attachment that can be added to the FullFource. I recommend an ACL Brace for your ACL Injury. I also recommend speaking to your Physician about the other symptoms you are having, they could be related to your previous injury, surgery, etc.

Thanks for contacting Donjoy.


From Melissa at

6/27/13 7:22 AM

I have a reaction brace and I am very pleased with it. The problem is that the Velcro has lost its "umph" and doesn't adhere hardly at all now. Can just the this piece be replaced?
Hello Melissa,

There are No Replacement parts for the Reaction. How long have you had the Brace? It does have a 6 month warranty.

Thanks for Contacting Donjoy.

From Cassia at

6/28/13 8:30 AM

I have a DonJoy Reaction Knee Brace and I am having fitting issues. My thigh is significantly thicker than my calf and no matter how I tighten it, it slips down. Any suggestions?
Hello Cassia,

Are you using the Knee Sleeve underneath? Are you securing the bottom strap first?

Thanks for Contacting Donjoy.

From Jerry at

7/7/13 12:36 PM

I have no cartilage in rt knee[end stage]==but no pain,just lack of stability. I tried on the DonJoy sm, and It helpd with strength/stability. I play doubles tennis===Would the OA Full Force be a better choice?-Thanks, J.
Hello Jerry,

The Reaction Knee Brace is a Great Option for Patello-femoral symptoms. If you need a knee brace to support your injured meniscus, I recommend an Arthritis Brace. We have a couple of options but the best option for an athlete like yourself is the OA Full-Fource. Please take a look at the link below.

http://www.betterbraces.com/oa-fullforce-knee-brace

Thanks for Contacting Donjoy.

From Jason at

7/9/13 7:48 AM

I had a roux-goldthwait procedure performed on my knee 5 years ago, to correct patellar dislocation. I want to start running again, and even though my doc said I don't necessarily NEED a brace, I would like a little piece of mind. Would this brace be a good fit for me? If not, can you recommend one that would work best?
Hello Jason,

Below find the link to our Retail Site, here you will find your options for Patella Stabilizers. Also, see the link for Knee Sleeves below.


http://www.betterbraces.com/knee-braces/patella-stabilizers
http://www.betterbraces.com/donjoy-drytex-adjustable-patella-donut


Thanks for Contacting Donjoy.

From Steve at

7/9/13 11:58 AM

Would this knee brace help with the knee cap that has a lot of ware an cause a Lot of pain an swelling .
Hello Steve,

If your looking for a knee brace to help with Anterior Knee Pain, this is a great brace. If your looking for a knee brace to disperse force while running/athletics, this is a great brace for you.

If you need a brace to help with swelling I recommend a compression sleeve with patella support.

http://www.betterbraces.com/donjoy-performer-patella-knee-support


Thanks for Contacting Donjoy.

From Andrew at

7/9/13 3:48 PM

Is a little bit of discomfort when first putting it on normal? Or do I just have it too tight or in the wrong place?
Hello Andrew,

The brace should be comfortable. You may have the velcro straps on too tight.

Thanks for Contacting Donjoy.

From reanna at

7/10/13 5:30 PM

i play on our varsity team and 2 other traviling teams. i had displacation , pain, and my knee pops out of place, ut goes back in.would this beace help my knee popping out? i have a mcdavid now and it has hinges and a petallm thing (paded cirlce) to place the knee cap in. would this one be good, if not what would be a good one?

Hello Reanna,

I recommend a the Tru-Pull Lite for a dislocating Patella, please see the link below.

http://www.betterbraces.com/donjoy-tru-pull-lite

Thanks for Contacting Donjoy.

From Peter Crone at

7/19/13 12:25 PM

I have full-length leg braces from Warm Springs Foundation in GA. They closed their brace shop. Where can I get these braces repaired... and get new knee caps?
Hello Peter,

You have the Reaction Knee Brace? That brace doesn't have caps.

But if you need replacements parts for you Donjoy Braces, you can find them on our Retail Site BetterBraces.com

http://www.betterbraces.com/parts-and-accessories

Thanks for Contacting Donjoy.

From Kit at

7/21/13 12:16 PM

I purchased two of these for my chondromalacia patella. I had to get an XL because the straps were too short on the L.
I am a 26-year-old 5'7'' female and am not overweight, but on the high end of average.

Whenever I wear them they seem too big and awkward. It also feels like more pressure is being placed on my kneecaps in front.

It is hard to tell if I put them on correctly and I am afraid they'll lead to quicker cartilage damage.
Sometimes I feel more pain after I take them off.
They seem too tight when I fit them to my legs, but slide off if I don't tighten them a lot.
It is also hard to tell if they are positioned correctly since the front seems to be made for someone with bigger legs.

I already feel my knees grinding when walking and they still do this when I wear the braces.

I was hoping these would help me support my knees so I could walk with more confidence while I worked on physical therapy, but am not sure whether they will help now. Having to get the XL because of the straps makes them feel extremely long and bulky.

They seems to slide down a lot and the sleeves that came with them are also way too big.

Could I just be putting them on wrong or is there some other brace I could try?

These seem like really nice braces but because of the sizing I don't know if they will work for me.


Hello Kit,

What are your measurements 6 inch's above your knee cap, 6 inch's below and around your knee center.

If the only issue is the Patella then a Patella Stabilizer would provide support and comfort for you. But if you also have cartilage damage, a tear and have had surgery, then you will need an Arthritis Brace. See options below.

http://www.betterbraces.com/knee-braces/arthritis-knee-braces

Thanks for Contacting Donjoy.

From James at

7/25/13 8:59 AM

Hi! I I wrenched my knee quite a while back, eventually had arthroscopic surgery. When I exert a great effort like lunges, jumping jacks, side to side moves and trying to run at full speed my knee buckles. I can only run at about 70% capacity without any issue. I would like to be able to do cross fit training. I don't seem to have issues with certain leg exercises like the squat and leg presses but leg extensions for that knee causes great strain and is at about 50 % capacity of that of my good knee. What knee brace would best suit me?
Hello James,

Are you interested in an Arthritis knee brace. This brace will offload the damaged meniscus and shift your weight to the healthy meniscus. Please see the link below.

http://www.betterbraces.com/knee-braces/arthritis-knee-braces

Thanks for Contacting Donjoy.

From Cameron at

7/29/13 8:45 PM

From Heyward at

7/30/13 8:22 PM

I ruptured my pattella tendon . What brace would be best . I am an avid skier .
Thank you Heyward 7/29/13
Hello,

We have several patella tendon braces that provide support and compression. Please take a look at the link below.

http://www.betterbraces.com/knee-braces/patella-stabilizers

Thanks for Contacting Donjoy.

From Casey at

9/4/13 8:45 AM

I have pulled the straps as tight as they will go. The straps go over each other and will not stay in place.
It sounds like your brace is too big, you may need to try a smaller size.

From Todd at

9/4/13 3:57 PM

I am looking to start running more and training for marathon. I have trouble with the dislocation of my patella on my right knee when running. I've been told by my doctors the reason is cause the muscle or ligaments that pull my knee cap into the left are weak and don't work like they are suppose to. I need the lightest and most durable knee brace for my knee so I can start really training for the marathon. Would the reaction knee brace work for me or are there better options?
The Reaction is an excellent knee brace that gives more support to the Patella the more movement you have, as you bend deeper the web design gives more support to tyhe knee cap tracking correctly.

From Kike at

9/24/13 8:24 AM

The reaction brace will be a good choice for Protec my knees when I kiteboarding .? I don't have any injury but some times after kitting for several hours I get some minor pain on my knees.
Thank you
Kikie,
The Reaction knee brace is a great brace for anterior knee pain. If you are getting most of your pain in the front of the knee you have made a good choice. If you have any more questions please don't hesitate to ask.
Thank you.

From Katie at

9/25/13 7:32 AM

What material is the webbing made from? Is it different from the Hinges?
Katie,
The web is made out of elastomer, which is a blend of rubber materials. The hinges are made of a durable plastic and rivets.
Let us know ifyou have any more questions.

From andy beck at

10/1/13 4:43 PM

I have been diagnosed with patella femoral syndrome, and I only get pain when I am cycling. Would the reaction brace be a good brace for a cyclist?
Hi Andy
Yes the Reaction Knee Brace would be agood fit for you and the diagnosis you received from your health care provider. The Reaction Knee brace reduces patellofemoral pain by dispersing eneregy across the knee. Its extremely comforrtable to wear because of the mesh backing and the web design, and should not hider you in your cycling. Make sure you measure your leg 6 inches above your kneecap to get the perfect fit. If you have any other questions do not hesitate to contact us, and thak you for contacting product support.
Diana

Diana Keith MA, ATC
Product Support Specialist
DJO Healthcare Services
DJO, LLC
A DJO Global Company
1430 Decision St, Vista, CA 92081-8553

O (760)734-3144
diana.keith@djoglobal.com
DJOglobal.com


Responsibility Restorative Discipline Consistency Competition

Confidentiality Notice: This message, together with any attachments, is intended only for the use of the individual or entity to which it is addressed and may contain confidential or privileged information. If you think you have received this message in error, please advise the sender and then delete this message and any attachments immediately.



From Brian at

10/12/13 8:45 PM

I see that this brace is okay for football and basketball but is it okay to wear for baseball? My son currently wears the pull through lite but this one looks like it would be better. Thanks in advance.
Brian
Thank you for contacting product support. The Reaction Knee Brace can be worn for any sport for anyone who suffers from anterior knee pain. Is is not a bulky brace so it should fit under your sons baseball uniform easily. The differences between the Reaction and the Tru-Pull Lite is that if your son has a problem with his knee dislocating or feeling like it "pops" out", the Tru-Pull is a good brace for him but if he just has general knee pain around his kneecap then I would go with the Reaction. I hope that helps

From Steve at

10/12/13 11:05 AM

I've got a Grade 2 sprain of the MCL and medial patellofemoral ligament, along with grade 4 chondromalacia in the patellofemoral compartment.

I want to prevent reinjury during the recovery period, and support activity beyond the recovery period.

I'm looking at the Reaction and the Playmaker II - any advice?
Steve
Thank you for contacting product support. The Playmaker II would be the better choice for all of the conditions that you listed. It has both medial and lateral suppport for your MCL sprain and it can come with a patellar dohnut which will help with the patelofemoral issues that you have. If you have any other questions don't hesitate to contact us.

From Anthony at

10/22/13 8:45 PM

I have your lateral J brace for my dislocating patella. Would the reaction brace provide the same support?
Anthony,
The Lateral "J" will offer more support to your patellar tracking problems than the Reaction. The reaction would be a good choice if it was mild tracking problems and generalized knee pains. If you have a history of dislocations the Lateral "J" is going to be a more supportive brace. Thank you for contacting DJO.


From Aurie at

10/24/13 7:52 PM

Hi,
I am a senior in high school and my sophomore year i dislocated my knee cap and then junior year i got ACL reconstruction surgery. I still have some pain in my knee and i'm doing gymnastics this year and i don't want to tweak anything or re-injure. Will this brace help with this?
Aurie
The Reaction Knee Brace is for people who suffer from anterior knee pain and need support around the kneecap. It does not however protect the ACL. The Playmaker II with the donut pad will protect the ACL and give support to your kneecap. Take a look at it on our retail website: http://www.betterbraces.com/donjoy-playmaker-ii-knee-brace-1

From Skibum at

10/26/13 10:23 PM

I am 53 year old, have been sking all my life. I haven't torn anything in either knee. Would this brace be beneficial for stability and prevention for an advanced skier in all terrains. My concern is primarily moguel terrain. I do have slight soreness after long sessions. I am concerned about twisting the knee joint since i am no longer a young pup.
This brace is the ideal brace for anyone who suffers from general anterior knee pain. If is light wieght and flexible which makes it a great brace for skiers. The brace does have a hinge so it will give mild protection to the inside and outsode of the knee. This is not made for protection of the major ligament of the knee, if you are looking for something like that you would need to look at one of our hinged knee braces such as the Deluxe Hinged Knee Brace: http://www.betterbraces.com/donjoy-drytex-neoprene-deluxe-hinged-knee-wraparound-sleeve If you have any other question please do not hesitate to ask us

From Thomas Burkardt at

10/26/13 4:53 PM

WILL MY INSURANCE COVER ANY OF THE COST.
Thomas,
Some insurance will cover the cost or a portion of the cost with a doctor prescription. This will depend on your insurance coverage. You can contact our insurance department to find out more information 800.548.3370. Please feel free to contact us with any further questions. Thank you.


From Elizabeth at

10/29/13 5:02 AM

I have a lot of pain in my knees when I do a lot of impact activity and when it is cold. I have bone spurs behind my knee caps. I am going skiing this winter is this the right brace for me?
Elizabeth,
It sounds like the Reaction Knee Brace could be a good fit for you. This brace is designed for any anterior knee pain (pain that is located in the front of the knee in or around the knee cap). The elastomeric web is an innovative solution that absorbs shock, disperses energy and shifts pain away from your knee. It is a comfortable and easy to apply. Thank you for your question and for contacting DJO.


From Irfan at

10/31/13 11:20 AM

Hello there,

In your sizing section, the Size Chart tab, you have mentioned that to find the right fit, one should wrap a flexible measuring tape 6" above the knee cap and should then use the 'diameter' to find the right fit. Although what the section contains could be the way, but I am assuming that instead of 'diameter', you should have used circumference, which one gets by wrapping a soft measuring tape around any circular, or almost circular, object. Your clarification on how to proceed would be much appreciated.

Irfan.

Irfan
Take a soft measuring tape and measure 6 inches above the mid-kneecap around the thigh and that is how you measure

From 2e at

11/1/13 4:33 PM

I am 6 months removed from surgery to repair a ruptured patellar tendon. Recovery has gone very well, I'm back to full range of motion and strength is continuing to return. I do have some pain similar to patellar tendonitis/runners knee when the knee is under resistance at its extremity in flexion, would this knee brace assist in pain reduction and overall movement as I continue to recover and return to an active lifestyle? The rest of the connective tissue in my knee is healthy and I have no instability issues. Thanks.
Yes the Reaction knee brace is perfect for someone who is suffereing from anterior knee pain. The web design of the brace is made to disperse the forces on the kneecap into the web of the brace therefore decreasing pain.

From Tina at

11/2/13 5:16 AM

I have both OA and patella instability. Would this brace work for both?
Tina
The Reaction knee brace is the perfect brace for someone who has mild OA and anterior knee pain. The web disign will encompass the entire knee cap and provide stability. The web design disperses force away from the knee cap and into the rest of the brace, to decrease pain.

From Louis at

11/2/13 12:42 PM

My doctor prescribed any kind of brace that is a "Kneecap stabilizer brace" due to chronic knee pain. Is the Reaction a "kneecap stabilizer?"
Louis
Yes the Reaction Knee brace is perfect for those that suffer from anterior knee pain and patellofemoral pain. The web design will stabilize your kneecap and reduce anterior knee pain

From Gordon Petrie at

11/10/13 3:43 PM

My knee condition is a repaired ACL with medial OA issues (which is my main problem). I have a custom Defiance III and it works great. I am wondering if the reaction will be a more light weight and slimmer design that will help offload the medial cartilage. I am looking for a brace that can better fit under a wetsuit than the defiance III and give me partial protection
Gordon
Thank you for contacting product support. The Reaction knee brace was designed for individuals who suffer from anterior knee pain, patellof femoral disorders and mild OA. It will not support your ACL or unload the medial compartment of your knee. The Defiance is the best brace for you.

From tom at

11/11/13 3:45 AM

When you order the brace does it come with an undersleeve?
Tom
Thank you for contacting product support. Yes the undersleeve does come with the brace

From tom at

11/11/13 3:52 AM

I have a rip in my miniscus that has been worked on, I use a neopream brace for skiing and it helps. I do not like the idea or feel I need a bulky brace, would this brace be better than what I am using, and is it a good choice for me?
Tom
The reaction knee brace would work well for you. It is a low-profile, light wieght brace that is perfect for the active person who suffers from anterior knee pain and mild arthritis. This would be a better choice than what you are wearing to ski in now

From Jan at

11/13/13 9:34 AM

My left interior knee cartilege was removed due to skateboard accident in 1964. Until now, I have used a metal hinged neoprene brace to ski. It works but after a day of sking my knee is swollen and it takes a day of rest & ice,advil to be ready to ski again. I am 66 yrs. and in fairly good condition. I spin,do a bit strength weight lifting and avoid sports that would be impactive or demand a greater degree of knee rotation. My question is would the Reaction web brace be better for my knee blood flow (so it wont swell) and also be able to keep the knee in place?
Jan
Thank you for contacting product support. You have probably developed some arthritis in your knee over the years after your surgery. The Reaction Knee Brace is specifically designed for those that suffer from anterior knee pain caused by patello femoral problems such as mild arthritis, and general knee pain. If you have pain over the front of your knee or around your kneecap this brace may benefit you while sking. I you feel your pain is inside your knee joint as well as the swelling you should see your heath care professional and get their opinion on what type of brace will best suit you, since you may need something a little more supportive.

From Cindy at

11/14/13 7:43 PM

I am looking for something that provides support to the knee, and stabilizing the knee cap that does not bunch up at the back of the knee. Any suggestions?
Cindy
Thank you for contacting product support. The Reaction is a good fit for you. It is for those who have anterior knee pain associated with patello femoral problesm. The back of the brace is a lycra type material that has a hole in the back for where your knee bends, so it should not bunch up in the back. If you have any other questions let us know

From larry at

11/16/13 6:31 AM

Hi

I have very arthritic knee caps, and feel pain in my knee caps and rear of knee.
Both knees have been scoped. I started snowboarding last year, and wanted a brace to help keep my knees from being injured, I hate the neoprene sock type of brace , will this brace be appropriate, or would I need one of the stiffer braces?

Larry
The Reaction Knee brace is the ideal brace for those who suffer from anterior knee pain caused by chondromalacia of the patella, patello femoral dysfunction and mild arthitis. The web design works to reduce pain around the kneecap by dispersing the force put on the anterior knee throught the webing of the brace. This brace will help with your anterior knee pain, while snowboarding.If you are looking for something with a little more support, you may want to take a look at one of our hinged knee braces on BetterBraces.com

From Allison MacCormick at

11/20/13 12:48 PM

Hi
My 14 yr old daughter has patella tracking issues and her knee/leg buckles. She was given the Lateral J Patella brace a couple of years ago. It has been great until now. She plays ice hockey and she has a a couple of incidents in the past 2 weeks where her kneecap has moved while she was playing (and wearing the brace). I am looking to see if there is another brace that might provide more support for her. Any suggestions?
Thank you
Allison
Allison
Thank you for contacting product support. For someone who has patella tracking problems, take a look at the Tru-Pull Advanced System Knee Brace http://www.betterbraces.com/donjoy-tru-pull-advanced-system-1. This brace has a buttress on the outside of the knee that can be pulled across the knee so it allows the wearer to apply as much presser as needed to support the kneecap

From Angel at

11/25/13 4:25 PM

Will this brace help with meniscus problems? My son is a goalie on a hockey team and needs to wear the brace underneath his goalie pads with little interference and feel

Angel
Thank you for contacting product support. The Reaction knee brace is ideal for anyone who has anterior knee pain associated with patellofemoral problems, ie. kneecap problems. It is not really indicated for meniscus tears. I would suggest the DonJoy Cartilage Knee Sleeve brace here: http://www.betterbraces.com/donjoy-cartilage-knee-sleeve-brace This sleeve is indicated for meniscus tears and can easily go under hockey equipment.

From Stuart Paynter at

11/25/13 4:49 PM

My son is an elite skier and has suffered a bone bruise on the top of the tibia which is taking a long time to heal. He still has issues with impact activities like running and jumping and previously had a long bout of O-S. Would the brace help alleviate some of the impact while he recovers?
Stuart
Thank you for contacting product support. The reaction knee brace is for those who suffer from anterior knee pain cause by patellar problems. I don't think this will help your son. A hinged knee brace would most likely be the best possibly the Deluxe Hinged Knee Brace located here: http://www.betterbraces.com/donjoy-drytex-neoprene-deluxe-hinged-knee-wraparound-sleeve
Another option if your son has pain on one side of his knee is the OA Lite http://www.betterbraces.com/donjoy-oa-lite-osteoarthritis-knee-brace This brace has a single upright hinge located on the opposite side of the painful side. The hinge helps to unload the side that hurts.Take a look and if you have any other questions please let us know

From Garrett at

12/8/13 6:41 PM

From Ed at

12/8/13 6:48 PM

I had a uni compartmental knee implant (partial knee implant) in the medial portion of my R knee. Now I have a constant ache in the lateral portion of the knee.
I have had an arthrogram and the orthopedic surgeon told me he could not see
any abnormality. I use a Lidoderm patch with a neoprene brace when I ski or play
tennis to relieve the pain. Do you think the Reaction Knee Brace would be a better
solution for relieving the pain.
Ed
Thank you for contactng product support. The reaction Knee brace is a good brace for those who suffer from anterior knee pain. This sounds like it could help you better than a neoprene sleeve. We would suggest this brace for you. If you have any other questions please let us know

From Jay at

12/13/13 11:53 AM

Is this a good brace for snow sports like skiing?
Jay,
This brace can be worn when skiing. We currently have a US Ski Team Limited Edition that features the blue webbing and a red/white under sleeve. The Reaction WEB knee brace is designed specifically for anterior knee pain (any pain located around the knee cap). Thank you for your question.

From mike at

12/19/13 8:37 PM

my legs are lopsided. i have one that is 18.5 and one that is 19 which size should i get?
Mike
The braces run a little small so go with the M/L. Thank you for contacting DJO

From SageLenea at

12/19/13 1:58 PM

Hello,
I torn my MCL about 3 years ago. And re injured it about a year ago. Ever since, I have had a lot of pain, mostly with walking and bending. I usually do better with a generic brace, but it eventually bothers the back of my knee (fabric build up) usually due to squatting. Would this brace be a good option for me?
Sagel
The reaction Knee brace will not help support a knee with a MCL sprain. You need a brace that has metal hinges on the side. We have a variety to choose from and you can get them with a hole in the back of the brace so you will not get the bunching of fabric behinde the knee. The DonJoy Deluxe Hinged Knee is a good brace for you and you can get it with a open popliteal which is the opening in the back of the brace. Let us know if you have any other questions

From Sean Crystal at

1/4/14 2:12 AM

Why inform me on my replacement brace that it will be sent out on a Friday via UPS for Saturday delivery, than when I receive my confirmation, the tracking has it scheduled for Tuesday? I would like to cancel my second order as a result, and will not be returning to betterbraces.com in the future
Sean
I apoligise for your inconvience. You can cancel you order by calling BetterBraces.com at 800.553.6019

From lexi at

1/4/14 9:05 AM

i horse back ride and have patellar tendonitis in my left knee. i am also looking into a everyday brace but this would specifically be for horseback riding. do you think this will work? The issue i have had with braces in the past involve pinching behind the knees and not fitting under my boots or damaging my saddle. I do need a support brace. would this brace work?
Lexi
The Reaction brace should work well for you. It is not made of metal so it should not afect your sadle. There is a opening in the back of the brace so there should not be any irritation behind you leg.

From Jim at

1/5/14 6:42 PM

I hyperextended my knee many years ago playing football and within the last few years torn my ACL and MCL. Is this is a good brace to use while snow skiing and mountain climbing?
Jim
The Reaction would not give you the protection you need. The best option would be the DonJoy Armor Knee Brace http://www.betterbraces.com/donjoy-armor-knee-brace-with-fourcepoint-hinge This is a rgid knee brace that will give protection for both ligaments and help with the hyperextension. If you are looking for something a little less expensive, then take alook at the Playmaker II with a forcepoint hinge. http://www.betterbraces.com/donjoy-playmaker-ii-fourcepoint both of these braces have the technology that has been clinically proven to help reduce ACL tears.

From Aaron at

1/6/14 1:01 PM

i play basketball and i was diagnosed with patellar tendonitis

i have tried several braces but do not work or are not comfortable.

will this work for me playing basketball?
Aaron
The Reaction is designed for those who suffer anterior knee pain caused by patellar tendonitis and other patello femoral disorders. This brace should help you when you play basketball

From Nick at

1/7/14 3:16 PM

Out of the performer, lateral J, and Reaction knee braces which do you prefer? I plan to play basketball in this brace and recently had surgery on a broken tibia and torn patella tendon. I experience pain in the front of my knee and occasionally to the sides.
Nick
The Reaction Knee Brace is best for your pain.

From tom at

1/12/14 8:09 AM

I have pain in my left knee. I had orthscopic surgery to remove cartilage about 30 years ago. The orthopedic doctor told me the pain is due to severe arthritis, bone-on-bone iritation, and alignment issues (my thigh bone comes in at a slight angle ).

I am active and can have pain due to being on my feet for long periods of time. I also ski and have pain while skiing and swelling afterwards.

Would the Reaction WEB Knee brace be a good choice to relieve the pain I'm experiencing?
Tom
You have severe arthritis and the Reaction Knee Brace is not the brace for you. You need to look at either the donJoy Defiance witha OA hinge or the DonJoy OA Adjuster 3
http://www.betterbraces.com/donjoy-defiance-iii-custom-knee-brace http://www.betterbraces.com/donjoy-oa-adjuster-3-knee-brace
These braces are for moderate to severe OA. It sounds as if you have lateral compartment arthritis, but you should make sure with your physician before purchasing anything.

From sherry at

1/12/14 1:29 PM

Does the limited edition ski team brace come in blue?
The limited edition comes in blue with a red sleeve

From Tom at

1/17/14 9:06 PM

Have 4 Reaction knee braces, but have forgotten reason for or benefits of the under-sleeve.
Can I wear the brace without the sleeve?
What are major benefits to wearing sleeve?
Does it help to wear the brace while sleeping?
Thanks.
Tom you do not have to wear the sleeve. The sleeve is there if you have irritation from the webing of the brace or it is catching leg heir of something. You will get better support without it

From Sarah at

1/18/14 8:05 AM

I had a patella subluxation and grade one MCL tear this fall, would this be the best brace for those injuries. 11 years ago I did the same to the other knee requiring surgery to help with the patella tracking, I really don't want to go through that again.
Sarah
The Reaction knee brace is for those who suffer from anterior knee pain associated with patellar tendonitis, and other patellar femoral problems. I would suggest either the Playmaker II with a patellar donut http://www.betterbraces.com/donjoy-playmaker-ii-knee-brace-1 or the DonJoy Drytex Hinged Air Knee brace http://www.betterbraces.com/donjoy-drytex-hinged-air-knee-brace

From Pete h at

1/19/14 4:24 AM

From Alisha at

1/19/14 12:52 PM

I dislocated my left about 8 years ago. Ever since when I do activities I notice that it wants to slip occasionally. I will also get occasion pain behind my knee. I am about to start playing indoor soccer and since I am using my legs for kicking and running etc I really feel that I should have a brace for my knee. I am trying to decide which would be the best fit: Reaction, Tru-Pull Lite, or Tru-Pull advanced.

I have used a variety of knee braces in the past and they always seem too tight on my patella and very uncomfortable.

Thanks for the help.
Hello,

I recommend the Tru-pull lite for patella dislocations. This brace is 9" in length and has a buttress that sits right up against the patella to prevent dislocations.

If you would also like a hinge in the brace take a look at the Lateral J Brace. This provides patella support and has the option to add a hinge.

Thanks for Contacting Donjoy.

From Steve at

1/21/14 7:42 PM

Is this the best brace for Patellofemoral Pain Syndrome?
Thank you for your question. This brace can be used for Patellofemoral Pain. It is designed to be used for any pain located in the front portion of the knee, around the knee cap. If you have any further questions please feel free to contact us at 888-405-3251.

From Christina at

1/25/14 1:21 PM

I have dislocated by patella several times and currently have lateral patella subluxation with most weight bearing activities. I currently wear a sleeve (Bledsoe) with a "j" buttress designed to provide lateral patella stabilization. With this brace I am able to run marathons without pain or stabilization problems. However, the sleeve is very hot, sweaty, and uncomfortable on long runs.

I am wondering if the Reaction knee brace will be a suitable replacement brace (i.e. provide similar stabilization and support)? Currently I have to replace my knee brace every 6-9 months while training for a race (~6-8 hrs of running/week; replacement needed due to seams and neoprene tearing). What kind of lifespan can I expect out of the Reaction brace?
Christina
The Reaction Knee Brace is suited for those who suffer anterior knee pain resulting from patellofemoral problems such as patellar tendonitis, chodromalacia and mild arthritis. It is not indicated for those who dislocate or sublux the kneecap. Take a look at the Tru-Pull Advance System or the Tru-Pull Lite. http://www.betterbraces.com/donjoy-tru-pull-advanced-system-1
http://www.betterbraces.com/donjoy-tru-pull-lite. Both of these braces are for those who have the problems that you have with your knee. The Tru-Pull Advance system is the most restrictive of the two braces, the Tru-Pull Lite is lower profile and the material is a more comforatable breathable material. Both have a buttress that you physically align with the outside of your kneecap and then you pull the straps across the knee to keep the patella form moving incorrectly. One of these braces is what i would reccomend

From Ken at

1/26/14 2:40 PM

I measure 22 inches- six inches above the knee .What size reaction brace should I order ?
22 would fall into the M/L brace, but the braces do run a little small so XL/XXL might be a better fit

From Stephen at

1/28/14 1:29 PM

Hello,

I play catcher for my baseball team and my knees have been hurting for as long as i can remember. And I was wondering if this knee brace would be ideal for playing the catcher position e.g. staying in the crouching position for long periods of time, and running a lot.
Thank you for your question. This Reaction WEB Knee brace is designed for knee pain in the front of the knee. If your knee pain is on the sides or the back of the knee you may want to consider a sleeve for compression or a hinged knee brace that will offer support to the medial and lateral sides of the knee. If you have questions please feel free to call product support at 888-405-3251.

From Kyle at

2/9/14 9:00 PM

I work for a company that requires me to do many stairs with added weight (1-45lbs). What brace would be best for preventing the added stress that my knees will be under due to the impact caused by the added weight?
Kyle
The Reaction Knee brace would work well if you get pain going up and down stairs by dispearsing that force on you knee into the elastomeric web of the brace.

From Kelli at

2/9/14 10:13 AM

I have chondromalacia due to alignment issues and have very little cartilage in my right knee. I have been very inactive for the past few years due to the pain I feel doing common things like walking and climbing stairs at home and at work and even from sitting. I am looking for a knee brace that I can wear all the time that fits under clothes and is comfortable and will allow me to return to the active lifestyle I used to have before this all became such a huge issue. Will this knee brace help? Or is there a better one that you can recommend?
Kelli
The Reaction knee brace si the brace that i would suggest for the isuues that you are having with your knee. The brace is indicated for thoses with anterior knee pain due to chondromalacia

From Dennis Freeze at

2/13/14 12:42 AM

I suffered a complete quadriceps rupture, with surgical reattachment. I have no lateral instability, but the knee wants to buckle (suddenly) occasionally. My doctor thinks it's from slow-healing nerve damage. Other than the buckling, my knee is pretty strong except end-range stuff (still can't walk down stairs properly).

I need to start exercising again, and I'm concerned that the buckling could happen at the wrong time while moving. It's always a momentary thing, and then it catches hold again. I'm afraid if I'm moving around more, I might not be able to catch myself in time.

Will this brace work? Will the hinges slow down any sudden buckling of the knee?
Dennis
The hinges on this brace are not that supportive. If you have pain in the front of your knee while walking up and down stairs this brace can help decrease that pain. If you would like more stability with hinges I would suggest the Economy hinged knee brace. http://www.betterbraces.com/donjoy-economy-hinged-knee. This brace has metal hinges that would protect better than the Reaction brace

From Charity at

2/14/14 4:09 PM

My mom had stupid doctors who didn't realize she dislocated her knee cap. Now it is deformed to the right of her knee. We need a brace/sleeve to help take some of the pressure off to help her mobility. We are not supposed to use a stabilizing full brace due to the cap placement. Could this be helpful?
Thank you for your question. The Reaction Knee Brace can be used for patellar tracking. It is most commonly used for any generalized knee pain centered around the knee cap. Some other options to consider would be the Lateral "J", "H" buttress or the tru-pull depending of if her knee cap dislocate to the outside of the leg, or the inside. If you have questions Please feel free to contact product support at 888.405. 3251.

From Rick at

2/27/14 7:50 PM

I am going to order a set of these for my daughter, however the measurement of her thigh is 18.5 inches, which size do you recommend?
Rick
These tend to run a little small so my advise is to order the medium for your daughter

From jan at

2/28/14 11:18 AM

is this brace good for stage 3 chondromalacia patella pain?
Jan
Yes the Reaction knee brace is indicated for those who suffer from chodromalcia

From Terri at

3/2/14 11:01 PM

I have tricompartmental oa. Looking for a brace for running that is not too heavy. Will this work?
Terri
The Reaction Knee brace is indicated for those with anterior knee pain associated with patellofemoral dysfunction, patellar tendonitis, quadreceps tendonitis and mild arthritis. If you have anterior knee pain with you arthritis this brace may help

From Bill at

3/2/14 2:19 PM

I had a TKR over two years ago. Have seen 9 different Doctors about the continuing pain and stiffness in the knee but no one can tell me what is wrong. Have had every test that can be done any none of them can see anything wrong with the knee replacement nor the soft tissue. I wear a compression brace that is I would say mild support and it helps. I am 62 and love to walk and play golf but have a little difficulty doing both because of the pain. Would you suggest one of your braces? Hurst when I twist it. Thanks
Bill
If wearing a sleeve helps relieve your pain a little , the Reaction May help more. It is indicated for those that suffer from anterior knee pain and is a better substitute than a sleeve

From Dale at

3/3/14 9:45 PM

From Kim murphy at

3/5/14 3:47 PM

From Anthony at

3/6/14 8:09 PM

I recently ordered one these braces from eBay, and received a brace that did not fit. According to the size chart I should use a 2xl, too be safe I ordered a 3xl,and it was too small. After checking I noticed the Web portion was marked L. After asking a friend who has the same brace in a medium I discovered there was an M on hers which leads me to believe I was sent the wrong size Web portion. My question is if I order a brace from you can u promise me it will be marked the right size and fit accordingly? I have bad knees and desperately need this brace but I'm afraid of spending another hundred dollars on something I can not wear
Anthony
The Reaction braces on Amazon are the same brace that we carry on our website so the sizes will be the same. The letter on the webing does not nessacarily correspond to the size of the brace. These braces run small and we are correcting the sizing problem but have not finished the process yet. If you order a XXXL from our website it will most likley not fit as well. I would suggest you look at another brace that will fit you correctly

From Fed at

3/9/14 8:56 PM

hi
i have cartilage lose due to a meniscus injury not treated properly, i practice wakeboard and although i dont feel too much pain, sometimes i feel pain on the back of my knee... would this brace help for my situation and is it good for wakeboarding? had a cti in the past but wasnt a very good experience...
what would you recommend? thank you!
Fed
The Reaction knee brace is a good substitution for a knee sleeve, which is what I would reccomend for womeone with a meniscus injury. The Reaction will not hlp the pain in the back of your knee though. this brace is indicated for those who have anterior knee pain. The pain you experience behind your knee could be the meniscus, but this brace would still be better than a regular sleeve. and better in the water

From Deb at

3/10/14 4:26 PM

Have had torn meniscus repair in left knee dow.n twice, I am a 60 year old female who started running about 4 years ago and got up to the half marathon distance. Hoping to continue again but the doc says I am almost bone on bone. Before the surgery he sad I should be back to running in about 6 weeks after surgery, then it was 2 months, then 3 months, now it is a well we can try a few things up to a knee replacement, (I am not ready for this). He did not suggest a knee brace of any sort. He suggests swimming and cycling, I like to cycle and hate swimming. I want to run. What would you suggest?

Thanks

Thank You for your question. If most of your pain is centered around the knee cap and in the area the Reaction WEB brace covers, this would be a great brace for you. If the knee pain is more medial/lateral (on the sides) or deep inside the knee joint you may look at the DonJoy Deluxe Hinged Knee or the DonJoy economy Hinged Knee.

From Dave at

3/13/14 9:32 AM

For sizing, are we really to use the diameter of the thigh, or do you really mean the circumference of the thigh?

It is the circumference

From Dika at

3/17/14 1:45 PM

I don't have any serious knee injuries, but i get a lot swelling and stiffness and minor pains around my knee. would this product help?
Dika
A knee sleeve would work best for swelling and stiffness.http://www.betterbraces.com/donjoy-performer-knee-support or this http://www.betterbraces.com/donjoy-deluxe-open-knee-support

From Adam at

3/23/14 4:29 AM

Would this brace fit under jeans? Or do you need to wear looser clothing
It will fit under regular size jeans not skinny jeans

From James at

3/23/14 11:01 AM

I noticed in the reviews that there is an issue with the velcro wearing out fast. Has this problem been resolved?
James
We are working on that particular issue but we have not had a new product come out yet

From Howard at

3/23/14 12:10 PM

I bowl 3 times a week. I have had my left knee replaced and my right knee needs it. I need to stabilize my knee when I bowl. I don't think I need to protect from further injury. I just need to keep pressure on both knees, it relieves the pain in the right knee and the "loose" feeling in the bionic knee. Is the reaction brace a good solution for my problems?
Howard
If you feel like you have pain in the front of your knee when bowling, then the Reaction knee brace would be a good brace for you. If you feel your knee is unstable as a whole then I would suggest the DonJOy Economy Hinged Knee Brace: http://www.betterbraces.com/donjoy-economy-hinged-knee The bilateral hinges will give your knee the much needed support

From Allan at

3/29/14 9:35 PM

Can you tell me what the rear strapping of the Reaction is made of? I am allergic to neoprene, and while this brace is seems ideal for my anterior knee pain associated with patellofemoral syndrome, I am concerned about a sensitivity to the material. Thank you.
Allan
The posterior of this brace is nylon polyester mesh. there is no latex in the product

From Al at

4/17/14 9:09 AM

I have had a knee replacement and my new knee skis well. I am wondering if this brace might help make the replacement last longer. I currently do not use a brace of any kind when I ski.
Al
The Reaction Knee Brace is indicated for those who suffer from anterior knee pain. It is used by a lot of skiers for that reason. We do have rigid knee braces that will protect the knee from injury while skiing but no brace will make a knee replacement last longer.

From Robert Fegan at

4/25/14 7:19 PM

Both my knees are arthritic and give me a lot of pain. After a short time on them I can hardly stand to bend them. Is this the right brace for me? If my measurement is 23" should I go for Large or XL ?
Thank you for your question. If your arthritis is centered in the front of your knee around the knee cap, the Reaction WEB knee brace would be appropriate. If you are looking for support on the medial or lateral aspects of your knee, you may want to look at the rigid hinged knee braces for Osteoarthritis. You may also benefit from the Deluxe Hinged Knee which would offer joint support with the hinges.

You should follow the size chart on the Deluxe Hinged Knee for all braces. This will take into consideration the knee center and the calf. Since you are close to the XL it would be advised to find the other 2 measurements. If you have questions about sizing, please feel free to call.


From Brian at

4/27/14 10:49 AM

I have lateral knee pain, and stiffness after running or walking. I have a complex lateral meniscus tear, and also, ITBS. What would be the best brace for me? I gather that, since I have no anterior knee pain, the Reaction Knee Brace would NOT be a good choice.
The Reaction may not be the best choice. For the ITB syndrome a knee strap could help such as the DonJoy Cross Strap http://www.betterbraces.com/donjoy-cross-strap But the ITB could be caused by abnormal patella tracking, so you could try the Lateral J Patella Knee Brace. http://www.betterbraces.com/donjoy-lateral-j-patella-knee-brace The brace has a lateral buttress around the knee and a strap to pull the kneecap into the correct position. You can also get the brace with hinges to help with general stabilization of the knee

From Leah at

4/30/14 6:30 PM

Is the brace comfortable to wear without the sleeve underneath?
Thank you for your question. The brace is often worn without a sleeve. The sleeve is an option for those who have sensitive skin or those who may prefer to wear the sleeve.

From Lori at

5/7/14 7:18 AM

What material(s) is the brace itself made out of (not the inner sleeve)?
This is the materials
• Web : Shore 30a TPE ( thermoplastic Elastomer), Similar to GLS DynaFlex 6730 30a
• Hinge and DRings: Polypropylene with Glass fiber: 75% PP with 10 % GF and 25% EPDM to total 7.5% GF content.
• Polyester sleeve


From Rick Weeks at

5/11/14 1:51 PM

We purchased a pair of these for our daughter. Can I get a new set of the "backs" for them? The velcro is wearing out.
Rick
We do not have replacement parts for that brace. You can call Better Braces and get replacement braces if they are still under warranty.

From Lavita at

5/13/14 7:55 PM

I have broken my patella and am in need of a brace. It's 4 weeks post injury and doctor gave no recommendations regarding type. This one looks appropriate for my knee. I can't have anything touch it as it is still tender, bruised, swollen and painful. Is this the correct brace for me? How quick is shipping?
Thank you for your question. The Reaction WEB knee brace would be appropriate.

From Jenny at

5/20/14 5:52 AM

Hi,
Does this brace contain latex or neoprene? What materials is it made of? Thanks
Thank you for your question. The is no Latex or Neoprene in the Reaction WEB Knee Brace. The Materail used is Shore 30a TPE ( thermoplastic Elastomer), Similar to GLS DynaFlex 6730 30a, and Polyester.

From Fernando at

5/27/14 3:05 PM

I have a ACL injury is this brace is the correct for play Golf?????
Thank you for your question. The Reaction WEB Knee brace is designed for knee pain centered around the patella (knee cap). For a ligament injury, a hinged knee is the more appropriate. You should look at the DonJoy Deluxe Hinged Knee.

From Phil Turner at

6/1/14 10:55 PM

I am a strong skier and retired pro ski patroller 69 years old, I still have good joint space between the 2 bones but bone to bone femer to knee cap. I am getting some arthritis in the left knee.Lots of pain now skiing under the knee cap and when getting up from sitting position and walking down stairs.Would the reaction brace help this pain , especially skiing? Thanks
Phil
The DonJoy Reaction would be a good brace for you to use to help with that pain under your kneecap. The brace was design for someone like you in mind, to help absorb the shock that your knee gets and trasmit the fource throught the muscles of the leg instead of right at your kneecap.

From Lisa at

6/2/14 8:10 AM

I have been using the Reaction Knee Brace for over a year and I like it. I have PF issues and recently had surgery for a medial meniscus tear. I need a new brace because the velcro no longer sticks. I bought a M/L the last and thought it was too big on my thigh - it never fit quite right. The measurement at 6 inches above my knee cap is just about 18 inches. Will the XS/S be too small? Is there a better brace for a combination of PF, OA and meniscus tear repair?
Lisa
The Reaction Knee Brace is still most likely the right brace for you. If you felt that the M?L was too big, then you should try the XS/S. Even these braces do run a little small, you already know what the M/L feels like on your leg and if it was too big, the next size down would be the logical choice.

From Tom G. at

6/8/14 3:30 PM

Is it possible to get a replacement Velcro sleeve?
Tom
If you are talking about the back of the brace with the velcro straps, no we do not have that as a replacment part. we do however have replacement undersleeves. They are available throught DJO direct at 800-336-3639

From Theresa at

6/22/14 5:49 PM

I am planning to order 2 of the reaction braces for me and 2 for my son. I was wondering which under sleeve would you recommend for use with this particular brace? Our orthopedic recommended this brace but with under sleeves. Thank you.
Theresa
The reaction knee braces come with a sleeve so there is no need to order an additional sleeve. The size of the sleeve will be the smaller of the blended size of the brace so if you order a M/L the medium sleeve will come with the brace. If the sleeve is too small just give BetterBraces a call and they can replace the smaller sleeve with a bigger one.

From Amber Lane at

6/23/14 9:35 AM

Hello- I am a marathoner who has OA. I recently had arthroscopic surgery to remove floating bodies from my knee. I recovered well for about 6 weeks with no pain in my knee. Then I came back too quick and ran a half marathon and I've had medial knee pain ever since. I am able to run very little with more pain now than I had 6 weeks out of surgery. My Orthoepic surgeon tells me I have arthritis, which I understand. However, I was running pain free before my half marathon. I am wondering if this knee brace will relieve medial knee pain while running? I've read a lot of these questions and I am wondering what you're considering moderate OA? I am very interested and want to try this brace to see if it will relive my pain. Before arthroscopic surgery my ortho did think I might need a lateral release, but once he got in there he said He didn't think I needed it. Plead help!
Amber
The reaction knee brace is usually for those with anterior knee pain associated with the kneecap. It could be that your medial pain is from your kneecap since the doctor was thinking of doing a lateral release. The brace might help relieve your pain. Moderate arthritis is narrowing of the joint space but the bones are not touching yet. There is little cartilage on the bone but some still remains. Once that catilage is gone then you have bone-on bone severe arthritis and there is no space between the bones. I have had some customers who have had moderate to severe arthitis and they have had some relief with this brace so it may help you. We do have a 90 money back guarentee, so if you are not satisfied with the brace you may return it for full credit within 90 days of purchasing it.

From T Schatz at

6/24/14 10:51 AM

My daughter plays volleyball, and uses a WEB knee brace as prescribed by her doctor, for patella and anterior pain in the knee (I don't recall the medical terms), but the brace works wonderfully for her. I'm just wondering if there's a knee pad made to be worn over it. The rubber obviously doesn't slide on the floor which causes more knee pain, and a typical knee pad binds with the brace and pinches her skin. I'm thinking something that is more open on the back, high and low straps perhaps? Any suggestions?
Im sure a traditional volleyball kneepad would fit over the brace in a bigger size. Another option is our DonJoy Sports Knee Pad http://www.betterbraces.com/donjoy-sports-knee-pad It is universal in size and wraps around the knee.

From Fred at

6/25/14 11:22 PM

Does the undersleeve come with the Reaction brace or is it extra? The only link suggests that you can order a replacement undersleeve which in turn suggests that it is included.
Fred
The sleeve comes with the brace. The smaller of the two sizes is the size of the sleeve that comes with it.

From Mike at

6/29/14 2:28 PM

I have had two arthroscopes, one ACL reconstruction and am awaiting another arthroscope (once I get an MRI done, i'm 99% sure it's another meniscus tear). My current injury is a medial meniscus tear and I am looking for a brace that is versatile for running, jumping, lifting, hiking, walking, etc. Will this brace be able to support me?
Mike
The Reaction web knee brace will be a good choice for a brace with a meniscus tear. It decreases anterior knee pain by absorbing the forces on the knee and dispearing them into the webing of the brace. You can do all of your activiites in the brace.

From Mikey at

7/3/14 9:49 PM

From Alain at

7/6/14 11:24 PM

Hi, I've been diagnosed with having Chondromalacia patella and have some pain in the back of my knee when I squat. I am currently doing stretching and strengthening exercises. I mainly play volleyball 2 times a week and some basketball and soccer. I was wondering if this is the right brace for me or could you recommend another which would be better. Thanks
The Reaction Web Knee Brace is a great brace for those who suffer from Chondromalacia. The brace absorbs the force put on the kneecap during activity and dispearses it whinin the webing to decrease pain.

From Kathy Keels at

7/12/14 8:36 AM

do the hinges lock? i see where it can be used in water - i'm looking for a brace/splint that will i can swim laps in and will keep my knee at a 180 (along w/ankle wraps) please advise
Kathy
No the hinges on the Reaction Knee Brace do not lock. I would suggest a different brace if you want the hinges to keep you legs straight while swimming. The Procare ACTION Neoprene Brace sleeve has hinges that can be set at 0degrees of flexion to keep the knee straight. http://www.betterbraces.com/procare-action-neoprene-bracesleeve-18

From Al at

7/13/14 5:27 PM

Hi, I recently bought this brace and it keeps sliding down, even though it is properly tight. I think it is because of the undersleeve, it is very slick and so is easy for the brace to slide down. has this happen to other customers? is there anything you can recommend or is one of the other undersleeves that you sell better at keeping the brace in place?
Thanks. appreciate your response.
The other option is to wear the brace directly on your skin wihout the sleeve. also you can try pulling the sleeve up over the top of the brace and tucking it in around the top to hold it in place.

From Jen at

7/21/14 10:48 AM

I had ACL repair surgery about a year ago. I am having discomfort and pain on the inside of my knee when I am squatting. (Olympic weightlifting) Do you have a brace that will help with those things? BTW - I squat below parallel. Thanks!
Jen
The Reaction Web knee brace could help with this pain you are having. It is not uncommon to have patellofemoral pain after an ACL surgery especially when putting such a great load on the knee by squatting beyand 90 degrees. The Reaction Web does help to absorb that load and transfer it into the webing to take pain away.

From Chadd at

7/22/14 6:05 PM

I have chondromalacia, patella tracking issues and have dislocated my kneecap twice in the last few years which also has given me patella tendinitis... Would this be the best brace for me or is there something better out there that I should try? I am an active weight lifter and active running in multiple sports and don't like to be on the sideline.
Chadd
This is a good brace for anterior knee pain associated with Chodromalacia and patellar tendonitis. You may want to go a different brace becasue of the dislocations. Take a look at the Tru-Pull Advanced System and the Tru-Pull Lite. http://www.betterbraces.com/donjoy-tru-pull-lite http://www.betterbraces.com/donjoy-tru-pull-advanced-system-1 These braces will keep the kneecap tracking correctly and help to prevent any further dislocations. The Lite is a smaller lower profile version of the Advanced system.

From chris at

7/28/14 5:33 PM

Hi , I am 34 years old and I have no ACL in my left knee (The PCL and MCL were both replaced with an allograft , the ACL was retorn) with some mild arthritis. I currently have the Donjoy Defiance but I never wear it because it is very uncomfortable and constantly slides down my leg. My activities are very limited and include walking on the treadmill , swimming and going up and down stairs in my house. The pain has been minor and controlled with cortisone injections but my knee buckles sometimes when going up the stairs. Would this brace be suitable for my condition. Thanks
Chris
First if your Defiance does not fit correctly you may need to be re-sized for the brace, remakes can be done for a $300 charge instead of getting a brand new brace. The Reaction Web knee is most likly not the best choice if you are not going to wear your Defiance. I would suggest the DonJoy Playmaker II http://www.betterbraces.com/donjoy-playmaker-ii-knee-brace-2 It has sufficient support for the activities that you are doing

From Bob Stoner at

8/3/14 9:47 AM

I was interested in the brace for my son who plays offensive line. Was wondering about the sleeve getting mixed reviews that the brace keeps sliding down is there additional or alternative sleeve that can used. Also concerns about the bottom strap that keeps coming on undone. (from reviews read)
I am currently having a issue with sizing below the knee measures 18" and upper 23". Also currently using shock doc brace but with issues of sizing concerns about fit and ripping the brace apart when putting it on.




Bob
Most of the complaints about the sleeve slipping have been resolved with a new sleeve that has bigger pieces of silicone at the top . The issures with the straps have been resolved, the braces have different velcro and the straps can be velcroed ontop of them selves for better fit. The size would be the XL/XXL

From Bob at

8/5/14 7:26 PM

Hello,
I am 40 and noticed that my knees start to hurt.
I play a fair amount of tennis about 15 hours per week.

I notice that when I sit down and then stand my knees start to hurt.
I would like to be proactive and wear a brace for better support in the off season also.

Would this be a good brace to start with?
Bob
The Reaction Web Is a great brace for relieveing pain in the front of the knee during and after activity. This brace may benefit you and the pain that you are feeling

From Chris at

8/6/14 5:54 AM

Hello,

I have bad osteoarthritis in my knees from many years of sports and construction work. My doctor said I would/should consider knee replacement. He also gave me the option of having hyaluronan injections, which I opted for. While the injections worked and did allow me to freely walk up stairs, the pain is slowly returning. I know this is due to me weightlifting ( I squat 400lbs rep and leg press 1100lb rep ). My questions are, is this brace a good option for lifters to use while lifting? Is this a good brace for my knee overall outside the gym? The pain is mostly when the knee passes a 90* angle ( getting up off the couch ). Thank you.
Chris
If you need a knee replacment, the Reaction Web Knee Brace may not be enough support for your knee. The Reaction Knee Brace is for those sufferening from anterior knee pain, and mild arthritis. If you need surgery you most likley have severe arthritis. Now if you have pain in the front of your knee the Reaction may help while you are lifting, but if your pain is on one side of the joint then you may need a more involved knee brace such as our arthritis knees. http://www.betterbraces.com/knee-braces/arthritis-knee-braces

From Tim at

8/6/14 1:13 PM

I have recently had 2 surgeries on the same knee, and starting to have issues with stiffness and walking. Especially early morning when waking up and when the weather changes. What would be the best brace to wear?
This brace is indicated for those who have anterior knee pain. The brace absorbs force on the front of the knee and dispearses the force into the webbing of the brace which decreases pain in the front of the knee. If you are having anterior knee pain this brace may help

From Ryan Meyers at

8/12/14 5:55 PM

I am actually looking for a brace that will add some extra strength to my knee joint. A couple of months ago I had a tumor removed from my upper thigh which required the Dr to have to remove a good deal of my quadriceps muscles. Vastus intermedius completley removed and partial removal of vastus laterallis and rectus femoris. Needless to say my upper leg is now very week. I am a bowler and am looking for something that will allow me to squat down a little more without my knee buckling due to lack of strength. I'm thinking something with a flexion stop would be best but kind of think the Reaction brace looks like it could help. Any thoughts?
Ryan
The reaction Web Knee Brace will not give you enough support for that leg. I would suggest the Playmaker II knee brace. It has bilateral hinges for medial and lateral support as well as our 4 point strapping system that will help to protect the ACL and PCL in the knee. It comes with stops that you can install in your brace that can limit flexion to help keep you from buckling. http://www.betterbraces.com/donjoy-playmaker-ii-knee-brace-2

From Cory at

8/14/14 6:03 PM

I recently ordered this brace by following the sizing chart, and therefore ordered the M/L. It fits reasonably well but I'm wondering where on the knee the hinges should sit?
The hinges sit on either side of the knee joint. Because these are blended sizes if you were in the bottom of the sizing scale the hinges may stick out a bit

From Melissa at

8/18/14 8:24 AM

I have had lateral, medial repair, an acl injury witout repair, joint effusion, history of osteochondral injury tibial plateau, chondromalacia patella... I do moderate sports like p90 and T25, boot camp relays which I recently had to stop... I would like a brace that would allow me to pkay hard without all the pain ... would this brace be a good option for my workouts ...and ? I've never used s brace before. ..
The Reaction is a good brace for those with pain in the front of your knee, but will not protect the ACL at all. So if you do not have any stability issues just anterior knee pain then the Reaction is going to help. If you have instability in your knee because of the ACL tear then you would need womething a little more supportive such as the Playmaker II knee brace http://www.betterbraces.com/donjoy-playmaker-ii-knee-brace-2

From Amy at

8/19/14 6:59 PM

I have 2 questions. The first is if this brace would be appropriate for me? I have an LCL injury and require patella stabilization as well.

Secondly, is this a pull on or wrap around style?

Thanks!
Amy
This brace will give the support you need for the patella and it does have a hinge for the LCL. It is a wrap around type of brace

From Andy at

8/26/14 10:13 PM

I have trouble jumping off of my right leg. I tore my meniscus 10 years ago and wondering if it is catching up to me. When I jump it sort of feels like bone on bone. I would like to continue to play rec basketball and ease the pain. I currently use a strap under my knee and it helps somewhat .

Is the Donjoy Reaction Web knee brace right for me?
Andy
The Reaction Web Knee Brace has been successful in reducing pain in the front of the knee. It absorbs force place on the front of the knee and dispearses it into the webing to decrease knee pain. I think this would be something for you to try.

From Gabrielle at

8/26/14 6:50 AM

My daughter has JRA. She has it bad in her knees. Is this the best brace to help her. She is still in school and it hurts for her to walk around the school. I am looking for something to help her.
Gabrielle
If your daughter has pain in the front of her knees this brace could help with that pain. The webing design absorbs the force on the knee with daily activities and dispearses the force though the webing of the brace to help decrease. I think it is worth trying for your daughter.

From Allison at

8/31/14 11:01 AM

So i just had a lateral release surgery on my left knee. My Patella was off track, as well as torn cardilodge and chipped bone. I am also allergic to neoprene, Is this a good brace to use and is it made out of Neoprene?
No this product does not have neoprene, and yes the brace could be used after your surgery

From Robby at

8/31/14 2:50 PM

Size quesrion. Just want to verify the sizing recommendations. He measured 20 in so should he stay a M/L or go up to a XL/XXL?

Many thanks......
Robby
The M/L should fit fine

From Callie at

9/1/14 10:35 AM

I have dislocated both of my kneecaps in the past and I am looking for a brace that will provide enough support to keep my kneecaps from dislocating again, but I also have arthritis in both of my knees. Preventing my kneecaps from dislocating again is my main concern, but I would also like to find a brace that would help alleviate some arthritis pain. Do you think this brace or one of the Tru-Pull braces be the better choice?
Caallie
The Reaction will help the kneecap and mild arthritis. If you have arthritis on one side(medial or lateral) we just came out with the OA Reaction Web Knee Brace that will still give you the support that you need for the patella and it will unload that compartment that has the OA in it. http://www.betterbraces.com/donjoy-oa-reaction-web-knee-brace The brace still has the webing design to take force off the kneecap but now also comes with a hinge that can unload the opposite side of the knee

From Donn at

9/5/14 6:32 PM

I am currently training for a marathon. Initially I was diagnosed with ITBS on my right knee. Then I developed chondromalacia in the same knee, with a lot of "cracking" sensations and stiffness. Is this the right knee brace for me? Secondly, even with wearing the sleeve, do you anticipate any slipping or discomfort when sweating during the long distance?
Donn
The Reaction Web Knee Brace would be a great brace for the issues that you are having on the knee. The sleeve is used if you get any rubbing or irritation from wearing the brace without the sleeve so it will not keep the brace frome sliding down. The brace should stay in place either with the sleeve or not.

From Bobbi at

9/12/14 7:16 AM

I have pain in my sliding leg when bowling or walking downhill. Would this brace give me the added support I need?
If the pain is in your kneecap then yes it would. If it is on one of the sides, then you would need something with medial or lateral support, such as, the DonJoy Deluxe Hinged Knee Brace.

From Janelle at

9/30/14 6:23 PM

Hi, I have had 2 acl and a meniscus repair done. Typically I wear my female fource brace on days that are high impact on my knee (jumping and cutting) I was wondering if this would be good for days with running, but no cutting. I still have pain on the lateral and medial sides of my knee after and sometimes during tough workouts. Thanks
Janelle
The Reaction Web knee Brace is normally for someone who has knee pain in the front of their knee, around the kneecap. If your pain is around that area then the Reaction would help with that pain durning running. The brace does not provid medial and lateral support so if you feel that you will need that I would suggest a hinged knee brace such as the Playmaker II. http://www.betterbraces.com/donjoy-playmaker-ii-knee-brace-2

From harry fenix at

10/7/14 6:25 AM

i have the full force knee brace for my right knee, i have been using it for more than 10 years, its for the acl i suuffered when i was still very much active with basketball. recently i tore my acl on my left knee, but now im not active anymore in basketball, i just do a little running and shoot hoops with my kids. will this help reduce the pain when i run? in addition im 5 feet and 8 inches tall and weights 270 pounds. thanks im planning to get 2, one for each knee. thanks
Harry
The Reaction Web Knee Brace is for those who suffer from anterior knee pain assiciated from patellofemoral problems. It has no stability for the ACL. Even though you are not playing sports anymore the knee is unstable without a ACL and can be injured with any stop start motion or light cutting can cause injury to the knee. The Reaction web will help with the anterior knee pain if that is what you want it for but if you want any kind of stability you should look at hinged knee braces

From Kevin at

10/10/14 10:43 PM

Hi I was wondering if I will be able to play to my max ability while wearing the reaction web brace because most braces I've worn hinder my playing ability by not allowing me to move as well. I play soccer and do a lot of shooting and moves so I just wanna know if I can still do all those things with the web brace. Thank you!
Kevin
The Reaction Web Knee Brace is very low profile compared to hinged knee braces, you will be able to play sports without any restriction

From Duane De Freese at

10/12/14 10:01 AM

I have a chronic patella tracking issue on my trailing leg (left) from surfing. Surfing puts high compression, extension and torsional strain on all aspects of the knee. I am in an aggressive physical therapy program, but want a brace for support when I surf. Can I use this brace in the water?
Duane
Yes you can wear the Reaction in the water, and it would be a good brace for your condition

From Glad at

10/16/14 4:55 AM

My orthopedist informed me that my knees don't anatomically track well causing me to have occasional loose knee feeling in addition to swelling and excess fluid after teaching group exercise. I'm looking for tracking support so I can continue to teach group exercise (weight training that includes high reps of moderate to heavy weighted squats and lunges as well as cardio with high impact moves such as tuck jumps and jump kicks). Can the reaction support my knees with these activities?
Glad
The reaction is one optiion but the Tru-Pull Lite is specifically for someone who has patellar tracking problems. The brace pulls the kneecap into the correct position and holds it there durning activity. http://www.betterbraces.com/donjoy-tru-pull-lite

From Phil at

10/16/14 7:23 AM

I have had a total patella dislocation, arthroscopic, as well as knee realignment surgery (back in December 2007). I suffer from swelling and anterior pain. Is this an efficient brace that will help me continue my active life style and prevent some of the pain and swlling or do you recommend another brace?
Phil
Yes the Reaction Web Knee brace will hlp reduce anterior knee pain
Ask Your Own Question
You'll receive your answer via email either the same or next business day