You're currently on:
>

DonJoy Reaction WEB Knee Brace
Health & Beauty > Health Care > Supports & Braces
11-0215-X
in_stock
99.99
Product Description

Product Reviews
Reduces anterior knee pain by dispersing energy across the knee.
The DonJoy Reaction knee brace utilizes an elastomeric web design, which absorbs shock and shifts the peak loads away from the painful area of the knee. This dispersion of energy helps reduce the anterior knee pain you suffer from.

Another advantage of the elastomeric web is it dynamically stabilizes the patella on all sides, thus bringing the patella into proper tracking position to reduce pain caused by general patellofemoral instabilities.

The DonJoy Reaction knee brace is extremely comfortable to wear because the open framework of the elastomeric web and mesh backing makes the brace breathable, unlike the traditional elastic and neoprene sleeves.
The DonJoy Reaction knee brace is used to treat or prevent the following injuries:
Chondromalacia patella
Quadriceps or patellar tendonitis/tendinosis
Osgood-Schlatter disease
General patellofemoral tracking issues
Mild OA
Product Features…and the benefits you'll experience!
Progressive Pain Relief
The web absorbs shock and shifts the peak loads away from the painful area of the knee and stabilizes the patella on all sides to ensure proper tracking position.
Sustained Comfort
The open framework and mesh backing makes this brace breathable and comfortable during use.
Dual-Axis Hinges
These hinges are flexible and work in conjunction with the elastomeric web for optimal fit and support, and providing energy dispersion to the knee.
Undersleeve Included with Purchase. Made with 85% Nylon and 15% Spandex
Now available: Limited edition U.S. Ski Team REACTION WEB knee brace, featuring the U.S. Ski Team logo and a red and white undersleeve.
Sizes: Available in sizes: XS/S, M/L, and XL/XXL and XXXL. Click on Size Chart tab above for sizing info.
Colors: Grey, Orange, Pink, Red, Yellow, Green, Blue and US Ski Team Limited Edition (USST)
Accessory: To Order the Replacement Reaction Knee Undersleeve Click Here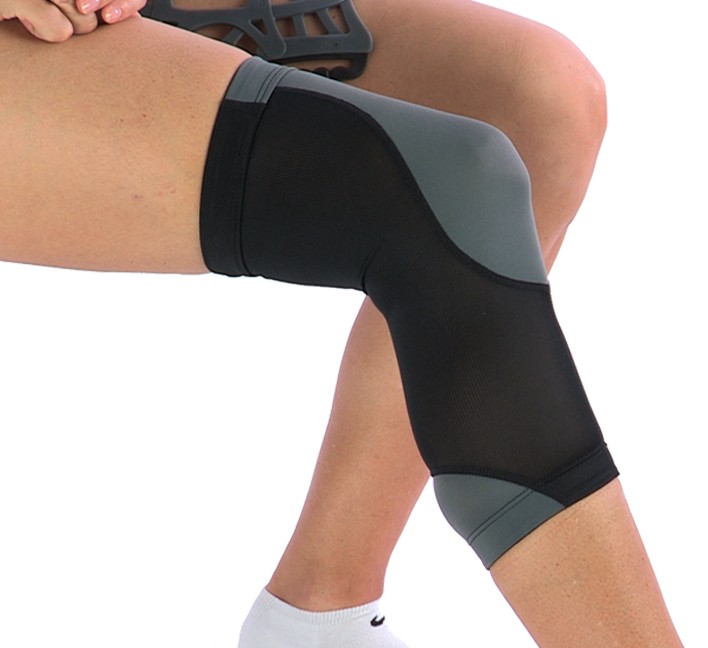 Shop our complete selection of knee braces or browse additional DonJoy products.
Take the measurement of your thigh 6" above your kneecap using a flexible type tape measure. Use the diameter to choose your size.
| | |
| --- | --- |
| Size | Thigh |
| XS/SM | 13" - 18 1/2" |
| M/L | 18 1/2" - 23 1/2" |
| XL/XXL | 23 1/2"- 29 1/2" |
| XXXL | 29 1/2"- 32" |
4.75
13
DonJoy Reaction WEB Knee Brace reviews
The brace worked great. It felt liked it helped me do the workouts on my knee better and with less pain. - Christian

Great alternative to a knee sleeve. - David

I found this brace relieved patellar tendon pain during stairs and standing squats. - David

From the minute I put it on and walked, the pain was relieved. - Jamie

This brace was comfortable to wear 2 weeks after Lateral Release surgery and easy to use. - Cathy

I've had this for a year and have used it everyday for practice and soccer games. The velcro will eventually wear down and won't sick anymore, so I now have to tape it. I will have to order two more. One for each knee. - Destiny

My daughter's Oscgood Schlatter's pain has really improved since she started wearing this brace. A lot better than the McDavid knee brace we had bought at Sports Authority. Great job DonJoy - Ronnie

Male 32 Years old. Volleyball Middle Blocker. Chronic Patellar Tendonitis (Tendonosis) I have tried the following to correct my issue: Platlet Rich Plasma Injections (4) 4 months of Preventative Physical Therapy with taping strategies Surgery to remove distal edge of patella and clean up tendon (followed by 6 mths PT) More braces and straps than I care to admit. This brace has been the most effective (and cost effective) way to correct my chronic issue. I can play in an all day Volleyball tournament (10 hours, 15 games) and the only thing that doesn't hurt is my knee. Its miraculous! I also wear one on the other knee to help with patellar tracking issues and mild subluxtions. Best Brace EVER. - Middle Blocker Nate

Great relief when I do Squats and no residual pain. Also able to stand on the sidehill with a radio without the killer pain later in the day. Worth every penny. - Parker

I injured my knee 4 months before my first marathon. Was able to complete the marathon using this brace. Helped stabilize my knee but wasn't too bulky or heavy. I'm continuing to use it but now 4 months later the velcro isn't fastening as well as it used to so I'll have to buy a new brace soon. - TJ

This brace did help stabilize my knee without too much pressure. I have tried other stabilizing braces that push my kneecap too much. This brace was especially useful on stairs. I did find that the brace stretched out over the 3 months that I had it though and one of the rubber webs actually snapped recently. The brace was effective so I am going to return it (it is still under warranty) for a replacement. The BetterBraces customer service is great and they have made the return process VERY easy. I have found that the brace runs large. I am an average height, adult female (my legs are kind of thin) and the XS/SM is a bit big on me. - Marie

I injured my knee two years ago in a lacrosse game. I have chondromalacia patella and have issues with my knee, I couldn't run or do anything of the sort, and lacrosse was definitely out of the picture. One of the team moms is a physical therapist and recomended this knee brace. It wasn't hard for me to get used to wearing since I'd been in other knee braces, none of them worked this well though. I immediatly noticed a relief of pain. It helps my knee cap track the way it is supposed to. The only bad thing about it is that the velcro will wear off and I actually had to sew on a new piece of velrco. I also have holes on the actual part that goes on the back of my leg. I also have rips in the rubber. But I have had it for a year, and wear it all day everyday, and I am very hard on my knee braces or any brace for that matter. Overall, it is a wonderful knee brace and it is worth every penny. - Meagan

A year ago I began hiking, despite some pretty bad OA pain in my left knee. I've been using the Reaction since then and just this summer scaled two of the highest peaks in Southern California. They are comfortable enough to wear on my daily walks as well as my big hikes. My knees (I now wear this on both knees) feel great especially on steep downhill descents where the forces are greatest. They are slim fitting enough to fit under all of my hiking and training pants. After a year they show no wear or tear and are as comfortable as they were on day one. Thanks DonJoy! - Larry

I love the Donjoy Reaction brace. Only drawback is the Velcro and material it attaches to. After about a month, the material the Velcro attaches to wears out and the Velcro doesn't stick very well, even with pressure applied to it. During a mid run the Velcro will snap off and have to constantly stop to reapply. It's irritating. I hope the Donjoy manufacturing company will fix it. Betterbrace customer service is very helpful and knowledgable about products, so 5 stars for customer service. :-) - Mari

I have had some painful patella tracking issues and found this brace to work very well. I wore the brace for 24 hours each day for 1 week and then only during day for week two, followed by only when working out for next 4 weeks. I also did 5 days of PT for all 6 weeks. I never missed a soccer practice or game the whole time. Totally tracking with the knee. The brace stabilized my knee and reduced inflammation so I could build the correct muscular balance around the joint. - High school soccer player

This brace is Awesome! My biggest issue was up and down stairs and when I would sit for a little while an try to get up it was like a knife stuck in my knee. Very painful and embarrassing especially if I was out to eat. My hubby would have to help me up and still there was pain. I have only had the brace a couple of days but from the very beginning I could tell it was going to work out. You have to get the hang of putting it on and adjusting it. Once it is adjusted just right I stood up off the couch and NO PAIN! I then went to our stairs and walked up the stairs with both feet and again with no pain. It's lightweight and easy to put on. Very quick delivery from Better Braces. - Michelle

I play high school volleyball and have osgood-schlatters in both my knees. I only bought one brace, but WOW this brace is amazing. As soon as i put it on i took away about 95% of the pain in my knee. Great Brace. Highly Recommend. - BW97

Jonny
Are you tired of knee braces that are clunky or handicap your knees movement ? If so this brace it for you! I am very picky about knee braces and I have tried so many I stopped counting. This brace feels amazing, it fits and forms to the body so naturally. I hardly notice I have it on but I know it is there cause my knee is stable. I wear this brace when doing any sports or related physical activity to stabilize my knee cap. Sports like BMX, tournament paintball, bombing big hills on my longboard. (I haven't tried it surfing yet) I have hated 90% of the many braces I have tried and this one has left me more excited about a knee brace than I ever thought I could be.The groove where my knee cap sits is slanted it to one side, making my kneecap extremely vulnerable to pop out of place. Cause of this I have had separate 3 surgeries to repair ligaments and cartilage, latest one was a partially reconstruction. (they gave me a brand new ligament) I am only 20 and half of my cartilage is gone due to countless times I dislocated my knee. This make's my knee feel the best it has felt in a long time. I'm very active but my knee does hold my back and I feel this brace has set me free again. -
Jonny
Anita
The BEST knee brace I have ever worn! Lightweight, easy to get on and off and it truly relieves my knee pain! I am looking forward to wearing one on both of my injured knees! Thanks DonJoy for such a great knee support!! -
Anita
Todd
I bought this to replace my neoprene knee sleeve that my orthopedist gave me. I needed an alternative that wasn't so hot while playing tennis outdoors. This definitely gives relief relative to a neoprene strap for keeping sweat down, BUT I couldn't make it tight enough (without cutting off circulation) to correctly support my patella from a side to side motion. It also felt more restrictive overall than my other strap and the concept of the rubber exoskeleton makes sense, except when you straighten or bend you knee as it moves out of shape. I'm sad that it didn't help! Back to heavy knee sweating, but less pain! -
Todd
Eliza
I have had meniscus surgery and found out I also have arthritis on the back of my knee cap. I am 34, I was told I could go MAYBE 20 yrs (if I do nothing to agrivate it) before a knee replacement. Shortly after surgery I had a cortisone shot then a few days later, I fell hard right on to my knee. No more damage, but was told that a brace may help relieve some pain. I just got the brace today, put it on and felt better! I am excited to see if this will help. I was training for a half marathon before my surgery. Ready to get back outside and running. May invest in another for my other knee which I had surgery on last year. -
Eliza
Rob
We got this for our 12 year old daughter who plays soccer. She has Patellofemoral pain and Chondromalacia. She was completely relieved of the pain in her knee from the very second she put it on - had her first practice with it last night and she came off the field smiling from ear to ear. This is the first relief she has had in 6 weeks and is completely thrilled! -
Rob
david
The brace works very well. I wear two of them much of the day. However, I need to have a shoemaker replace the Velcro with industrial grade Velcro in approximately one month. -
david
Hiker
Our patient was hesitant about the brace and didn't want to wear one. After I put it on her she immediately felt less pain and loved it. I just heard from the patient and therapist today that she recently climbed Mt. Kilimanjaro while wearing the brace with barely any knee pain, something she couldn't imagine doing before this brace. -
Hiker
US Ski Team
I trust and recommend the DonJoy REACTION WEB knee brace for our athletes on the US Men's Alpine Ski Team. We have used it for relief of various anterior knee pain conditions including general knee pain and tendonitits. It's effective, low-profile design provides athletes the confidence to compete without showing any weaknesses as competitors. The additional sleeve provides extra support and warmth on the slopes. Chris Antinori, MS, ATC Men's Alpine Head Athletic Trainer United States Ski & Snowboard Association -
US Ski Team
Amanda
I've been playing volleyball for many years and have tried many braces for my PFPS. This brace is by far the best one I've used to date. Too bad this brace wasn't developed sooner then I could have saved all my money spent on the numerous braces I've tried. -
Amanda
JohnC
I'm 46 and have severe osteoarthritis, zero cartilage and big alignment issues in both knees from injuries when I was 16. Until I get them both reconstructed, I've needed to use a brace on the right to limit its movement and keep the joint from locking. For the past several uses I've been using an Rx Donjoy brace which has never fit right, constantly slides, rotates, and restricts but has never felt supportive. Based on a recommendation, I tried this Reaction model and am sort of shocked at how much better it is. It is lightweight, very comfortable, allows much more movement and actually feels like it strengthens the joint. For the first time in years, I feel like I have some capabilities back, and on long walks, the left knee know feels much worse than the braced right one. Such a huge difference that I've now ordered one for the other leg. The web design gives it so much more flexibility in multiple directions than a more conventional design, and it feels like it is always giving the most benefit where it is needed at a particular time. I would recommend only wearing it with the spandex sleeve, however, as the rubber web pinches and pulls bare skin. Overall, this product is fantastic and is definitely improving my quality of life. -
JohnC
Erc the Volleyball Destroyer
Ok, so I might be wrong.. since I just got this brace and I've worn it about 10 minutes now.. but holy fecal matter, I noticed a difference right away! I was able to walk down the stairs.. literally walk, not my normal almost-hopping-on-one-foot-as-I-hold-on-to-the-rail-like-I'm-80.. I can even stand up from sitting in my chair without having to lift myself up first with my hands. My real test will be later when I attempt to play volleyball and see how that goes.. but I have a good feeling about it so far! Only downside so far is the sizing seems to be a little off, at least me. I got the XXL/XXXL because I have some insanely muscular thighs and calves.. and I barely got it on.. my patella also barely fit, so I will be getting the XXXXL version and see how that fits. 5 stars! -
Erc the Volleyball Destroyer
Southern Utah Hiking
I hike in Southern Utah a lot. I have cracked cartilage in my left knee and this has been the best knee brace I have ever owned. Only issue I have with it is that when you get a bit sweaty it runs uncomfortably. -
Southern Utah Hiking
kmnj
former elite distance runner that had to hang up the shoes due to a knee injury -many years later when I try and run I get a half mile into it and knee goes-tried it out today on a run-got in a few miles and knee seems to be okay-I tried this yesterday for biking too-I find that although great for running (so far day one) I dont like it for biking and prefer the sleeve style for that on a side note it took me a while to figure out how to put in on(guess I am not too bright lol) but figured it out-should have watched u tube on it too -
kmnj
Questions on DonJoy Reaction WEB Knee Brace
Sort by
From ward davies at

3/16/11 4:11 PM

I have severe minicus tears in both knees and I need a brace that keeps the knee from dislocating with any twisting movements. I have arthritis and overall degeneration..Ive had surgery's to correct some of the damages(acl repairs,etc), but no knee replacements yet...this brace looks like it might offer me fairly good overall support. Im I correct?
The the DonJoy Reaction Knee brace is mostly used for Patellofemoal issues, i.e. patella tracking, patella dislocations, & tendonitis, just to name a few. With the injuries and issues you have going on with your knees, and if you are active, I would recommend looking at a more sturdier brace that will protect from dislocations, ligament problems, arthritis and degeration. The brace that I would recommend would
be the OA adjusted, it will help protect the ACL you have had repaired, as well help off load the torn menicis that you have, and with the strapping and extension stops available, this brace will help prevent against hyperextending the knee.

From Mark at

4/18/11 11:09 AM

Hi.
Concerning the Donjoy Reaction knee brace, can you tell me what the hinges are made of and the side supports coming from the hinges? Thank you for your help,
The hinges are made of a flexible plastic.

From Don at

4/21/11 9:08 AM

My daughter has had an ACL replacement and is now suffering from pain due to what the doctors are calling runners knee, she plays soccer on her high school team and is very active
She would need something that would allow her to run but still offer some support
Is this the correct brace for that??
Thanks,
Don

Yes, the reaction brace would be good for that condition. If she ends up thinking it's too much brace, you can try the Donjoy Cross Strap as well.

From scott at

7/13/11 4:18 PM

My measurement is 18-18.5" at 6" above mid-patella. Do I go high or low for a better fit?
Go with the M/L size.

From Anthony at

7/23/11 8:39 AM

My Son suffers from patella tendinitis and Osgood-Schlatter disease would this brace be a good one for him to wear during his high school football games as a linemen?
Yes, this is a good brace for him to where for both of those knee conditions. It will help with the discomfort he gets, as well as still be functional enough for him to still move around in.

From Jaz at

7/25/11 4:46 AM

Hello,
I have a pcl
injury. This product look like it wuould aid in bringing the shinbones forward and take pressure off my pcl, while providing some protection to the front of my knee to prevent further injury. Is that the case?
I play semi contact sports so I cannot use the ligament braces because they may injure other players.

Thanks.
No the Donjoy Reaction Knee Brace is designed for Patellofemoral injuries not for PCL injuries. Actually the Armor would be the best Off the Shelf PCL brace for contact sports, you may use a sports cover to protect your teammates/opponents.

From Leonard at

7/26/11 11:34 AM

i will be playing college football for the next 4 years. I am just wondering about the overall durabiltiy of the DonJoy reaction Knee Brace and how long would this brace last for practice and weightlifting purposes?
There is a 6 month warranty for the Donjoy Reaction Knee Brace, that is how long we verify that it will hold up to
the activity you will place on it.

From leonard at

7/26/11 11:42 AM

i will be playing college football for the next 4 years. and i was just wondering about the overall durability of the DonJoy Reaction Knee Brace for practice and weightlifting use; how long would it last?
There is a 6 month warranty and that is how long we verify that the product will work.

From Jaz at

7/27/11 5:34 PM

I note that it isn't designed for PCL injuries, however at the web design at the front of the brace look like it would aid in pulling the shinbones forward while reducing the force of knocks to the front of the knee.
The main benefit of the Donjoy Reaction knee brace is the relief at the knee cap and patellofemoral stress reduction, not PCL stability.

From Mom at

8/10/11 10:05 AM

My daughter dislocated her patella playing volleyball. The ortho has recommended this brace. The players usually wear their kneepads just below the patella to help them slide when hitting the floor. The webbing on the front looks like it would prevent sliding, and maybe cause more injury? Would she be able to wear a kneepad over the brace? What's the best fix for volleyball?
Yes, I would advice her to wear a pad over the webbing. The webbing will prevent her from
sliding. Another good brace for dislocations is our Tru-Pull Lite.

From Cindy at

8/10/11 1:44 PM

I am now wearing the OA Adjuster brace, and have been for two years. I have osteoarthritic in my right knee. Will the progressive pain relief brace help me better with the pain I am still having when I move around.
If you are still having pain and are already in an offloader this may not give the most relief for you. It may help some with the shock absorption, but will not offload any area.

From nick at

10/13/11 10:50 AM

i have a patella that keeps dislocating and a streched mcl in the same knee also. would the reaction knee brace be a good brace or what do you think would be the best? thank you
The Reaction, Tru-Pull Light or Hinged Lateral J would all be good options because they all have lateral patella buttresses to keep your knee cap in place and hinges to protect your MCL.

From Monica at

11/9/11 3:24 PM

Hi,
My 12 year old
daughter has multi-directional patellar instability and Osgood-Schlaters. She has had her fat pad (ligamentum mucosa?) removed.We have this reaction brace, but it irritates the bump on her knee where the patellar tendon is pulling away and she won't wear it. I would like a support that has a little room for some growth. What do you recommend?

Thanks,
Monica
The Tru-Pull Lite or the Deluxe Donut may be better options for her to consider using.

From Kevin at

12/15/11 6:02 PM

I am a male currently on a professional stunt team (like collegiate cheerleading) and a competitive cheerleading team where I do a lot of stunting (tossing and holding one female standing in my hands over my head) and tumbling. I have had my ACL reconstruction once and scoped twice (meniscus tears). I have no stability issues in either knee, but both knees (
specifically above and below the knee cap) have pain during and after these activities, patellar tendinitis, and osteoarthritis. Patella straps help some, but I have to wear one above and below the knee cap and add tape to get more coverage in both areas...this looks like it would provide plenty of pressure all around the knee (which is pretty much what I do with all the tape). I know I will never be pain free but will this help relieve some of that pain?
Yes the Donjoy Reaction Knee Brace would be recommended for you with your condition and activity levels.

From Melissa at

1/31/12 4:23 PM

My daughter plays high school soccer. Braces cannot have exposed metal parts, is this brace legal. She has chronic patella tendonitis, with her kneecap not being on track, will this help aleviate the pain?
Hi Melissa,

Yes this brace is appropriate for soccer, there is no exposed metal. The web design helps with patellar tracking and will distribute shock and force across her knee as opposed to one area.

If you have additional questions, please call 1-800-553-6019.

Have a nice day.

From Catherine at

2/2/12 4:50 AM

I am 48 year old female and walk 30 minutes a day. I used to run, but knee pain has limited me to walking or other non-weight bearing exercise. I have been using Hypafix and Leukotape to correct a patella tracking issue. This has been very helpful, but I was looking for something more long term. Would you recommend the Lateral J or the Reaction? Thank you!
The Reaction Knee Brace would be recommended for your
condition and activity level.

From Fran at

2/9/12 6:41 PM

Does the undersleeve come with this brace when you order it?
Yes, one undersleeve comes with the DonJoy Reaction Knee Brace. We offer replacements if you ever need a second one or would like to have an extra while the other may be in the wash.

From Cody at

2/18/12 7:06 PM

Hi, I am 12 years old with Osgood shlatter and play lacrosse and football and was wondering if this brace would work for a contact sport?
Yes the Donjoy Reaction knee brace would be recommended for your condition and athletics.

From Madison at

3/9/12 4:11 PM

I am 13 years old and play all sports. Track season now and summer I play a little softball and volleyball. I have Ogsgood-schalauters in my knee and was told I had arthiritis in my knee. I hurt my knee during the 200 sprint relay about a week ago and is giving me excrutiating pain. Would this be a good brace to have for all sports? Is it easy to run in? Light weight?
Yes the Donjoy Reaction Knee Brace would be recommended for your condition and activity level.

From Carol at

3/9/12 9:58 AM

Hi, I have knee tracking problems in both knees. 2 1/2 years ago I had microfracture, meniscus repair, and a lateral release on the right knee. I have a meniscus tear in the left knee. I am a tennis player and am experiencing soreness in both knees about an hour into playing and after I play. Would this be a good brace for me?
The Donjoy Reaction Knee Brace will provide support around your knee cap and moderate support to the knee in general, if you are getting a lot of instability or buckling of the knee joint you may want to try the Donjoy FullForce knee brace instead. That's best for athletes who have knee instability.

From Loren at

3/9/12 2:06 PM

I have a Donjoy Reaction brace and it does work well for my mild OA but I am expierencing migration down my leg with the lycra sleeve. If I wear it with out the sleeve It eats into my skin and is very uncomfortable. I also
have tried a neoprene sleeve brace and it will not stay in place. Any suggestions.
There is a 90 day money back guarantee if the product is not working for you. For OA you may want to try the OA Fullforce if you are an athlete. Otherwise, the OA Adjuster or the OA Everyday (with no joint instability) would be recommended.

From Scott Franklin at

3/26/12 2:47 PM

My son plays high school basketball and he has been diagnosed by with patella instability which causes him a lot of pain. I am looking for a brace for both of his knees which will help his pain. What brace would you recommend.

Thanks,
Scott Franklin

The Reaction knee brace would be appropriate for your son or the DonJoy Tru-Pull Lite. Both knee braces will help with patellar instability problems. The Reaction is also designed to distribute shock and force around the knee away from the painful areas. He might find a
bit more relief while wearing the Reaction compared to the Tru-Pul Lite.


From Jeremy at

4/12/12 1:11 PM

Is this brace left or right specific?
Hi,

The brace can be worn on either leg.

Have a nice day.

From Ray M at

5/23/12 7:22 AM

i have been diagnosed with patella femoral syndrome in both knees. Supposedly no arthritis at age 59 per doctor review of X-RAY. Been taping, doing therapy for 7 weeks with PT supervision. I play 6
hours of singles tennis every week . Pain level has deminished 50% since therapy but is definitely not gone. Still feel it up and down stairs, sitting in a restaurant. What brace do you perscribe to help me and why?
The Donjoy Reaction Knee brace would be appropriate for you and your condition and activity level.

From A.J. at

6/1/12 11:06 AM

I have tendonitis under my knee and MCL pain, my knee also pops easily would this brace help my knee and good for playing sport with?
Yes the Donjoy Reaction knee
brace is sufficient for your condition and activity level.

From Scott at

6/5/12 4:29 PM

Can this brace be used in watersports?
Yes it can.

From Shannel at

7/6/12 7:31 PM

Hi,i have this brace and I use it during volleyball because I have patella dislocation in both knees however the brace has torn down the center.Is there some type of warranty to replace the brace with a new one?
Hi Shannel,

The Reaction has a 6 month warranty. Please call customer care at 1-800-553-6019, they can help process an exchange.

Have a nice day.

From Kelsey at

7/25/12 8:36 PM

I have plica syndrome and have had surgery to remove the tissue in one of my knees. I currently wear a bulkier brace and am about to start college soccer. Would this brace fit with my injury and my level of play?
The Reaction Knee Brace is used to help the Pateklla track through the knee's range of motion in a natural fashion.

From Priscilla at

8/19/12 1:44 PM

Do you guys sell the black pad separately?
We sell the brace and the undersleeve toghether. You can buy
another undersleeve.

From Jean at

8/20/12 6:39 AM

Will this brace control a patella that dislocates laterally?
Can it be used without the sleeve effectively?

Yes this brace can be used for Patella Subluxation. The sleeve is there for comfort, it is not necessary for the brace to be effective.

From Jasmyn at

11/21/12 7:14 PM

Can I find this specific brace in stores? If so which one I need it as soon as possible.
Hello, Jasmyn -

No the Reaction cannot be bought in stores, however you can order it through Better Braces and have it overnight shipped to you. You would have to place the order immediately if you want it shipped out today. Because of the holiday, our next overnight shipments won't go out until Monday.

Thanks and have a great day!

From BART at

1/4/13 9:16 AM

measure 21 1/2 will m/l do?
You would be a M/L (11-0215-3).

Thank you and have a great day!

From anonymous at

1/9/13 8:53 AM

How heavy are the braces?
It weighs 1/2 pound.

From Kiera at

1/28/13 10:33 AM

I'm a rower and I have serious pain in both of my knees. On the sides and above my patella. My physical therapist said that I have weak hips and because of them more problems have been caused. My diagnosis for my knee pain is patella mal-tracking, my patellas track medially inwards and I need braces to push them out. I
tried the DonJoy Reaction Web Knee Braces, but they bunch up so much in the back that I can't get a long enough stroke in and they only helped a little. I need full mobility that would allow my knees to be fully compressed. Would ANY brace work for me?
Hello, Kiera -

The lowest profile brace that would suit your needs would be the DonJoy Tru-Pull LIte:

http://www.betterbraces.com/donjoy-tru-pull-lite

Since you have medial tracking issues, you would order the strap to track your patella laterally.

If you have further questions, please feel free to contact our product specialists at 888-405-3251.

Thank you and have a wonderful day!

From Ben at

1/31/13 12:38 PM

Few months ago..I torned my acl during badminton tournament, jump smash and landed with one leg(left). A month ago i had the acl reconstruction, so will this brace help? for badminton will this brace give enough support? and can it prevent acl
injury?
Hello, Ben -

This brace is not designed to support the ACL. It was designed to assist and support the patella with tracking issues.

If you have further questions, please feel free to contact our product specialists at 888-405-3251.

Thank you and have a wonderful day!

From Chadd at

3/14/13 11:13 AM

I play college basketball and was diagnosed with chondromalacia two years ago. And got the donjoy Lateral J brace from my PT. I lost the brace however a year ago and continued to play as e pain was more bareable.I came here simply looking to replace the J brace, but noticed this brace and it interested me cuz its more adjustable, after a while the j brace would slip and slide and not seem to fit properly. So I was wondering if this is a good replacement for the j brace, or if I should just get the j brace again?
Hello, Chadd -

Yes, the DonJoy Reaction Knee Brace will assist you with your chondromalacia and is a good replacement for the Lateal J Brace.

If you have further questions, please feel free to give our product specialists a call at 888-405-3251.

Thank you and have a wonderful day!

From Peter at

4/20/13 3:46 PM

My son has Sinding-Larsen-Johansson Syndrome. Would this brace provide pain relief or would you make another recommendation?
Hello, Peter -

The DonJoy Reaction can provide mild pain relief and support for your son. It will help disperse the shock and stress put on the knee joint. However, we do not have a brace specifically designed for his syndrome.

If you have further questions, please feel free to contact our product specialists at 888-405-3251.

Thank you and have a wonderful day!

From Erika at

4/26/13 1:20 PM

I have a patella tracking disorder as well as medial/lateral instability and end stage OA. I would like to have a brace that I can wear in the water while kayaking and that will support my knee/patella while walking on sand/mucky river bottoms. Would this brace be good for that or should I try something else? Optimally, I'd like a hinged brace that wraps around since I will be putting it on and taking it off while wet.
Hello, Erika -

The DonJoy Reaction Knee Brace allows for mild to moderate support for patella tracking issues and overall knee instability. It can be worn in the water, however we do recommend that after each use, you rinse the brace in tap water to make sure there is no residue, salt, or chlorine that remains on the brace or in the hinges.

If you have further questions, please feel free to contact our product specialists at 888-405-3251.

Thank you and have a wonderful day!

From Sandra at

5/16/13 12:22 PM

I am status post my first series of 3 Synvisc injections for a total loss of cartilage of my medial aspect of the right knee. A partial knee replacement is in my future but I'm trying to postpone as long as possible since I'm pretty young and had been very active (running, skiing, hiking, biking etc). The injections did help but it wasn't until I tried the Kinesiology tape along with Pilates that the most improvement happened in terms of pain relief and improved range of motion.
I'm looking for a brace for activities such as walking and biking rather than wearing the tape. I've not been told if my patella is off track but without the tape I can feel it popping pretty significantly along the lateral aspect along the patella femoral area.
The DonJoy Reaction brace sounds like it might be the best option. We do a fair amount of traveling so something light weight is also a consideration.
Hello, Sandra

Thank you for contacting Donjoy.

I believe you are a great candidate for an OA Brace. What an OA brace does is off-load either medial or lateral compartment. In your case you would want to off-load the medial compartment if your injury is to the medial knee. We have 2 OA braces that would work for you.

OA Nano-lighest brace available, in the OA Line
http://www.betterbraces.com/donjoy-oa-nano-knee-brace


OA Fullforce- designed for athletes
http://www.betterbraces.com/oa-fullforce-knee-brace

Please contact your Physician to see if an OA Brace is an option for your treatment.

Any further questions please contact a Product Specialist at 1-888-405-3251

Have a Great Day.


From pat at

5/17/13 7:31 PM

I have mild OA in my right knee can this be used during swimming or is there a better alternate that will standup to the day to day mile swim I do?
Hello Pat,

Yes the Reaction Knee Brace is appropriate for Mild OA.

We do have other OA braces that will provide more Off-load and pain relief. The link to those braces are below.

http://www.betterbraces.com/donjoy-oa-nano-knee-brace

If you would like to speak to a Product Specialist please call us at 1-888-405-3251

Have a Great Day


From becky at

5/18/13 1:06 AM

I have a severe neoprene allergy , is there any neoprene in this brace? having a hard time finding a brace without it in there.
Hello, Becky -

The DonJoy Reaction Knee brace does not contain any neoprene in the brace.

If you have further questions, please feel free to contact our product specialists at 888-405-3251.

Thank you and have a wonderful day!

From Meg at

5/26/13 7:05 AM

I asked this before and can't find the answer. My son suffered a severe traumatic brain injury 6/4/11. Was in a coma and went through 1.5 years of therapy and serial casting to try to get his left leg /ankle to at least be in a 90 degree angle. They decided to cut his hamstring, heel cord and all his toes on that left foot because of the spasticity he was still having. They could barely get his foot to 90 degrees.

Now his leg sometimes hyper extends. I was hoping this brace above would work so he can build up strength in his leg. I don't want him to rely on braces forever and neither does he. I am ordering his wrist brace now. Sorry to have to ask again, but I can not find the reply. Thank you
Hello Meg,

Your interested in a Brace to prevent HyperExtension? We have several Rigid Knee Braces that you can add an extension stop to prevent the Hyper-extension and prevent falling or giving out of the knee.

Please call us to speak to a Product Specialist so that we may better assist you. 1-888-405-3251.

http://www.betterbraces.com/donjoy-fullforce-ligament-knee-brace



From dave-o at

5/31/13 10:35 AM

I am interested in purchasing this Brace.
Are they true to size? I am male, 5'9", 185lbs.
Using the sizing chart my measurement is 17.5"
Does that really mean that I'm an XS/S?
Thanks for your help.

Hello Dave,

Yes, that is correct if your thigh, 6" above your knee measures 17.5 inch's, your a Small.



Take the measurement of your thigh 6" above your kneecap using a flexible type tape measure. Use the diameter to choose your size.

Size Thigh
XS/SM 13" - 18 1/2"
M/L 18 1/2" - 23 1/2"
XL/XXL 23 1/2"- 29 1/2"
XXXL 29 1/2"- 32"


Have a Great Day.

From Nicola at

6/2/13 9:46 PM

Hello, I have been diagnosed with patella femoral arthritis and have had arthoscopic surgery in both knees with lateral releases. I still experience most of my pain going up and down steps. I am also chubby and have problems with any previous brace slipping down. My measurement above the knee is @ 23", if I did it correct. What do you recommend?
Hello Nicola,

I suggest going with the larger size. XL-23"

Take the measurement of your thigh 6" above your kneecap using a flexible type tape measure. Use the diameter to choose your size.

Size Thigh
XS/SM 13" - 18 1/2"
M/L 18 1/2" - 23 1/2"
XL/XXL 23 1/2"- 29 1/2"
XXXL 29 1/2"- 32"


We also have the Tru-Pull lite. Great low profile, short brace.

http://www.betterbraces.com/donjoy-tru-pull-lite

Please call us with additional questions. 1-888-405-3251.

From jarvis at

6/22/13 4:37 AM

From tim at

6/26/13 8:52 AM

hi, i am planning to buy the fullfource brace as i tore my acl and meniscus. however, i do have some pain around my shin and patellar. is it possible to add the reaction to my fullfource brace? or do i have to wear one or the other?

thank you for advise.
Hello Tim,

We do not have an attachment that can be added to the FullFource. I recommend an ACL Brace for your ACL Injury. I also recommend speaking to your Physician about the other symptoms you are having, they could be related to your previous injury, surgery, etc.

Thanks for contacting Donjoy.


From Melissa at

6/27/13 7:22 AM

I have a reaction brace and I am very pleased with it. The problem is that the Velcro has lost its "umph" and doesn't adhere hardly at all now. Can just the this piece be replaced?
Hello Melissa,

There are No Replacement parts for the Reaction. How long have you had the Brace? It does have a 6 month warranty.

Thanks for Contacting Donjoy.

From Cassia at

6/28/13 8:30 AM

I have a DonJoy Reaction Knee Brace and I am having fitting issues. My thigh is significantly thicker than my calf and no matter how I tighten it, it slips down. Any suggestions?
Hello Cassia,

Are you using the Knee Sleeve underneath? Are you securing the bottom strap first?

Thanks for Contacting Donjoy.

From Jerry at

7/7/13 12:36 PM

I have no cartilage in rt knee[end stage]==but no pain,just lack of stability. I tried on the DonJoy sm, and It helpd with strength/stability. I play doubles tennis===Would the OA Full Force be a better choice?-Thanks, J.
Hello Jerry,

The Reaction Knee Brace is a Great Option for Patello-femoral symptoms. If you need a knee brace to support your injured meniscus, I recommend an Arthritis Brace. We have a couple of options but the best option for an athlete like yourself is the OA Full-Fource. Please take a look at the link below.

http://www.betterbraces.com/oa-fullforce-knee-brace

Thanks for Contacting Donjoy.

From Jason at

7/9/13 7:48 AM

I had a roux-goldthwait procedure performed on my knee 5 years ago, to correct patellar dislocation. I want to start running again, and even though my doc said I don't necessarily NEED a brace, I would like a little piece of mind. Would this brace be a good fit for me? If not, can you recommend one that would work best?
Hello Jason,

Below find the link to our Retail Site, here you will find your options for Patella Stabilizers. Also, see the link for Knee Sleeves below.


http://www.betterbraces.com/knee-braces/patella-stabilizers
http://www.betterbraces.com/donjoy-drytex-adjustable-patella-donut


Thanks for Contacting Donjoy.
Ask Your Own Question
You'll receive your answer via email either the same or next business day