You're currently on:
>

DonJoy Playmaker II Knee Brace
Health & Beauty > Health Care > Supports & Braces
11-35XX
in_stock
189.99
Product Description

Product Reviews
Get Your Move On!
Even mild ligament strains can bring activity levels to a halt. Playmaker II issues the stability needed and the comfort required to empower movement. Playmaker II is the right move, so get your move on! Provides support for hyperextended knee, ACL, MCL, and LCL instabilities caused by injury.
Features & Benefits
Immeasurable Comfort - Hi10™(high tenacity nylon/spandex fabric) offers unmatched comfort and fit
ROM Excellence - DonJoy's proven DIII hinge brings a custom design to manage ROM options
Trusted Brand - As the market leader for over 30 years, Playmaker II is yet another installment of a proven and trusted brand
"Cooler" Experience - DonJoy's New Advanced Spacer fabric promotes a "cool" environment for activities on all levels
Just Plain "Easy" - Molded strap tabs allow quick and easy strap adjustments to deliver a secure and comfortable fit. (Only available on the Drytex material)
Available in Sleeve or Wrap design
Also available in Neoprene. (Does not come with Molded strap tabs)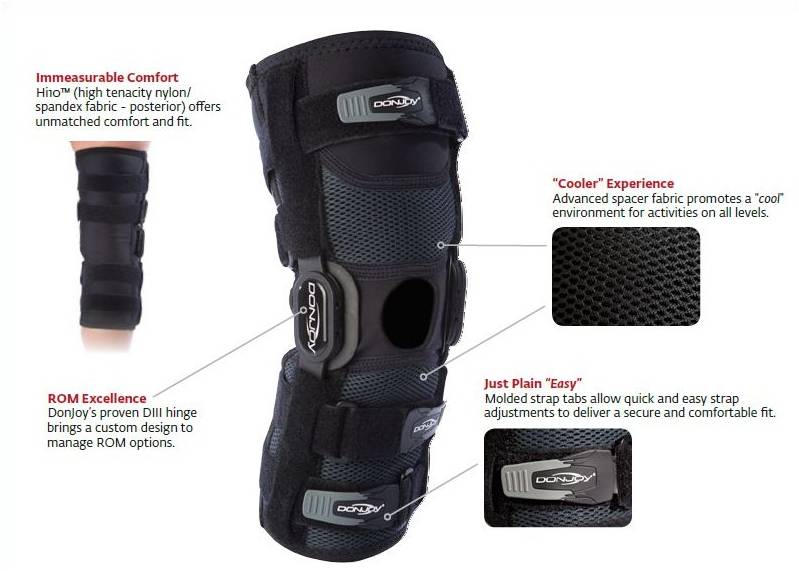 Take the measurement of your thigh and calf 6" above and below your kneecap using a flexible type tape measure. Use the circumference you measure here to choose your size.
| | | | |
| --- | --- | --- | --- |
| Size | Thigh | Knee Center | Calf |
| XS | 13" - 15.5" (33-39 cm) | 12"-13" (30-33 cm) | 10"-12" (25-30 cm) |
| S | 15.5" - 18 .5" (39-47 cm) | 13"-14" (33-35 cm) | 12"-14" (30-35 cm) |
| M | 18.5" - 21" (47-53 cm) | 14"-15" (35-38 cm) | 14"-16" (35-40 cm) |
| L | 21" - 23.5" (53-60 cm) | 15"-17" (38-43 cm) | 16"-18" (40-45 cm) |
| XL | 23.5" - 26.5" (60-67 cm) | 17"-19" (43-48 cm) | 18"-20" (45-50 cm) |
| XXL | 26.5" - 29.5" (67-75 cm) | 19"-21" (48-53 cm) | 20"-22" (50-55 cm) |
| XXXL | 29.5" - 32" (75-83 cm) | 21"-23" (53-58 cm) | 22"-24" (55-60 cm) |
| | |
| --- | --- |
| | 1.Stand with your legs shoulder-width apart, legs slightly bent and leg muscles contracted. |
| | 2. Measure up six inches from the center of your knee with a tape measure, as shown. |
| | 3. Measure the circumference of your thigh at the 6-inch mark, as shown. |
| | 4. Measure down six inches from the center of your knee with a tape measure, as shown. Then measure the circumference of your calf at the 6-inch mark. |
5
4
DonJoy Playmaker II Knee Brace reviews
Harry
I don't normally write reviews, but I have to let you know that this company is TOP NOTCH on customer service. I had questions regarding the brace we were considering and when I called the phone number I was immediately connected with an agent who understood my questions and got me onto the right expert. Once I talked to the "expert" I was advised of various ways I could get the right brace, including a local rep for the DonJoy brand. I have NEVER had a better experience with service, results, and value. I would highly recommend this brace for the quality, and the Better Braces.com for service, and DonJoy for employing high quality representatives of their products. THANK YOU!!!! -
Harry
great brace
i have this brace. it is a great brace. I am currently using it on my left knee while awaiting an MRI on that knee for a possible ACL tear.. I have used it on my right knee after 2 procedures on that knee which has left it unstable when lifting heavier weights. The brace provides a high degree of support for my knees. Without it on and only using crutches to move around my left knee will shift laterally in a bad way. The spacer material is the proper way to go for material. It breathes well and is more compliant than neoprene. I do highly recommend getting the sleeve to go under it. Extended wear time was irritating to the skin on my leg. The only down side and it is not even a big thing is the size of it. It is HUGE. Without actually measuring it, I would estimate 18" long. It takes getting used to but after a few times wearing it I was used to it. For something short of a custom built brace this is the best thing I have used and I have had a brace of some type on my knee for 15 years and counting. You really get what you paid for on this one. -
great brace
liz
Great customer service helped through all my questions I had a tibia plateau fracture required surgery it was pretty bad break this is a life saver its so breathable, lightweight, not bulky compared to the generic one the hospital gave me the playmaker 2 is the best there is highly recommend. -
liz
Uncle Stymie
I strained my knee playing hockey and was out for 6 weeks, this brace helps me play now with no pain and gives me a secure feeling about playing again. -
Uncle Stymie
I play football in Europe and these have served me very well - Sam

Questions on DonJoy Playmaker II Knee Brace
Sort by
From Stephen Taylor at

1/31/2014 2:16 PM

I am looking at the Playmaker ll knee brace to go skiing. Is there a difference in protection between the sleeve and the wrap around. I see the wrap around comes only without the patella donut so is the patella covered completely? I am not sure if I am seeing the inside of the brace or a cover. Seems the wrap around might be easier to get into, are they similar in comfort? What do most people get?
Thank you for your question. The wrap around will have an open patella, because the donut is sewn into the material this option is not available with the wrap around. The wrap around is easier for most people to put on and is most common with people who have measurements that fall into different sizes (example: Large thigh, large knee center, medium calf). All variations will offer the same support, it really is a personal preference on the style you choose. If you are unsure about your sizing, please call product support for help 888.405.3251.

From Pietro at

3/27/2014 5:23 AM

What is the best material when the brace is used in the summer time?
I see 2 options, Neoprene and spacer.
The Spacer material will be cooler and breathable compared to the neoprene which will be hot and collect sweat

From Heather at

4/9/2014 7:25 AM

We just ordered the Playmaker II Spacer Wrap knee brace for my daughter. It is sliding down on her when she plays. Is the sleeve style Playmaker any better for staying put? It feels pretty snug to do up, so I don't know if the next size down would work. Or is there something we can put with it to keep it from sliding down? Thank you!
Heather
The sleeve style is better for playing sports it, she should not have as much sliding in the sleeve

From Kinny at

4/21/2014 5:13 PM

I live in Indonesia, and in need to order the Playmaker II Spacer Wrap knee brace. To avoid import charges and the high cost of shipping charges., the shipping address would be in the US, but the billing charge will be an Indonesian address.
Is it at all possible to do so.
Thank you for your question. We can take international cards. It is not a guarantee that your card will take. Some international cards are accepted and others are not. The only way to know if your card would be accepted would be to try. BetterBraces.com does not ship internationally, so having an address within the United States is a perfect idea. Thanks again for your question.

From Lori Eastman at

4/26/2014 9:39 AM

I ruptured my posterior cruciate ligament a couple of years ago and have a good deal of knee instability. I am looking for a knee brace that will stabilize my patella as well as the remainder of my knee. I need it for activities of daily living and working out at the gym for achieving fitness, I am not an extreme athlete! Which version of the Playmaker II will give me the best patella support? The sleeve or the wrap around? Is this the right brace for me?
Lori
Get the sleeve with spacer material and a patella donut

From Beth V at

5/1/2014 5:15 PM

I ruptured my acl in both knees (left 10 yo, right 5yo). I did significant additional damage to meniscus, MCL and LCL with each injury. I am currently hiking the AT and have over 400 miles. I am experiencing significant and debilitating pain on steep downhills. The patella is involved but also experiencing pain and swelling above the knee cap on the lateral/outsides of the knees. Left knees more so than right knee.

Which brace do you recommend? Material breathability is important as well as stability in positioning of brace. I am looking for comfort, non abrasive brace for long distance backpacking.

Thank you!
Beth
Thank you for your question. The play maker II is a very breathable material. The Playmaker II with FourcePoint hinge may be a good option as it will gave additional support and protection to the ACL. The Playmaker II will give support to the LCL/MCL with the metal hinges and the strapping also will help with joint support. If you have additional questions please don't hesitate to call.

From Mike at

5/27/2014 9:04 AM

I play hockey and am looking for a brace that will keep my knee from giving way to the sides when I stop as this has caused my ACL to become strained and continued movement could cause it to tear.

-Which style would add stability to the left knee while not being so bulky that it would not fit under shin guards or hinder skating?

-Would you recommend with or without the patella donut?

-Is it possible that you sell amore suitable knee brace for hockey that I haven't come across?

Thanks in advance for the information!
Thank you for your question. The Playmaker II with FourcePoint hinge is the best soft hinged knee brace for an athlete with an ACL injury. If you do not have any damage to the patella or around the patella (example: patella tendonitis) the donut is not necessary. The rigid knee braces will offer more protection than the Playmaker II, you may want to look at the SE-4 or the FourcePoint knee brace.

From David Rodriguez at

5/31/2014 7:58 AM

Hi, I had a ACL Surgery 8 months ago the doctor says that I recover my stability and fell good about it.
,I practice kitesurfing in salty water, does the hinge gets rusty?. I still have some pain in my knee since I need more strength on my quadriceps. do you recomend this Playmaker II knee brace or I should go for the web knee brace?

Thanks in advance
David
I would normally suggest a rigid knee brace after a ACL surgery less than a year old, such as the DonJoy FullForce Ligament knee brace. http://www.betterbraces.com/donjoy-fullforce-ligament-knee-brace This brace will give the support needed so soon after a surgery for return to activities, with the Fourcepoint hinge and 4 points of leverage in a rigid frame this will protect that still healing graft in your knee and prevent re-tear. However if you are interestd in the Playmaker II I would suggest getting the brace with the Fourcepoint hinge to protect the knee better than a standard hinge. Just rinse the brace and hinge after getting out of the salt water and let air dry. Our braces can be worn in the water

From Jeremy at

6/1/2014 3:47 PM

Is this a good brace for surfing? I have knee instabilities due to an old acl injury but I can't give up surfing! What options should I select so that I could use this in salt water
Jeremy
Yes this brace would be good for someone who had an old ACL injury. The brace can get wet, just rinse the brace and hinge afterwards to make sure no salt gets into the hinge

From jonny at

6/9/2014 7:48 AM

I had my knee buckle during soccer a few days ago, and strained the LCL (but no damage to any other knee ligaments). I'm looking for a brace to provide some stability for walking and hiking for the next couple months. Would this brace be a good option?
Jonny
Yes the Playmaker II is a good choice for your LCL sprain, it will provide protection during the actifities that you want to do

From fred at

6/14/2014 11:54 PM

From Dan at

7/13/2014 3:30 PM

I had ACL surgery a year ago. I am still working on rehabilitation to get back to quick lateral movements, sudden stop and go movements, and jumping/landing at full speeds for both basketball and snowboarding. I am a very aggressive athlete and I researched on google and found that this ACL knee brace was highly rated.

1) I was wondering for the two sports that I will be planning to do regularly, which specific options would be best for me on this knee brace?
I'm assuming the drytex would be the ideal material. I am wondering if the sleeve would be a good choice...I have worn knee sleeves before that I bought at Walmart, I'm not sure if theyre too small but after 30 minutes to an hour of play it feels like it is cutting blood circulation off and also irritating my skin.

2) Also what is the difference between the playmaker and this playmaker 2?
Dan
For someone who had a recent ACL reconstruction I would not suggest this brace for basketball and snow boarding. I would suggest one of our rigid knee braces. Either the DonJoy Armor Knee Brace with the Foucepoint hinge, http://www.betterbraces.com/donjoy-armor-knee-brace-with-fourcepoint-hinge or the DonJoy Defiance Knee Brace http://www.betterbraces.com/donjoy-defiance-iii-custom-knee-brace Both of these braces have our Fourcepoint hinge and four points of leverage that have been clinically proven to help reduce ACL re-tear up to 50%. The Armor is a "off the Shelf" brace that has a 1 year warranty on the frame and hinges, the Defiance is custom made for you knee and has a lifetime warranty on the frame and hinges. These braces are more suitable for someone as yourself who is just getting done with rehab and wants to compete in demanding activities.

From Mary at

7/15/2014 6:29 PM

Hello,
I had a ACL surgery 9 months ago and I've been recovering well, but I still feel my knee a little bit weird during pivot shifts and it clicks when I flex after being hyperextended. I used to play team handball (contact sport) and I want to know which brace will be better for me.
Thank you

Mary
Someone so new after surgery should be wearing a rigid knee brace and I would suggest the DonJoy Full Force knee brace. It has a rigid frame, our four points of leverage strapping system and our fourcepoint hinge. All of these things have been clinically proven to help reduce re-tear of the ACL up to 50%. The full force is lightwieght and low profile. It is worn to play sports

From Liz at

7/15/2014 7:25 PM

I am looking for a brace to provide general stability for a leg that is weak. The weight of the brace is important as the muscles in the weak leg fatigue easily. Can you provide information regarding the weight of this brace? Or do you have other suggestions for a brace that is lightweight but that will provide stability? I am hoping to be able to flex at the knee 30 degrees or so, but need the brace to be stable enough to stop occasional buckling. (I understanding that buckling would still occur up to the angle at which the brace is set). Thank you!
Liz
The Playmaker II knee brace wieghs around 2 lbs and comes with a stop kit but the lowest flexion stop is 45 degrees.

From Aaron at

7/22/2014 12:50 PM

I torn my ACL playing football and i have yet to get surgery but have been cleared to play and i just got a college scholarship and am about to start my hell week in college in about 20 days so i need to know if this knee brace will work for me.
Aaron
If you are playing college football on a scholarship and have a torn ACL you should be wearing one of our rigid knee braces. The Playmaker is not going to give you enough support for activity that you will be doing with an ACL deficient knee. My suggesttion to you is the DonJoy Defiance ACL brace with a fourcepoint hinge, and get our football options.

From john at

7/27/2014 12:33 PM

I play on the offensive line for a high school football team and my last years knee brace a don joy full force. I could never get use to the thing my calves were always cramping and my movement was extremely limited. My questions are:
Which knee braces would you recommend for a more comfortable game, but still offers me protection? - I am open to all suggestions, but I do live on a budget
John
The DonJoy Armor Knee Brace is our off the shelf brace for football lineman. The Full Force is not for contact sports. The Armor is similar to the FullForce in Brace type but has a thicker frame. http://www.betterbraces.com/donjoy-armor-knee-brace-with-standard-hinge A less expensive option would be the DonJoy SE 4 Knee Brace http://www.betterbraces.com/donjoy-legend-se-4-knee-brace Unfortunatly these are similar to the brace you already have, a soft sleeve type hinged knee brace is not reccommended for football

From Kaash at

7/30/2014 5:01 PM

Hello,

I have a complete ACL rupture but I am able to walk and run in a straight line. However, I am not confident with pivoting at all. I have a very active lifestyle and practice martial arts daily. I have decided not to go for ACL reconstruction surgery and instead was wondering If I could rely on a knee brace for sports. IS there a knee brace that is ideal for active contact sports that including running, pivoting, kicks, grappling, jumps, etc.
Kaash
We do have two braces that would fit your needs. The first is the Custom Defiance Knee Brace http://www.betterbraces.com/donjoy-defiance-iii-custom-knee-brace this is our premiere brace. The defiance is custom made for your leg specifically, has a variety of options to choose from such as color, hingetype, and material for the softgoods of the brace. In your case I would suggest the fourcepoint hinge. Theis hinge along with our four points of leverage strapping design are clinically tested to help protect the ACL and hold the leg in a safe position. The frame and hinges hve a lifetime warranty. The other option is the DonJoy Armor Knee Brace with the Fourcepoint Hinge. The brace has the same technology as the custom brace but is patient ready. This means that only three measurements are needed to find a size that will best fit your leg. It has a one year warranty on the hinge and frame. http://www.betterbraces.com/donjoy-armor-knee-brace-with-fourcepoint-hinge

From joseph pete at

8/13/2014 9:55 PM

I tore my meniscus and I have a bone bruise but not that much pain and I play o tackle and I was tryna find out will this brace keep my knee stable I have couple of scholarships
Joseph
Get the Playmaker II with the fourcepoint hinge. That brace will protect all of the ligament in your knee better than the standard hinge.

From cody at

8/18/2014 10:23 AM

i am a bull rider i got in a wreck a year ago i have a acl,mcl,and lcl tare in my right knee would this knee brace help give me knee support ?
The Playmaker should support the knee with what you are doing. I would suggest getting the Playmaker II with the fourcepoint hinge, for better support. http://www.betterbraces.com/donjoy-playmaker-ii-fourcepoint

From joe at

8/21/2014 7:50 AM

I tore my meniscus playing football and I was wondering if this would be a good brace for contact sports like football
Joe
That brace should be fine to wear for a torn menicus while playing football

From matt redman at

8/24/2014 2:42 PM

I broke my knee on the right side and have chronic pain in the knee have off loader brace but does not help in the gym now would the playmaker 2 be better
Matt
If you are having pain becuase of the injury you had and an unloader brace was ordered for that injury then a Playmaker II weill not help. You may need to call your physician or who you recieved the first brace from and let them know that the brace is not doing what it is supposed to do.

From Melissa at

8/31/2014 10:00 AM

I am 50, about 25 lbs overweight and I have a torn ACL for an injury when I was 15 years old. My doctors do not recommend surgery. My knee mainly hurts on long drives (hour or more), and I am probably starting to get arthritis. I am looking at the DonJoy Playmaker II, but I can't figure out the size. My calf and knee fall in the Medium range, but my thigh is 18" and falls in the XL range.... do I get the XL? Is the Playmaker II to best choice?

Melissa
Meliss
A thigh circumference is a medium. The XL size falls between 23.5"-26.5". If your thigh is an XL and the rest medium than any brace will fall down on you and a smaller brace won't fit your thigh. I would re-measure to be sure

From Rebecca at

9/3/2014 1:07 PM

what would you recommend for a brace for severe hyper extension instability due to stroke with a center knee measurement of 18" , calf 14.5" and thigh 20"?
Severe Hyper-extension would require one of our rigid hinged knee braces and based on the measurments you would have to go with the Custom Defiance, which can only be ordered direct from DJO. Follow this link to get your local DJO Sales Rep information and speak with them regarding the Custom Defiance. http://www.djoglobal.com/contact-us/sales-rep-locator

From Serge at

9/12/2014 2:13 PM

Hi
I have a torn ligement and cartilage. I don't want the operation and still plaing basketball with knee braces but I want a really good one I'm looking in to buying donjoy armour or playmaker which one is the best for my injuries and playing basketball which one do you recommend ?
Thanks
Thank you for your question. If you have a torn ACL the FullFource would be a good potion for you. The armor would probably be too heavy and the PlayMaker II, not enough support to the ligaments.

From Skip at

9/23/2014 5:58 PM

Rt knee has no medial meniscus, arthitis, partial bone-on-bone. Lateral meniscus is thinnng. ACL/PCL good. Was shot is Veitnam, both legs. Left leg is bone on bone, has very little calf, and very restricted planaflexion w/no dorsaflextion. I have always been active, hiking, skiing, and cycling. Rt leg has been support for left, but since surgery, medial area of knee is painful, and not stable. Bought a Reaction, which gives some relief, but need more. Would this brace be a good choice? Truly want to avoid knee replacement as long as possible. Also would like to know if this would also work for left knee as well, which only hurts sometimes on lateral side.
Skip
The playmaker should give you more support than the Reaction did as it has hinges on both sides of the knee. The brace can be worn on either leg as well.

From Tom at

9/24/2014 3:52 PM

I tore my meniscus and was wondering if this brace would be good to wear for football to prevent further injury to my knee. I don't have and ACL in my knee i tore my meniscus so i am looking for a brace to use to stabilize my knee.
Tom
If you have a menuscus injury the Playmaker can be worn to play football. If you have no ACL in your knee i would suggest a rigid knee brace

From Diana at

10/16/2014 12:38 PM

After ACL I had brace now am using playmaker wrap can this be worn over jeans?
The brace should be worn against the skin

From T. Kim Cromwell at

11/3/2014 7:22 PM

I am a 55 year old woman who had surgery 40 years ago for a recurring patella dislocation. Ligaments were more tightly secured with a "pin" under the knee cap. Four years ago I also had 80% of my lateral meniscus removed in that same knee. X-rays show my knee continues to deteriorate due to the trauma its been through, and the resulting arthritis. My knee is showing more instability and tends to swell after exercise.

I'm trying to postpone getting a knee replacement, while continuing my active life -- playing doubles tennis, mostly, and walking a fair amount. Which type of brace would you recommend for someone like me, particularly while I'm playing tennis? Also, what material? Wrap or sleeve? Donut or not?

Secondly, what would you use to ice the area after playing tennis?

Thank you!

You would most likley benefit from one of our arthitis braces. The OA Nano is for those with moderate OA, whoare very active people. The brace will have adjustments on one side of the brace to unload the lateral compartment that you had the meniscus tear. The unloading helps to reduce pain and inflammation at the knee joint. http://www.betterbraces.com/donjoy-oa-nano-knee-brace If a rigid brace is not what you are looking for we do have two smaller braces for mild OA. The OA light and the OA Reaction web knee brace. Both of these are lower profile than our rigid knee braces but still have a unloading hing on the brace. They are for those who suffer from mild OA so the correction is not as much as the Nano. http://www.betterbraces.com/donjoy-oa-reaction-web-knee-brace, http://www.betterbraces.com/donjoy-oa-lite-osteoarthritis-knee-brace

From Nikki at

11/8/2014 6:46 AM

I have the playmaker II brace i need to get my leg straight. Is there any way that the hinge locks so my knee can not bend?
Nikki
That brace does not lock.

From nick t at

11/19/2014 5:11 PM

does this brace slip or slow you down when you run and it it good for contact sports such as football?
Nick
The brace should not slip other than normal migration with a sleeve after sweating, but it is the correct size it should be fine. It will not slow you down and you can wear it while playing football.

From Darin at

12/23/2014 3:41 PM

I do martial arts, ski, and play volleyball. I recently strained my MCL and LCL (no tears) in my left knee, and I have been noticing a decrease in its stability (age is taking its toll). So I am looking for a brace to help protect my knee from more serious injury. I am looking at the Playmaker 2, but am unsure whether to go for the fourcepoint, sleeve, or wrap? Any suggestions would be gratefully appreciated.
Darin
The Playmaker II is a great choice. The fourcepoint hinge will help to train you knees to land correctly and help prevent any further injury to you knees. You will want the sleeve to wear in sports as the wrap around will slide down

From mtdestroyer at

12/31/2014 11:37 AM

so I'm an avid snowboarder who probably gets about 60 days a year.. I've had knee surgury on mcl,Plc, meniscus ...knee is pretty stable but I would prefer to wear a brace anyway... I'm looking at the playmaker ll .. What's you guys think? Also as the season goes on my leg seems to change sizes back and forth..which one is more adjustable
The Playmaker II should work fine for the issues that you had on your knee. The sleeve works best for sports related activities and the spacer material will not be as hot as neoprene. The size changing should not be an issue as you are not going to change that dramatically.

From Burnstl at

1/6/2015 1:47 PM

Would this be a good brace for a wrestler?
This brace would great for anyone play in any type of sports. What matters is what you need the brace for. the brace gives moderate support for all of the ligaments of the knee.

From Mike at

1/8/2015 2:12 PM

I hunt, flyfish and hike in the mountains. I have had meniscus removed from both the inside and outside of my knee. I am bone on bone. I am receiving shots to lubricate the joint. It still pops at times and feels unstable. I am wondering if your playmaker 2 would be a good match for keeping me active and keep my knee solid. I am trying to put off knee replacement as long as possible. Thanks
Mike
The Playmaker II would be a godd choice for your knee. Since you have OA on both sides of the knee this brace will give you general stability around the knee

From Ray at

1/23/2015 6:39 AM

I'm looking at the playmaker II but can my measurements are between a large and x-large what brace should I pick? Thigh 23 1/4" knee 17 1/2" calf 17 1/2"
Ray
based on your measurments I would advise you to pick the large

From Sarah at

2/5/2015 11:13 AM

Four weeks ago I fell on a run and have likely torn my ACL to some degree. I may also have some PCL damage (my MRI results are pending). My PT has recommended either the Don Joy Playmaker 2 or the Full Force brace for my injury type and activity level. Prior to the injury I ran 60 kilometers a week and trained for trail ultra marathons. Which brace would A. be the most comfortable being worn all day and B. stay put when I'm out on a run, even after 5-10 miles? Thanks very much!
Sarah
You should wait until you know exactly which ligaments have been injured. If you have torn both the ACL and PCL you do not want to wear the Full Force Ligament knee brace because that fouce point hinge is contra-indicated with a PCL injury. The hinge will create posterior force on the tibia which is what you do not want to do with a PCL injury. If you have not completly ruptured either of the ligaments, then the Playmaker II would be a sufficient brace for your knee while it is healing and during your activity. If you have completely torn either of those ligaments I would suggest a rigid knee brace such as the Armor with a Standard Hinge. http://www.betterbraces.com/donjoy-armor-knee-brace-with-standard-hinge If you have only toen the ACL then the Full Force would be the best brace for you.

From Mitch at

2/7/2015 10:33 AM

I recently tore my meniscus in basketball and I would like to purchase a brace to protect me when I play quarterback in high school football. I want to know what brace would be best for me as my play style is a dual threat (running and passing) quarterback that would protect against hits and prevent me from having to get my knee scoped again. I also want to know what would be the most comfortable to be playing a full game and taking hits.
Mitch
The Playmaker II would be a great brace for you to use while playing football. The brace will offer both medial and lateral protection with the hinges and the material is light wight and flexible to allow you to move freely. The spacer material is cooler than neoprene and the hinges are low profile. this is a great brace for you.

From HockeyGuy at

2/19/2015 10:35 AM

I recently experienced a moderate strain to my right knee MCL while playing golf. I also play hockey and want a brace that will fit under my shinguards. Both of the Playmaker models seem suitable for my needs but can you please tell me which has a more low profile, thinner design...the Playmaker II or the original Playmaker?
The Playmaker II has a lower profile hinge and the spacer material is a little thinner than neoprene. That would be my suggestion.

From Sam at

2/20/2015 12:06 AM

I am currently recovering from an MCL injury (the MCL was not torn, however it was severely stretched) where my meniscus also got damaged. I have had knee problems for years and am currently seeing a naturopath as a course of treatment. Because I am very active and play on an elite hockey team the naturopath said it is very important to tape my knee or where a brace while playing. I am taping now, but the amount I am on the ice is costing my quite a bit on tape not to mention is killing my skin, so I'm wondering what would be the appropriate brace to wear.

thanks!
Sam
The Playmaker II would be a good choice of a brace for you because it will give the medial support much better than taping would. You will want to get the sleeve with the spacer material if using it to play hockey. The spacer material is much cooler than neoprene

From Molly at

2/24/2015 3:19 PM

I am a short, but highly active female (4'11"). I had orthoscopic surgery in September to debride an ACL tear as well as the joint capsule. The injury also involved bone brushing to the femor. I have been in rehab ever since. My flexibility has returned and I am now moving on to building up the quad again. I am interested in getting back to my main sports which include ice hockey, downhill skiing and mountain biking. I have checked out the custom braces but can't imaging how I will be able to fit that and the ski boot on my short calf. What options would I have to return to skiing? Should I try one of the Playmaker braces which look like they might fit with my boots?
Molly
The Custom Defiance is our custom ACL brace and it can be made for someone your size. the entire length of the brace would be 14 inches. It would be a short thigh and a short calf. Our rigid knee braces have the short calf option which is used for those who ski. The Defiance can be measured and ordered through a local Don Joy sales Rep. http://www.djoglobal.com/contact-us/sales-rep-locator Here is more information on the Defiance: http://www.djoglobal.com/products/donjoy/defiance We do have an off the shelf brace on BetterBraces.com called the Don Joy Armor. This brace is 15 inches in length. http://www.betterbraces.com/donjoy-armor-knee-brace-with-fourcepoint-hinge

From Melissa at

2/25/2015 10:29 AM

I had ACL surgery two years ago from a skiing injury. I am getting back on the slopes and looking for a brace to wear. I have always been a cautious skier and stick mainly to blue and green trails. What brace would you recommend? I am between the Playmaker II and Playmaker II Fource Point.
If you are going to go with a soft hinged brace then i would reccommend the Playmaker II with the fourcepoint hinge. The foucepoint technology is our best hinge for protecting against re-tear of the ACL.
Ask Your Own Question
You'll receive your answer via email either the same or next business day
You may also be interested in the following product(s)
| | | |
| --- | --- | --- |
| Provides improved support and full protection to your knees while playing any contact sport. | Comfortable, breathable, and customizable padded athletic tape that acts like a second skin to protect from abrasion and injury | Includes the ligament protection of the Armor knee brace and even more ACL protection from the FourcePoint hinge. |