You're currently on:
Health & Beauty > Health Care > Supports & Braces
11-742X-X
in_stock
149.99
Product Description

Product Reviews
A Discreet Solution for Osteoarthritis Knee Pain
The OA REACTION WEB is the lowest profile knee brace on the market to treat early or mild OA. The patented silicone web technology provides a custom fit that won't slip; it's so comfortable, users may forget they're wearing a brace.
Lightweight, Low-Profile Pain Relief
A new level of bracing comfort for those with early to mild OA of the knee, or early joint space narrowing. OA REACTION WEB offers discreet wearability utilizing mild offloading and proprioception to help reduce knee pain for mild to moderate activity.
Patented Web Technology
DonJoy, a pioneer in bracing technology, is taking OA bracing to the next level of comfort using breakthrough silicone web technology. OA REACTION WEB offers the thinnest and most open framework available.
Discreet Pain Relief
OA REACTION WEB gives those with OA knee pain the relief they need in a comfortable, lightweight, low-profile solution that can even be worn under clothing before, during and after activity. Designed for those who participate in mild activity, obese patients, and active aging patients who jog, hike or play tennis or golf.
Features & Benefits
Silicone Web Technology - scientifically designed to provide shock absorption and anterior knee pain relief treating OA of both the knee joint and the patella


Low-profile Design - wear it under pants, skirts or with exercise clothing as a discreet solution for pain


Four-way, Adjustable Wraparound Design - comfortable, form-fitting design creates a custom- like fit for most legs that is easy to apply


Patented, Integrated Silicone - comfortable offloading of the knee with a nonslip cup effect; the hexagon design allows air pockets to gently support the knee


Easy to Wear - the most open and lightweight design available in OA knee bracing


Brace options are selected according to your affected OA compartment (OA- Osteoarthritis "bone on bone"):

Medial Compartment - The side of the body or a body part that is closest to the middle or center of the body
Lateral Compartment - The side of the body or a body part that is farther from the middle or center of the body



Note - The OA Reaction comes with an undersleeve that is the exact size of the brace you order, if you wish to have a different size sleeve or need a replacement, purchase a Reaction Knee Undersleeve.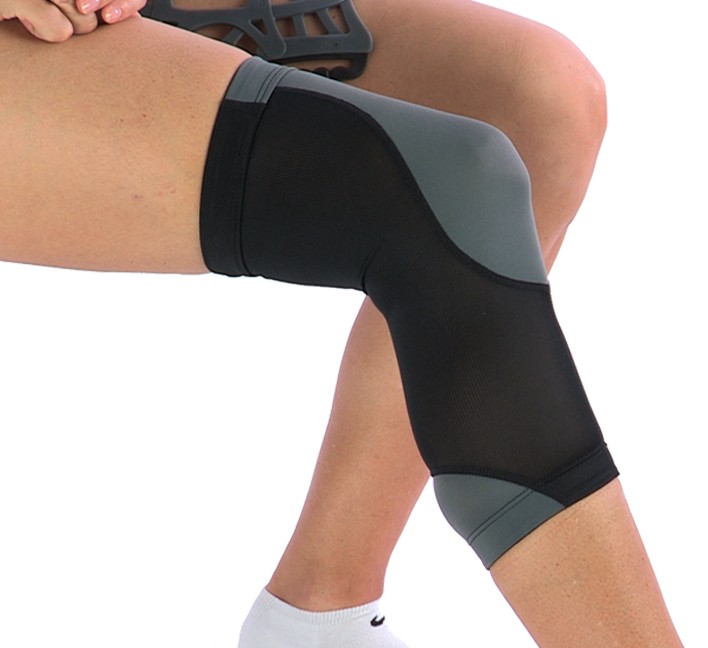 Shop our complete selection of knee braces or browse additional DonJoy products.
Take the measurement of your thigh and calf 6" above and below your kneecap using a flexible type tape measure. Use the diameter you measure here to choose your size.
Note: This product runs small. If you measure between sizes we recommend going up one size for optimum comfort and fit
| | | | |
| --- | --- | --- | --- |
| Size | Thigh | Knee Center | Calf |
| XS | 13" - 15 1/2" | 12"-13" | 10"-12" |
| S | 15 1/2" - 18 1/2" | 13"-14" | 12"-14" |
| M | 18 1/2"- 21" | 14"-15" | 14"-16" |
| L | 21"- 23 1/2" | 15"-17" | 16"-18" |
| XL | 23 1/2" - 26 1/2" | 17"-19" | 18"-20" |
| XXL | 26 1/2" - 29 1/2" | 19"-21" | 20"-22" |
| XXXL | 29 1/2" - 32" | 21"-23" | 22"-24" |
| | |
| --- | --- |
| | 1.Stand with your legs shoulder-width apart, legs slightly bent and leg muscles contracted. |
| | 2. Measure up six inches from the center of your knee with a tape measure, as shown. |
| | 3. Measure the circumference of your thigh at the 6-inch mark, as shown. |
| | 4. Measure down six inches from the center of your knee with a tape measure, as shown. Then measure the circumference of your calf at the 6-inch mark. |
5
4
DonJoy OA Reaction Web Knee reviews
Dpaws17
I have osteoarthritis and bone on bone I need a knee replacement but because I am so young my doctor wants me to put it off as long as I can. I have spent several hundred dollars in knee braces trying to find one that will help me. As soon as I put this brace on I knew it was the one for me. It gave me the support that I needed and was looking for. I am a letter carrier so I walk 8-10 miles a day this brace has helped a great deal thank you -
Dpaws17
1791thinkshop
This is to address primarily the Product Specialist and Customer Service experience I've had with Better Braces and DJO. These folks are knowledgeable, patient, and genuinely desirous of making the best of both you purchase and addressing your needs. While I'm very knowledgable on topics of lateral vs medial, offloading and compartment expansion, these folks are there to help you. If you are in anyway daunted by the measuring out of which brace and which side/option to order, **CALL THEM**! They want to get it right the first time as bad as you do and will help you do that. Shipments that are free over $50 dollars don't go out USPS Ground either like waiting for pencil erasers to ship from Hong Kong, they ship FedEx and provide you the tracking data as a rule, not an exception. I highly recommend these folks for your brace, compassion, and cryogenic needs. Begin by creating a profile (simple email and password) first and the give them a call, you won't be let down. In today's world of commerce, customer service is the most important issue to me.... Get that and I'll vote with my hard earned dollar..... Better Braces and DJO get that vote! -
1791thinkshop
kay-kay
I have a patella femoral syndrome, subluxation of the knee cap, and a maltracking of my knee cap. I have tried numerous knee braces, and never found one. Until know, this knee brace allows me full mobility of my knee and I don't feel like i'm constantly having to adjust the brace like many others. I most definitely recommend anyone with knee pain to use the reaction knee brace! -
kay-kay
JML
I am a recreational downhill skier, and have been experiencing more and more difficulty skiing over the past 5 years due to the progressive osteoarthritis of the medial region of both my knees. This stems from the medial meniscectomies I had nearly 25 years ago - very little cartilage left in that area. Had to use steroid injections into both knees, anti-inflammatory drugs and icing in order to remain on the slopes. Last winter, I discovered the Donjoy OA Web Knee brace, which enabled me to ski nearly "pain-free" for 3 consecutive days, with rest needed on the 4th day. Without these braces, I couldn't have made it down the mountain for more than a half-day - too much pain. The OA Web Knee brace nicely unloads the medial part of my knees - a true savings grace. Highly recommended. -
JML
Questions on DonJoy OA Reaction Web Knee
Sort by
From Jerry at

10/11/2014 5:45 PM

I don't understand the options. Does the specified option refer to the primary location of the pain? For example, my primary pain is medial left. Is that the option that I should choose?
Jerry if you have pain on the inside of the left leg then you are going to choose the left medial.

From Neoma at

10/22/2014 2:31 PM

Hello,
It was stated that this was for early cartledge degeneration of the knee. I have moderate to sever degeneration under the patella, where my knee hurts around my entire knee, will this knee brace help or is there one that would work better.

Thank You
Neoma
The OA Reaction Web Knee Brace is for those with mild compartmental OA in the knee. If you have OA under the kneecap the Reaction Web Knee Brace would be the correct brace for you. The Reaction's web design is going to absorb force on the fron tof the knee a dispearse the force away from the kneecap to decrease pain. http://www.betterbraces.com/donjoy-reaction-knee-brace

From Tia at

11/4/2014 2:23 PM

I have seen multiple comments about both of your web braces having poor Velcro quality and having to replace it within a few weeks. Have you fixed this problem? Other people have stated that yiu have yo practically cut off circulation to get it tight enough not to slide. Are there braces out there that will stay put and last?
Tia
We have updated the velcro on the Reaction Web knee Brace, with a better velcro hook to address the problems people were having with the earier brace.

From Marion Godwin at

11/16/2014 12:44 PM

Can this brace be adjusted to lock the knee in different positions, i.e. 45 degrees
90 degrees, etc. ?
Thanks
Marion
No this brace does not do that, it does not have metal hinges on it. The TROM Advanced is the only brace on this website that will do that. http://www.betterbraces.com/donjoy-trom-advance-knee-brace

From Jeff at

11/24/2014 8:53 AM

I have a 25 year old acl replacement on my right knee,have some arthritis and the pain is on the out side right knee , I snowboard and downhill mountian bike what brace would you recommend?the web brace looks like it would be great for snowboarding, thanks Jeff Fulton
Jeff
The OA Reaction Web brace will not protect the ACL at all, but will help with mild arthritis Sounds like you might need a lateral unloading. A brace that will protect the ACL will be either the Playmaker II with the Fourcepoint hinge. http://www.betterbraces.com/donjoy-playmaker-ii-fourcepoint or the Don Joy Armor Knee Brace with Fourcepoint hinge. http://www.betterbraces.com/donjoy-armor-knee-brace-with-fourcepoint-hinge

From steve at

12/3/2014 11:41 AM

How is this different than last years & current reaction brace
Steve
This brace has a single upright and hinge that goes on the opposite side of the affected compartment and unloads that affected compartment. So this brace will help either medial or lateral mild OA by unloading that side as well as providing the webing to decrease anterior knee pain. The original Reaction web does not unload compartments it only helps to decrease the anterior knee pain.

From Chuck Dirienzo at

12/8/2014 10:13 AM

If the pain is on the outside of my right knee, what option do I choose?
Medial left/ lateral right

From Melinda Whitman at

12/10/2014 3:40 AM

I ordered the Medial Left or Lateral Right for my Left Knee. The pain is on the right, inside of the left knee. The brace I received has the soft, silicone condyle pad on the left side of the brace. Was I sent the wrong one? Or did I order the wrong one?
Melinda
If you have pain on the inside of your knee the hinge of the brace will go on the outside of the right leg. The hinge should be opposite the area that hurts to unload that medial side.

From Stephen at

12/17/2014 2:13 PM

Have mild OA of my right knee, the pain is on the inside. Which brace do I need to order?
Stephen
The OA Reaction would be the right brace for you. the brace is for mild OA. You would order the right medial/left lateral brace

From Gary at

12/19/2014 2:20 PM

my pain is the left (outside of my left knee) would I get the medial left?
Gary
You will want to get the left lateral brace/right medial brace. When you receive the brace the hinge should be on the inside of you leg. Our brace unload the opposite side so if you need lateral unloading the hinge will be on the medial side.

From Thomas at

1/2/2015 3:25 PM

Currently have a knee brace for left leg for OA that has an adjuster wheel to push from the inside knee(right side) out towards the outside of knee(left side). Would like to purchase the Donjoy OA Reaction Web Knee Brace. Would I need the medial right/lateral left to give me the same adjustment?
Thomas
That is correct you would need the right medial/left lateral knee brace.

From Nik at

1/6/2015 8:34 AM

I have OA in my right knee, the knee goes inward towards my left knee. My leg looks bent from the front. Most of my pain is on the outside of my right knee. Which brace would I need? Lateral Right???
Nik
You will want to get the lateral unloader. For the Reaction OA it will be the right lateral /left medial. When you receive the brace the hinge will be on the inside of your knee pushing to try to correct some of that "knock kneed"

From Paul at

1/13/2015 10:49 AM

I have both a patellar tracking issue and early, mild OA due to medial meniscus tears. It seems that the Reaction Web is made for the former and the OA Reaction Web for the latter. Which would you recommend for my situation? I'm still very active and want something that will reduce the pain I get from playing tennis.
The OA Reaction Web Knee Brace is for those who have both patellar tracking and mild compartmental OA

From jaclyn bader at

1/15/2015 7:25 PM

I had a total knee replacement, left leg...... I have moderate to severe oa... I would like to know if this brace will help my knee pain and give me stability..... I have pain on the inside of left knee so I need to know which one to order? Medial left? Thanks, jacki
Jacki
This brace is for mild OA so it might not give you any relief if you have moderate to severe OA, but you can try the brace to see if it does give enough offload. You will want to order the left medial if you would like to try the brace. We do have a 90 money back guarantee if it does not work for you.

From Laura at

2/7/2015 7:17 PM

I have pain on inside of left knee, what would I order for the oa reaction knee brace?
Laura
You will want the left medial/right lateral knee brace. When you receive the brace the hinge will be placed on the outside of your left knee.

From DENNY at

2/9/2015 2:02 PM

DonJoy OA Reaction Web Knee the options i dont know which one would be the correct for me
outside mostly pain on right knee mild to moderate depend on activity
i have 2 problems from my knee
knee cap need to be aligned (tracks inside lower left) and have moderate ware of cartilage lower left & middle groove under knee cap of my knee
will this brace be good for me or do you recommend another one
Denny
You will want the right lateral/left medial brace. The brace will have the hinge and upright on the inside of your knee and will push towards the outside to unload that compartment. This unloading will hopefully decrease some of the pain you are feeling on the outside of your kne and the webing will help decrease pain under the kneecap.

From Laura at

2/17/2015 2:30 PM

I have had several knee surgeries, but am struggling with arthritis pain (mostly medial meniscus). I have tried dozens of knee braces in the past, but have not been satisfied as they slide down my leg, are uncomfortable to wear all day, and cut into the back of my knee. I like the idea of the sleeve under to help for comfort, but will it still be secure and not slide down? Will this brace work for what I need it for?
Laura
Yes this brace should work for the pain you are experiencing and this brace will most lilkley not slide down. You would want to get the brace that will unload medial.

From Ava at

2/23/2015 2:00 AM

I have severe VonWillebrand's disease which is a bleeding disorder where my blood won't clot without special medicine through an IV. I play softball and have a weak knee and mild pain. Are these braces recommended for playing sports? Will they start in place while running?
Ava
This braces are made for sports and should stay in place

From Scott at

2/24/2015 9:06 PM

The pain I experience is on the medial right and the back side on my leg, directly behind the knee, I recently did have an x-ray done and the doctor said he saw some arthritis, is this the right brace for me?
Scott
Yes this brace is for mile OA and you could get the right medial/left lateral brace. when you put the brace on the hinge will be on the outside of your leg. The unloading force will push your knee towards the medial side to help reduce some of that pain

From Mary at

2/25/2015 12:17 PM

I don't understand the option, or don't know which one to pick at best. Knee is bone on bone, broke off a spur or something. Need support to walk, want to lose the crutch. Replacement will happen eventually, but definitely not this year. Pain is mostly in front but not comfortable anywhere.
Mary
Our OA braces are used to unload one compartment either the medial(inside of the knee), or the lateral(outside of the knee). The hinge is placed opposite of the compartment and ment ot push the leg into a more straight position which will unload that painful compartment. If you have pain on both sides of the knee then you may need to go with a regular hinged knee brace to give you general support. The Deluxe Hinged Knee Brace will give a more general type of knee support.http://www.betterbraces.com/donjoy-drytex-neoprene-deluxe-hinged-knee-wraparound-sleeve

From Sherri at

3/5/2015 4:33 PM

Thigh measurement: 23.5
Knee: 16
Calf: 16.5
Do I order large or extra large?
Sherri
I would suggest the larger size, XL

From Mike at

3/9/2015 8:12 AM

is the hinge on the OA brace adjustable. And if so why would you need to adjust it. What are you trying to achieve with the hinge (placement, pressure, etc)

Thanks much
Mike
The hinge comes already pre-loaded with 3 degrees of offload. The upright is aluminum so it can be manually bent to apply more load if the 3 degrees is not correcting the pain on the opposites side of the leg.

From Debbie at

3/10/2015 6:35 AM

what size would you recommend if I purchase the donjoy oa reaction web
my measurements are Quad18, Knee 14, calf 12
thank you
Debbie
These do tend to run a little small so I would suggest the medium

From Lou at

3/13/2015 11:02 AM

From Francis at

3/15/2015 8:51 PM

I have OA on my left knee and I have 2 questions:

1. If the pain is in both sides, is the right knee brace Reaction?
2. If the pain is inside of my left knee, is the right knee brace OA Reaction Web?
2b. How do I order it? medial or lateral, etc?

Thanks
Francis
1. The Reaction might work better if pain is on both sides.
2and 3. The OA Reaction left medial/right lateral is the correct brace

From Jay at

3/17/2015 10:48 AM

OA Reaction for Right Knee:

Thigh: 20"
Knee: 15"
Calf: 14"

Medium or Large?
Jay
I would try the medium

From dalek at

3/17/2015 8:15 PM

bone to bone on inside of rignt knee I believe I will be a medial right but between sizes M or L. here my measure:
thigh= 19"
knee= 16 1/2"
calf= 16"
need help to make best fit
Dalek
Size medium, for right medial

From Cathy at

3/26/2015 6:09 PM

I had a total knee replacement 4 months ago. My PT recommended getting a knee brace for lateral support when I go back to playing tennis. He said something like an ACL brace with hinges. I would like something that isn't too hot or bulky. Which brace would you recommend?
Cathy
The OA REaction Web has a single upright and will unload one compartment of the knee. If the hinge is on the lateral side the brace will unload the inside of the knee. The webing design will give support to the kneecap and decreas anterior knee pain. I suggest you show the OA Reaction to your PT and ask them if this is sufficient for you.

From Terry at

3/27/2015 8:24 PM

From Kelly at

3/30/2015 6:59 AM

I have had a full knee replacement on my right knee. I have pain on the medial side of the knee after walking up stairs or walking. I also have a torn meniscus on the left knee and have pain on and off on the medial side. Can I get a brace for each knee or is the OA brace the right one for either knee?
Kelly
You will need to get a right medial/left lateral for your right leg and a left medial/right lateral for your left leg.

From Rick at

4/8/2015 9:54 AM

I received my OA Reaction Web Knee Brace yesterday. The top of the undersleeve is constantly rolling down. Also, the brace tends to slip down lower than suggested when walking such that the top of the knee cap opening is mid-patella.

Would you suggest the next larger sleeve size to address the sleeve rolling down?

Any suggestions on adjusting either the top or bottom velcro straps to address the brace slipping down?



Rick
Is it possible that you need a smaller brace? It sounds like maybe a smaller sleeve and brace will stay on better and not slide down. A bigger sleeve will not work.

From Matt at

4/15/2015 8:59 AM

I'm not sure what option to pick for this brace. I have early OA in my right leg, and my pain is dead center of the knee - the patella - I don't know with of medial or lateral would be better?
Matt
Since your pain is right in the front of the knee I would suggest going with the regular Reaction Web Knee Brace instead of the OA version. The brace will help to relieve that anterior knee pain you have and is also good for mild OA. http://www.betterbraces.com/donjoy-reaction-knee-brace

From Mason at

4/17/2015 12:38 PM

I just got meniscus repair a month ago and I'm going through physical therapy right now and I'm wondering if the web brace would help me in basketball
Mason
Yes the OA Reaction Web Knee Brace would help you. You will want to get a brace to unlad the side that your meniscus was repaired

From Nick at

4/17/2015 6:20 PM

I am a very active older male with significant (bone on bone) arthritis on lateral right knee, but so far minimal pain. I ski and hike all year and want to slow down the degeneration of my knee and put off a knee replacement. A brace was prescribed to unload the knee but the issue I have for skiing is that it is so long my ski boots hit it, so cannot be worn. Are the Reaction or OA Reaction short enough to be worn with ski boots.? Thanks!
Nick
The OA Reaction is short enough to fit boots underneath it but it is for mild OA, so it may not provide enought unloading for that compartment that is bone on bone. Some of our other OA braces such as the OA Adjuster 3 are for severe OA, they also have a shorter calf frame.

From Michelle at

4/23/2015 10:53 AM

My pain is on the top part of my left knee and some on the inside. I have been diagnosed with patellar tracking patellofermal syndrome as well as early, mild arthritis. The pain worsens when I bend greater than a 90 degree angle (like in a squat). Would the OA Reaction be the best option for me. If so, which one would I order....the RL/LM? Thank you!
Michele
Yes the OA Reaction would be a great choice for you. the brace will offer pain relief around the patella and you can order the left medial/right lateral brace to unload that inside of your knee. When you receive the brace the hinge will be placed on the outside of the leg.

From Dustin at

4/27/2015 9:13 PM

I have bone on bone knee pain it's horrible but I can't afford a good knee brace will my insurance cover this? I'm in so much pain
Dustin
We do not take insurance on this website only a credit card. In order to get this brace billed through your insurance you will need to contact your local Don Joy Sales Rep. You can find you rep here: http://djoglobal.com/contact-us/sales-rep-locator

From Catherine at

5/13/2015 4:39 AM

My osteoarthritis is focused on my patella, patellafemoral arthritis - extensive chondromalacia with some bone on bone with a misaligned patella. I do have the non-OA Reaction web brace, would this one be better or should I stick with the other one? I've no ligament issues, there is some tendonsis. My Ortho said it would be good to unload the front of my knee if possible. I don't think the regular Reaction Web does that. I do like the Reaction Web, though it is difficult to get it on properly - would the the OA version provide more benefit?
Catherine
If your OA is under the kneecap then the regular Reaction would be the best for your knee. The OA Reaction is for someone who not only needs support around the kneecap but also has either medial or lateral compartmental OA and the brace unloads one of the other side of the knee. It sounds like you do not have that so I would stick with the regular Reactioin

From Scott at

5/28/2015 12:45 PM

Left leg crushed 30 + years ago ..Current pain inside left..Thigh-16 in..Knee-16 1/2 in...Calf-13 in....Would this brace work? What size?..Other recommendations?
Thank You
Scott
The Reaction Web Knee Brace is for those having anterior knee pain and might not offer you enough support. You may want to look at a hinged knee brace instead such as the Economy Hinged knee Brace. http://www.betterbraces.com/donjoy-economy-hinged-knee

From j at

5/31/2015 6:18 PM

From Cherry at

6/5/2015 6:18 AM

I am looking for a lightweight, non-bulky knee support for my 96 year-old father who has severe OA and knee pain. His leg bows out when he bears weight on it, and then the ankle rolls out, so I assume he needs a lateral condyle pad. I like the looks of the OA reaction web knee brace. Would this help him? He is not walking too far (5-10 min.walks), but needs more stability in his knee when he walks with his walker.
Yes, the OA Reaction Web Knee will help correct his varus issue. You would need to select the Medial option, and the brace will come with the hinge on the lateral side to help push the knee over to correct.

From Jeromy at

7/17/2015 7:17 PM

My wife has been told that she has OA in her right knee. If she pushes her knee to the center of her body, the pain is lessened. Which medial/lateral option do we choose?
If her OA is located on the outside part of her right knee, she will need a lateral right OA knee brace. If her OA is located is on the inside of her right knee, she will need a medial OA knee brace.

From Denise at

7/18/2015 7:38 PM

I had recent knee surgery on my left knee for a meniscus tear and arthritis was shaved during the surgery. I find myself having pain throughout the knee on a constant bases. When following up with my doctor with an x-ray, it showed server arthritis still in the knee. This pain has limited my activity and ability to stand or walk for frequent periods. Would this brace help and which one should I order?
Thanks!
Denise
The OA Reaction Web Knee Brace is indicated for those with mild OA that is limited to one side of the knee, either meially or laterally(inside or outside). So to determine which brace to get you will need to know which side of the knee is the side with the OA and choose that brace. The single upright will be on the opposite side of the knee that has the OA and will push the knee in that direction to unload that compartment to decrease pain

From Heather at

7/23/2015 10:15 PM

I have mild OA. What if my knee pain is primarily posterior and anterior - distal kneecap?
If you have mild OA located on both sides, there is no brace available for that. The offloading hinge has to go on the opposite of where the OA pain is located at. The hinge itself helps pushes inward/outward to help alleviate the pain that you are having from that bone on bone pain in your knee.
Ask Your Own Question
You'll receive your answer via email either the same or next business day
You may also be interested in the following product(s)
| | | |
| --- | --- | --- |
| DonJoy Reaction Undersleeve Replacement | Dr Comfort Sandy Flex OA Shoe | Reduces the stress and load on knees |