You're currently on:
>

DonJoy OA Reaction Web Knee
Health & Beauty > Health Care > Supports & Braces
11-742X-X
in_stock
149.99
Product Description

Product Reviews
A Discreet Solution for Osteoarthritis Knee Pain
The OA REACTION WEB is the lowest profile knee brace on the market to treat early or mild OA. The patented silicone web technology provides a custom fit that won't slip; it's so comfortable, users may forget they're wearing a brace.
Lightweight, Low-Profile Pain Relief
A new level of bracing comfort for those with early to mild OA of the knee, or early joint space narrowing. OA REACTION WEB offers discreet wearability utilizing mild offloading and proprioception to help reduce knee pain for mild to moderate activity.
Patented Web Technology
DonJoy, a pioneer in bracing technology, is taking OA bracing to the next level of comfort using breakthrough silicone web technology. OA REACTION WEB offers the thinnest and most open framework available.
Discreet Pain Relief
OA REACTION WEB gives those with OA knee pain the relief they need in a comfortable, lightweight, low-profile solution that can even be worn under clothing before, during and after activity. Designed for those who participate in mild activity, obese patients, and active aging patients who jog, hike or play tennis or golf.
Features & Benefits
Silicone Web Technology - scientifically designed to provide shock absorption and anterior knee pain relief treating OA of both the knee joint and the patella


Low-profile Design - wear it under pants, skirts or with exercise clothing as a discreet solution for pain


Four-way, Adjustable Wraparound Design - comfortable, form-fitting design creates a custom- like fit for most legs that is easy to apply


Patented, Integrated Silicone - comfortable offloading of the knee with a nonslip cup effect; the hexagon design allows air pockets to gently support the knee


Easy to Wear - the most open and lightweight design available in OA knee bracing


Note - The OA Reaction comes with an undersleeve that is the exact size of the brace you order, if you wish to have a different size sleeve, Click Here to order.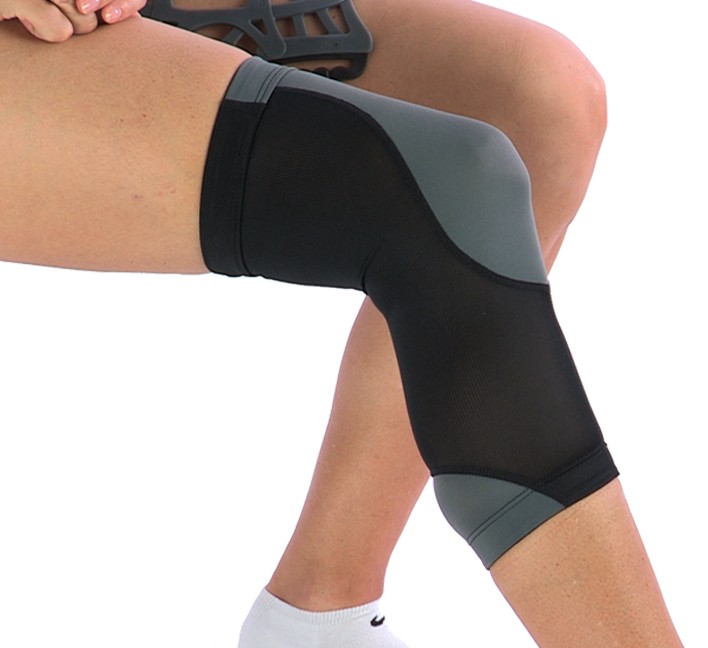 Shop our complete selection of knee braces or browse additional DonJoy products.
Take the measurement of your thigh and calf 6" above and below your kneecap using a flexible type tape measure. Use the diameter you measure here to choose your size.
Note: This product runs small. If you measure between sizes we recommend going up one size for optimum comfort and fit
| | | | |
| --- | --- | --- | --- |
| Size | Thigh | Knee Center | Calf |
| XS | 13" - 15 1/2" | 12"-13" | 10"-12" |
| S | 15 1/2" - 18 1/2" | 13"-14" | 12"-14" |
| M | 18 1/2"- 21" | 14"-15" | 14"-16" |
| L | 21"- 23 1/2" | 15"-17" | 16"-18" |
| XL | 23 1/2" - 26 1/2" | 17"-19" | 18"-20" |
| XXL | 26 1/2" - 29 1/2" | 19"-21" | 20"-22" |
| XXXL | 29 1/2" - 32" | 21"-23" | 22"-24" |
| | |
| --- | --- |
| | 1.Stand with your legs shoulder-width apart, legs slightly bent and leg muscles contracted. |
| | 2. Measure up six inches from the center of your knee with a tape measure, as shown. |
| | 3. Measure the circumference of your thigh at the 6-inch mark, as shown. |
| | 4. Measure down six inches from the center of your knee with a tape measure, as shown. Then measure the circumference of your calf at the 6-inch mark. |
5
1
DonJoy OA Reaction Web Knee reviews
Dpaws17
I have osteoarthritis and bone on bone I need a knee replacement but because I am so young my doctor wants me to put it off as long as I can. I have spent several hundred dollars in knee braces trying to find one that will help me. As soon as I put this brace on I knew it was the one for me. It gave me the support that I needed and was looking for. I am a letter carrier so I walk 8-10 miles a day this brace has helped a great deal thank you -
Dpaws17
Questions on DonJoy OA Reaction Web Knee
Sort by
From Jerry at

10/12/14 5:45 PM

I don't understand the options. Does the specified option refer to the primary location of the pain? For example, my primary pain is medial left. Is that the option that I should choose?
Jerry if you have pain on the inside of the left leg then you are going to choose the left medial.

From Neoma at

10/22/14 2:31 PM

Hello,
It was stated that this was for early cartledge degeneration of the knee. I have moderate to sever degeneration under the patella, where my knee hurts around my entire knee, will this knee brace help or is there one that would work better.

Thank You
Neoma
The OA Reaction Web Knee Brace is for those with mild compartmental OA in the knee. If you have OA under the kneecap the Reaction Web Knee Brace would be the correct brace for you. The Reaction's web design is going to absorb force on the fron tof the knee a dispearse the force away from the kneecap to decrease pain. http://www.betterbraces.com/donjoy-reaction-knee-brace

From Susan at

10/25/14 9:32 PM

Do major insurance companies cover the OA Reaction Web Knee Brace?
Susan
Insurance companies do usually cover the OA Reaction Web, but you may have to check with your insurance company to be sure

From Tia at

11/4/14 2:23 PM

I have seen multiple comments about both of your web braces having poor Velcro quality and having to replace it within a few weeks. Have you fixed this problem? Other people have stated that yiu have yo practically cut off circulation to get it tight enough not to slide. Are there braces out there that will stay put and last?
Tia
We have updated the velcro on the Reaction Web knee Brace, with a better velcro hook to address the problems people were having with the earier brace.

From Marion Godwin at

11/16/14 12:44 PM

Can this brace be adjusted to lock the knee in different positions, i.e. 45 degrees
90 degrees, etc. ?
Thanks
Marion
No this brace does not do that, it does not have metal hinges on it. The TROM Advanced is the only brace on this website that will do that. http://www.betterbraces.com/donjoy-trom-advance-knee-brace

From Dan at

11/17/14 8:32 AM

Can an flex spending account be used to purchase the reaction knee brace?
Dan
As long as your insurance alows DME to be purchased with the card it will be fine on our end

From Jeff at

11/24/14 8:53 AM

I have a 25 year old acl replacement on my right knee,have some arthritis and the pain is on the out side right knee , I snowboard and downhill mountian bike what brace would you recommend?the web brace looks like it would be great for snowboarding, thanks Jeff Fulton
Jeff
The OA Reaction Web brace will not protect the ACL at all, but will help with mild arthritis Sounds like you might need a lateral unloading. A brace that will protect the ACL will be either the Playmaker II with the Fourcepoint hinge. http://www.betterbraces.com/donjoy-playmaker-ii-fourcepoint or the Don Joy Armor Knee Brace with Fourcepoint hinge. http://www.betterbraces.com/donjoy-armor-knee-brace-with-fourcepoint-hinge

From steve at

12/3/14 11:41 AM

How is this different than last years & current reaction brace
Steve
This brace has a single upright and hinge that goes on the opposite side of the affected compartment and unloads that affected compartment. So this brace will help either medial or lateral mild OA by unloading that side as well as providing the webing to decrease anterior knee pain. The original Reaction web does not unload compartments it only helps to decrease the anterior knee pain.

From Robert at

12/4/14 9:05 PM

I need this for my right knee, should i be buying the medial left or medial right? or lateral right or lateral left?
Robert
It depends on the compartment that you want to unload. If you need to unload the medial compartment on the right knee then the Right medial /left lateral

From Chuck Dirienzo at

12/8/14 10:13 AM

If the pain is on the outside of my right knee, what option do I choose?
Medial left/ lateral right

From Melinda Whitman at

12/10/14 3:40 AM

I ordered the Medial Left or Lateral Right for my Left Knee. The pain is on the right, inside of the left knee. The brace I received has the soft, silicone condyle pad on the left side of the brace. Was I sent the wrong one? Or did I order the wrong one?
Melinda
If you have pain on the inside of your knee the hinge of the brace will go on the outside of the right leg. the hinge should be opposite the area that hurts to unload that medial side.

From Stephen at

12/17/14 2:13 PM

Have mild OA of my right knee, the pain is on the inside. Which brace do I need to order?
Stephen
The OA Reaction would be the right brace for you. the brace is for mild OA. You would order the right medial/left lateral brace

From Gary at

12/19/14 2:20 PM

my pain is the left (outside of my left knee) would I get the medial left?
Gary
You will want to get the left lateral brace/right medial brace. When you receive the brace the hinge should be on the inside of you leg. Our brace unload the opposite side so if you need lateral unloading the hinge will be on the medial side.

From Thomas at

1/2/15 3:25 PM

Currently have a knee brace for left leg for OA that has an adjuster wheel to push from the inside knee(right side) out towards the outside of knee(left side). Would like to purchase the Donjoy OA Reaction Web Knee Brace. Would I need the medial right/lateral left to give me the same adjustment?
Thomas
That is correct you would need the right medial/left lateral knee brace.

From Nik at

1/6/15 8:34 AM

I have OA in my right knee, the knee goes inward towards my left knee. My leg looks bent from the front. Most of my pain is on the outside of my right knee. which brace would I need.? Lateral Right???
Nik
You will want to get the lateral unloader. For the Reaction OA it will be the right lateral /left medial. When you receive the brace the hinge will be on the inside of your knee pushing to try to correct some of that "knock kneed"

From Paul at

1/13/15 10:49 AM

I have both a patellar tracking issue and early, mild OA due to medial meniscus tears. It seems that the Reaction Web is made for the former and the OA Reaction Web for the latter. Which would you recommend for my situation? I'm still very active and want something that will reduce the pain I get from playing tennis.
The OA Reaction Web Knee Brace is for those who have both patellar tracking and mild compartmental OA

From Paul at

1/14/15 9:10 PM

My measurments are:

thigh - 19.25"
Knee - 15.25"
calf - 16.5"

Which is the best size for me for the OA Reaction Web Knee brace? The site says they run small and to go up a size if in between. I seem to be in between on some measurements but not on others. Is the medium the best size for me or the large?

Thank you.

Paul M
Paul
The medium would be the size for you.

From jaclyn bader at

1/16/15 7:25 PM

i had a total knee replacement, left leg...... I have moderate to severe oa... I would like to know if this brace will help my knee pain and give me stabliTy..... I have pain on the inside of left knee so I need to know which one to order? Medial left? Thanks, jacki
Jacki
The OA Reaction is for mild OA so it might not give you any relief if you have moderate to severe, but you can try the brace to see if it does give enough offload. You will want to order the left medial if you would like to try the brace. We do have a 90 money back guarentee if it does not work for you.
Ask Your Own Question
You'll receive your answer via email either the same or next business day
You may also be interested in the following product(s)
| | |
| --- | --- |
| Dr Comfort Sandy Flex OA Shoe | Reduces the stress and load on knees |