You're currently on:
Health & Beauty > Health Care > Supports & Braces
11-1593-X
in_stock
679.99
Product Description

Product Reviews
Mighty. Tough.
Designed for moderate to severe, unicompartmental Osteoarthritis. The OAdjuster is recommended for ligament instabilities and post-operative rehabilitation.
The improved OA Adjuster™ 3 is powered by nano MAG™ and reinforced with a tough aluminum frame making it the most durable and functional DonJoy OA knee brace.
Features and Benefits:
Adjuster Technology
Provides the highest average amount of condylar separation. (Komistek Study—head-to-head comparisons of commercially available OTS OA knee braces.)


Lightweight and Tough
The combination of the durability of aluminum and leveraging the strength of nano MAG™ make it lightweight and tough.


Functional Comfort
Sleek design combines a new calf contour design and an evolution in nano MAG material science.


Clinically-Proven
DonJoy's Adjuster™ Technology offloads a little - or a lot - and nano MAG Technology on the offloading side provides lightweight function with the strength of aircraft-grade aluminum. Floating hinges allow a contoured, personalized fit for all levels of activity.


4 Points of Leverage™ System
Pioneered by DonJoy, it provides clinically proven ligament stability with:

1. anterior thigh anchor
2. posterior tibia anchor
3. lower thigh strap pushes femur anteriorly
4. anterior tibia strap applies an active constant load to prevent anterior tibial translation.


Contoured Calf Cuff
The posterior calf cuff is contoured to enhance overall brace suspension for various levels of activity and it is designed to fit a variety of body shapes and sizes.



Commended for Ease-of-Use by the Arthritis Foundation

The OA Adjuster offers an off-the-shelf solution to osteoarthritis pain with its revolutionary "Progressive Loading System", providing an integrated patient-controlled load adjustment. The Bi-Axial hinge allows for a double upright design to contour to the leg and fit comfortable, without migration. The Load Sensor, a DonJoy exclusive, helps to determine the forces being applied by the brace.
What is Osteoarthritis (OA)?
Arthritis refers to more than 100 diseases that affect the joints and their surrounding tissues. Osteoarthritis, or OA, is the most common form of arthritis. The statistics on OA are staggering:
Nearly 21 million people in the United States have OA*
The incidence of OA is expected to increase even more as the U.S. population ages*
Over 7 million Americans are limited in their ability to participate in their main daily activities because of their arthritis*
The joint most often affected by osteoarthritis is the knee. Knee OA is caused by the degeneration or breakdown of articular cartilage that covers the ends of the bones that meet at the joint. Cartilage serves as a cushion between the bones, providing a smooth surface for the bones to move against each other. When the cartilage deteriorates the bones may actually be rubbing together. Your physician will often refer to this as "bone-on-bone" osteoarthritis.
*Arthritis Foundation
What is Osteoarthritis (OA) knee bracing and how does it work?
Knee braces are available that are specifically designed to treat OA. They stabilize the joint, reduce pain and help to build stronger muscles, which allows patients to return to the activities they love. Load redistribution and joint alignment Through a process called "off-loading" or shifting, OA braces relieve pain by redistributing the weight bearing load on the painful or affected compartment of the joint to the healthy or unaffected compartment. Increased function Studies have shown that wearing an OA brace can increase daily functions and decrease pain. Patients diagnosed with OA who wear a knee brace will generally feel better in the morning, be more active during the day, and rest more comfortably at night.
What to expect from a Osteoarthritis (OA) knee brace
Braces cannot cure OA and may not be right for everyone. However, it is a viable solution for many people. The ideal candidates are typically active people who are motivated to strengthen their muscles and willing to wear a brace to realize the benefits of this form of treatment.
Discuss treatment goals with your doctor and others on your health care team before you get a brace.
Don't expect a brace to feel good from the start. It may take from a week to a month to get used to how the brace feels on your leg. Be patient. It took a long time for your knee OA to develop.
Bracing has come close to eliminating pain for some people with knee OA, while others experience moderate relief.
***NOTE: This item can take up to 2 weeks to ship***
Shop our complete selection of knee braces or browse additional DonJoy products.
Sizing: Thigh Circumference 6" above mid patella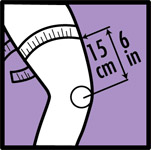 | | |
| --- | --- |
| Size | Thigh |
| XS | 13"-15 1/2" |
| S | 15 1/2"-18 1/2" |
| M | 18 1/2"-21 |
| L | 21"-23 1/2" |
| XL | 23 1/2"-26 1/2" |
| XXL | 26 1/2"-29 1/2" |
| XXXL | 29 1/2"-32" |
Questions on DonJoy OA Adjuster™ 3 Knee Brace
Sort by
From harold harris at

4/22/2013 7:58 AM

need instructions for installation and new straps for artheritis knee brace
Hello, Harold -

There are currently no replacement straps for the DonJoy OA Adjuster 3. I emailed you the instruction sheet to the email you provided "harryandgwen@yahoo.com".

If you have further questions please feel free to contact our product specialists at 888-405-3251.

Thank you and have a wonderful day!

From whitie at

6/20/2013 6:06 PM

DONJOY OA NANO 5 strap
VIDEO
How to adjust in sequence to prevent slipping below Knee
Nathan Brown
Hello,

The brace should not slip, if it does you should try and adjust the calf. The Brace is malleable, you can bend the frame to tighten it.

See the video below for strapping sequence.

http://www.djoglobal.com/education/videos



From Diane at

6/22/2013 8:18 PM

Which brace would you recommend for me?
I am a spin instructor and have severe OA from mal tracking syndrome which was complicated by gymnastics and cheer leading. I am now 44 and can not spin without my knee cap floating out of place. It causes me to "trip" and catch myself, a very uneasy and super frustrating feeling as I am not able to do speed intervals anymore. I cant run on the bike out of the saddle either without my knee cap dislocating.
Do you recommend a custom brace? I still have to be able to do full ROM rotation on the spin bike and I teach the class standing riding to the music beat.
I have been teaching this class since 1999 and just recently, out of nowhere, my knee cap started doing this...
Hello Diane,

I recommend an OA Brace if only 1 compartment is affected. Do you know which compartment is affected? This type of brace will give you relief from the joint pain and offload the damaged meniscus.

I recommend the Tru-Pull Lite to help with the patella tracking, this brace provides moderate to severe support against dislocations.

http://www.betterbraces.com/donjoy-tru-pull-lite http://www.betterbraces.com/oa-fullforce-knee-brace

Thanks for contacting Donjoy.

From whitie ( repeat) at

7/12/2013 11:18 AM

Repeat the Video from WHITIE on:
DONJOY OA NANO 5 strap
to prevent slipping below the knee
Nathan Brown
Hello,

How can I help you, what is your question?

thanks for contacting Donjoy.

From nathan brown at

7/14/2013 2:41 PM

DONJOY OA NANO 5 STRAP

AS PER WHITIE ABOVE
HAVING DIFFICULTY WITH KNEE BRACE SLIPPING BELOW KNEE CAP
Hello Nathan,

I believe you are having migration issues. Check the calf bar to make sure it is snug. Also, make sure you are following the strapping sequence. If you need assistance with the brace application of modification please contact your local Sales Representative. See the link below.

http://www.djoglobal.com/contact-us/sales-rep-locator

Thanks for Contacting Donjoy.

From Bill at

7/17/2013 6:02 PM

I have a tear of the miniscus but surgery is not needed at this point. I have prior acl reconstruction and am wondering what would be the best brace for me. I am still playing baseball.
Hello Bill,

I recommend the Armor Knee Brace it's the strongest Rigid Frame brace we offer, will withstand sliding.

See link below.

http://www.betterbraces.com/donjoy-armor-knee-brace-with-fourcepoint-hinge

Thanks for Contacting Donjoy.

From cole at

7/22/2013 5:05 PM

Hello. I had back surgery and am rexovering from cauda aquina syndrome. My left leg is the weaker due to nerve damage and atrophy. If I put too much weight on it it will buckle forward. Im 275, what brace would you think is best to help my knee flexion as my quad regains its strength?
Hello Cole,

Do you need a Knee Immobilizer? Or a Functional Knee Brace. The difference is the Knee Immobilizer prevents motion so knee won't give out. Or we have functional knee braces to provide support during activity.

http://www.betterbraces.com/knee-braces/post-op-knee-braces http://www.betterbraces.com/knee-braces/rigid-hinged-braces

Thanks for Contacting Donjoy.

From Sally at

10/27/2013 8:11 AM

I took all of the straps and pads off to wash, now I can't remember how to get some of them on esp. one below the knee that has two straps. Help....
Sally,
A PDF of the instructions will be emailed to you. Thank you for contacting DJO.

From larry brown at

11/14/2013 4:01 PM

If I have complete loss of cartilage in my knee, will your severe level braces still relieve my arthritis pain?
The braces that are for severe arthitis are for knees that have bone on bone,so to answer your question, yes. We have a 90 test drive on all of our OA braces. So if you decide to buy one and you are not 100% satisfied with the brace you can return it for full refund if it is within the 90 day peroiod

From Cherry at

12/21/2013 4:09 PM

Hello,

I am 63 years old and weight 205 lbs.

I had osteoarthrits, pain when walking.

Which one suitable for me.

Thanks
Hello,

I recommend the OA Nano, it's our lightest OA Brace, weighing 14.2 ounces. You will need to know if you have medial or lateral OA, and order your brace based on that diagnosis.

Thanks for Contacting Donjoy.

From kevin leen at

1/6/2014 1:57 PM

i have one knee bone on bone and the second knee with partial carteledge what type braces for the pain do you suggest foe each condition

thanks
kevin
Kevin
The Adjuster 3 is for the bone on bone arthritis and for mild to moderate arthritis either the DonJoy OA nano or the Fullforce OA knee brace. The Adjuster 3 has up to 7 degrees of adjustment in the brace and the OA nano and Fullforce has up to 3 degrees of adjustment

From kevin leen at

1/7/2014 7:27 AM

My thigh measures 23.5 inches 6 inches above knee, do i order large or extra large

thanks
kevin
Kevin,
Thank you for your question. If you are on the edge of a L or XL you can use the following size chart to better guage which way you should go.
Size Thigh Knee Center Calf
XS 13"-15.5" 12"-13" 10"-12"
S 15.5"-18.5" 13'-14" 12"-14"
M 18.5"-21" 14"-15" 14"-16"
L 21"-23.5" 15"-17" 16"-18"
XL 23.5"-26.5" 17"-19" 18"-20"
If you still have questions, please give us a call to help you decide.


From Mr Zhang at

1/23/2014 5:54 AM

My Knee size is 35.5cm at Knee center, 31cm at calf, 46cm at thigh,which size should I choose, S OR M ? M IS a little big, "S" is OK?
All of your measurments fall in the Small range

From Mr Zhang at

1/23/2014 7:33 AM

one more question,
My leg is the shape like " O" , after operative , ligament instabilities;in oder to prevent O TYPE leg. Medial and Lateral which one shold i choose; i think i should choose " Lateral", right ? thank you very much.

you should be choosing the side that hurts you. If you are bowleegged you would be choosing medial, if you are Knock-Kneed that you should be choosing lateral. If you still have questions on which side to choose please call product support at 888-405-3251

From Greg O'Connor at

2/18/2014 2:40 AM

I took the straps off to wash and can't remember how to get the straps back on. Please email the instructions to me. Thank you. Greg
An email has been sent to you

From Cat at

3/11/2014 7:37 AM

I have a grade 4 lesion in the articular cartilage lesion in my trochlear groove and will be having a microfracture surgery in the next couple of months. After I return to activity what type of brace would be best suited to protect that weaker fibrous tissue and prevent further damage to my groove. Also, what compartment would that fall under?
Thank you for your question. The OA braces would be best suited for a person with medial or lateral joint pains/injuries. If the pain is more central or in both medial and lateral compartments a DonJoy Deluxe Hinged Knee would be more appropriate.

From Chris Knox at

3/28/2014 10:31 AM

I am 61 years old and have been told by very reliable and noted doctors that I need a knee replacement (rt. knee) The pain is most severe on the inside (medial?) side. Have had Three meniscus operations and one ACL on that knee.(40 years ago). I need to walk on my job and would like to reduce the pain threshold. Due other circumstances pain killers are not a suitable option. Which brace do you recommend. One site recommends OA Everyday another Adjuster. I am confused as to model and type etc. Do you have any information that might help. Thank you in advance.
Thank you for your question. The OA Adjuster is used for Moderate to Severe osteoarthritis. The OA Everyday is more appropriate for Mild to Moderate OA. The OA Adjuster will have the strapping sequence used to help with ACL, MCL and LCL instabilities. If you have any further questions please feel free to contact us.

From Robert Wells at

4/3/2014 10:35 AM

Do I need to see a doctor and get a prescription to get Medicare to pay part of the price of the OA 3 Knee Brace?
Robert
Yes you will need a prescription from your physician and you will need to go through our insurance department at 800-548-3370 or through your local DJO Sales Rep to order the brace. You can find you local DJo Sales Rep here: http://www.djoglobal.com/contact-us/sales-rep-locator

From Bryant Becton at

4/24/2014 6:14 AM

I am 42, an avid walking golfer and enjoy running 3 times a week (3 miles at a time). I had microfracture surgery 9 weeks ago on the outside of my left knee. So far so good, what knee brace would you recommend to limit any further damage to the lateral portion of my knee and allow me to return to running 10 miles per week. Thanks Bryant
Bryant
I would suggest for you the OA Nano Knee Brace. http://www.betterbraces.com/donjoy-oa-nano-knee-brace The brace is very light wieght so it will work well for running as well as walking and golf. You can get it to unload the lateral side of your knee

From Nicolette at

5/29/2014 10:55 AM

From Kirk at

7/14/2014 2:02 PM

What is the weight of the Adjuster 3 brace?
around 20 oz

From Jim C. at

7/31/2014 6:55 AM

I am interested in the Donjoy OA Adjuster 3 Knee Brace and my measurements as taken 6" above and below the center of the knee are as follows: Thigh- 21", Knee- 16 1/4" and Calf- 14 1/2". Would you recommend the medium or large for me?
Jim
The large is the closest in in your size range. Your thigh and knee will fit well however you calf is smaller. To alleviate this you can press the sides of the calf cuff together to make it more snug.

From John at

10/8/2014 8:10 PM

How do I order spare/replacement keys for the OA Adjuster?
John
You would need to order that directly from DJO Global at 800-336-6569

From Phil at

10/17/2014 10:14 AM

I am trying to decide between the OA Adjuster 3 and the OA Nano. I have moderate medial OA and I am fairly active, hiking with the dogs biking mostly gentle hills, light jogging. I am 5'10" and 175 lbs. Which one?
Thanks
Phil
You may want to go with the OA Nano since it is a lighter brace and can be worn during all of your activities. The OA Nano is for mild ot moderate OA. The OA Adjuster is for moderate to sever OA but is a little heavier thatn the Nano. Either one can be worn during activity the difference is between the severity of OA and the wieght of the brace. The OA Adjuster 3 is 22 oz and the OA Nano is 14

From Jonathan at

10/28/2014 9:06 AM

What is the difference between this and the OA Full Force. I have a cartilage defect on my lateral femoral chondral.
The OA Full Force is made of Aluminum wieghts 20 oz and is for mild to moderate OA. The OA Adjuster 3 is a thicker frame wieghts 22 oz and is for moderate to severe OA
Ask Your Own Question
You'll receive your answer via email either the same or next business day
You may also be interested in the following product(s)
| | | |
| --- | --- | --- |
| Increases comfort and minimizes chafing from the brace by protecting the skin. Easy to apply. Machine washable for convenience. | Dr Comfort Sandy Flex OA Shoe | Reduces the stress and load on knees |