You're currently on:
Health & Beauty > Health Care > Supports & Braces
11-022X-X
in_stock
14.99
Product Description

Product Reviews
Ideal Application:
The Elastic Wrist Splint is ideal for Carpal Tunnel Syndrome, wrist sprains and cock-up wrist immobilization.
Indication:
The carpal tunnel refers to a highway of nerves travelling through the underside of the wrist. With sufficient pressure buildup, the central nerve utilizing this thoroughfare becomes compressed, leading to numbness and potentially pain. Braces designed to eleviate the syndrome hold the wrist in a position that leaves this nerve pathway open and unrestricted.
Features Benefits:
Cotton-elastic construction
Hook-and-loop closures
Malleable aluminum cock-up splint
Measurement:
Measure wrist circumference
| | |
| --- | --- |
| Size | |
| S | 5 1/4-6" (13.25-15.25 cm) |
| M | 6-7 1/2" (15.25-19 cm) |
| L | 7 1/2-8 1/2" (19-21.5 cm) |
| XL | 8 1/2"+ (21.5 cm +) |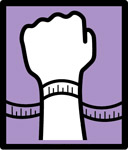 Questions on DonJoy Elastic Wrist Splint
Sort by
From Jean at

7/14/2014 4:46 AM

Does this style come designed for the left hand?
Jean
When ordering just pick your size and then the optiion for left or right.

From Sue at

8/11/2014 9:45 AM

How can I wash this carpal tunnel wrist brace? It appears to have leather on the down side.....
Sue
Wash the brace by hand with a mild soap and let air dry

From Faye at

1/26/2015 6:07 PM

will this brace be helpful doing water aerobics? Using water hand weights causes pain after the class.
Faye
This brace will immobilize you wrist some what while doing the exercises, so it may help with that soreness afterwards.
Ask Your Own Question
You'll receive your answer via email either the same or next business day