You're currently on:
Health & Beauty > Health Care > Supports & Braces
11-XXXX-0-0X000
in_stock
27.99
Product Description

Product Reviews
Ideal Application:
The universal design provides continuous cold therapy to various areas of the body. The DuraSoft products can effectively penetrate surgical dressings to decrease pain, edema, and secondary hypoxic tissue injury.
Features Benefits:
DuraSoft inserts can be frozen and exchanged to provide continuous cold therapy
The nylon wraps and elastic straps provide a universal fit and effective compression
Ultra-wick fabric with antimicrobial protection
The DuraSoft products can be used repeatedly to provide years of long term use for rehab and/or chronic conditions.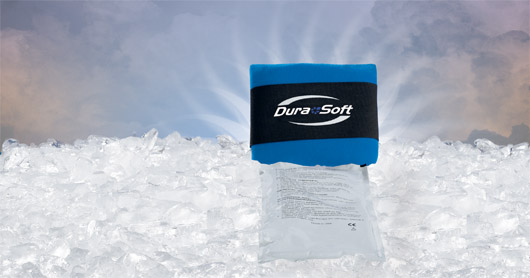 DuraSoft® is a unique blend of segmented, body conforming pillows of water combined with a non-toxic soft gel, enclosed in polypropylene bags. When frozen, the water pillows function as actual ice providing long term cold at safe temperatures. An absorbent powder is mixed with water to provide a soft component that allows superior coverage, compression and comfort for cold applications.
DuraSoft inserts are "user friendly" for both the practitioner and the patient. The inserts may be removed from the nylon wraps for easy refreezing. Storage space requirements are reduced due to the malleability plus the size of the inserts. Continuous icing is possible with multiple inserts. Keep an extra insert in the freezer while one is being applied.
| | | | |
| --- | --- | --- | --- |
| | | | |
| Universal Wrap | Universal Wrap | Knee Wrap | Back Wrap |
Questions on DonJoy Dura*Soft Universal Wrap (6" x 12")
Sort by
From brian at

5/31/2014 5:19 PM

How does this compare with the DonJoy hot/cold therapy wrap? I dont really need the heat, just the cold but there are know dimentions listed as with the therapy wrap. Thaks, Brian
Brian
The DonJoy Hot/Cold Therapy Wrap is just a wrap not a pad. It is used to hold on either a hot or cold pad. The Durasoft is actually a cold pad that can be put into the freezer and used
Ask Your Own Question
You'll receive your answer via email either the same or next business day