You're currently on:
>

DonJoy Drytex Lumbosacral Support
Health & Beauty > Health Care > Supports & Braces
11-0668-X-06000
in_stock
79.99
Product Description

Product Reviews
Ideal Application:
The Drytex Lumbosacral support is constructed of a unique polyester-nylon weave fabric, which provides warmth, compression and support yet allows for breathability. Ideal for mild low back pain, sprains or strains.
Indication:
Strains and sprains are closely related. A strain involves the tearing, separation or over-stretching of a tendon or muscle, while a sprain involves a ligament. Your physician may have classified it in a scale of first, second or third degree. Sprains and strains require sufficient time to heal. Certain products provide warmth, compression, support and protection during this healing period.
Features and Benefits:
Lightweight breathable material
Additional side pulls for added support and compression
Adjustable lumbar pad
Shop our complete selection of back braces or browse additional DonJoy products.
| | |
| --- | --- |
| Size | |
| XS | 18-24" (46-61cm) |
| S | 24-30" (61-75cm) |
| M | 30-36" (75-90cm) |
| L | 36-42" (90-105cm) |
| XL | 42-48" (105-120cm) |
| XXL | 48-54" (120-135cm) |
Measure waist size for correct size.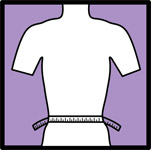 Questions on DonJoy Drytex Lumbosacral Support
Sort by
From Bonnie Edwards at

4/29/2013 11:38 AM

Does the Drytex Lumbosacral Support come with a pad in the back? How do I order an extra pad?
Hello, Bonnie -

No, the Drytex Lumbosacral Support does not come with a pad in the back. Unfortunately it is not offered as an accessory to order.

If you have further questions, please feel free to contact our product specialists at 888-405-3251.

Thank you and have a wonderful day!

From Drew at

6/3/2013 11:49 AM

I had surgery on my lower back a little over two years ago after herniating a disk and one ruptured disk. Would this be the right brace for me to wear while playing basketball?
Hello Drew,

Your brace selection would depend on the amount of support you need. If your playing basketball, it sounds like your feeling pretty good and maybe just want general comfort.

I recommend the following, because they are the shortest in width available, and may be more comfortable while playing.

http://www.betterbraces.com/donjoy-comfortform-back-support http://www.betterbraces.com/donjoy-elastic-back-support

Thanks for contacting Donjoy.


From Michele campbell at

7/13/2014 6:46 PM

Will this support work for sciatic pain. Could/ should it be worn while doing my sciatic stretches? I'm in extreme pain with hopes to start PT soon.
MRI should herniated disk or spinal stenosis impinged the sciatic nerve. I'm not sure how to read the results until I see Neuro surgery. But at time I have to get relief. All this flare up due to movin.
Michele
This brace will help your back because it will keep it in a neutral position when you are standing sitting etc. Do not wear it while doing stretches, it will only hingder those. The sciatic pain you are getting is most likely coming from the heriated disc so the back support should help some.

From beth at

4/4/2015 5:17 PM

i have thoracic t 12 compression fracture will this work to help support it. the TLSO the dr ordered is to uncomfertable ..
Beth
I am sorry the Don Joy Drytex Lumbar sacral Support will not provide the support that you will require with a compression fracture. You should speak to your physician about the brace you are now wearing and ask if there is an option for something else.
Ask Your Own Question
You'll receive your answer via email either the same or next business day