You're currently on:
Health & Beauty > Health Care > Supports & Braces
81-8136X
in_stock
18.99
Product Description

Product Reviews
Features & Benefits
Durable mesh/elastic construction provides compressive support without restriction.
Low profile elastic figure-eight straps provide medial/lateral and arch support without adding bulk.
Fits right or left foot.
Shop our complete selection of ankle braces or browse additional DonJoy products.
Measurement: taken above medial/lateral malleoli.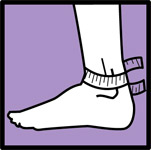 | | |
| --- | --- |
| Size | Ankle Circumference |
| XS | 6 1/2"- 7 1/2 " |
| S | 7 1/2" - 8 1/2" |
| M | 8 1/2"- 9 1/2" |
| L | 9 1/2"- 11" |
| XL | 11" - 12 1/2" |
| XXL | 12 1/2" - 14" |
5
1
DonJoy Double Strap Ankle Wrap reviews
JULS
I have used these straps for years for ankle support for playing sports. They are very supportive and have protected me from twisting my ankles. I definitely recommend this product. -
JULS
Questions on DonJoy Double Strap Ankle Wrap
Sort by
From Joanne at

11/14/2012 10:30 AM

Is this brace suitable to wear in the pool?
Hello, Joanne -

We don't normally recommend use of the brace in water, however, if you do, we suggest that you rinse it off with fresh water and make sure to completely dry before wearing it again (air dry) . The brace is designed normally for use during impact, weight bearing activities like walking.

Thanks, have a great day!



From Anthony at

11/17/2012 8:06 AM

Can this brace be worn durning activity like football, basket ball ECT?
Hello, Anthony -

Yes, this brace can be worn for the athletic activities that mentioned.

Thanks and have a great day!

From Iman at

4/7/2013 8:51 PM

Hi, is this brace suitable to wear for ballet under tights with pointe shoes? When I'm on pointe for a bit my ankles start to hurt a bit or feel unstable and I'm really looking for good ankle support that won't show under tights. Would this be good on all these points?
Hello, Iman -

The brace is recommended to be worn over a sock or legging, however you can wear it directly in contact with your skin. This brace provides mild to moderate support to your ankles.

If you have you have further questions, please feel free to contact our product specialists at 888-405-3251.

Thank you and have wonderful day!

From Lauren at

1/12/2015 6:00 PM

Hi, I am also a dancer I would like to know if this brace comes with the sleeve before i order it.
Lauren
the brace consists of a sleeve and two figure-of-eight straps

From Elaine at

5/31/2015 10:04 AM

Will this help edema swelling?
Elaine
Yes this is a sleeve which will provide compression to the ankle.

From tina at

6/20/2015 10:56 AM

Is this all one piece with straps attached to the sock part or is it a compression sleeve and a separate bandage strap?
The DonJoy Double Strap Ankle Wrap is all one piece. The straps are sewn onto the ankle sleeve.
Ask Your Own Question
You'll receive your answer via email either the same or next business day
You may also be interested in the following product(s)
| | | | |
| --- | --- | --- | --- |
| Lace-up design with figure-8 strapping for improved ankle support | Designed to meet the needs of demanding athletes | Low profile ankle support fits in any shoe without sacrificing fit | 60° molded stabilizer proven to reduce ankle roll and sprains |