You're currently on:
>

DonJoy Defiance Custom Replacement Straps & Pads Kit
Health & Beauty > Health Care > Supports & Braces
DEF RPLC KIT
out_of_stock
129.99
Product Description

Product Reviews
Defiance Custom Replacement Straps & Pads Kit
Make your Defiance Knee brace as good as new with this replacement kit. Includes everything you need to refurbish your brace. Parts are easy to replace yourself.
IMPORTANT: In order to receive the correct sizes of straps and pads, it will be necessary to email the Serial # of your custom Defiance knee brace to Service@BetterBraces.com. Instructions for locating your Serial # are found below. We will match your Serial # with your order to be certain you receive the correct kit.
This Softgood Kit is a replacement for the Defiance III Custom Knee Brace and includes the following:
Strap Pad Kit
Liner Kit
Straps



1 - Upper Thigh

1 - Lower Thigh (The CI brace has 2 Lower Thigh Straps - Front & Back)

1 - Lower Calf

1 - Short Calf



Condyle Pad Kit
Supracondylar Kit
Note: This kit does not include the "4-5" strap. This strap is not user replaceable. Please call us at 800-553-6019 to obtain details on ordering this strap.
Note: This kit does not include the DonJoy Anti-Migration Band
*** Important Sizing Instructions ***
The replacement kit for the Defiance Knee Brace is custom fitted kit and will require the Serial Number from your Defiance Knee Brace(s) that you currently have. The serial number will be located on your knee brace under the #4 Strap.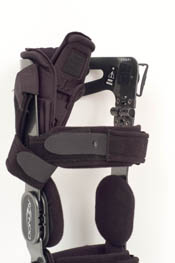 The Serial Number will be a 10 digit number starting with a Letter or the number (2).
The number sequence will look like one of these two sequences:

L_ _ _ _- _ _ _ - _ _
2_ _ _ _- _ _ _ - _ _
NOTE - Defiance Replacement Kits can take up to 10 days for shipment based on availability
Shop our complete selection of DonJoy products.
5
1
DonJoy Defiance Custom Replacement Straps & Pads Kit reviews
D
I purchased a ser for a brace I have had since 95 and this purchase made my brace feel like new again. No more issues with the brace sliding off my leg while sweating. I wish I would have known about this site earlier. -
D
Questions on DonJoy Defiance Custom Replacement Straps & Pads Kit
Sort by
From Category58 at

5/29/11 11:50 AM

Would a DonJoy knee brace be covered under insurance? I have Blue Cross/Blue Shield.
Hello,

Thank you for contacting us a BetterBraces.com regarding insurance billing. You'll want to take this question to your provider as we do not bill directly to insurance at this time.

BetterBraces.com accepts Visa, MasterCard, American Express, Discover and Google Checkout.





From Mike krajna at

7/15/12 5:26 PM

How to replace pads
Mike,
Thank you for contacting us. Do you have the replacement pads and you are asking about how to put them on? Or are you asking how you can order them?

From Kim at

10/10/12 10:29 AM

How do you clean the brace to get rid of the odor from use??

You can hand wash all the softgoods with water and laundry detergent, rinse, then air dry.

From Kar at

3/19/13 3:37 AM

Are the replacement pads covered by the return policy if I order them and they do not fit my brace?
Yes, any product you buy has a 90 day policy. If you call Customer Care at 1-800-336-6569, they could help direct you to the correct replacement items for your brace.

From Kevin at

4/15/13 9:00 AM

I am trying to find the serial number on my brace. Your site says it is under the number 4 strap. Which one is the number four strap? Do you have a close up picture showing this location?
Hello, Kevin -

The 4/5 strap is the strap that goes entire your entire leg just below your knee. If you pull away at the strap from the frame, you will see the brace number on there.

Please feel free to call our product specialists with further questions at 888-405-3251.

Thank you and have a wonderful day!

From jenifer at

4/20/13 11:43 AM

where do you enter the brace number for the custom fit pad replacements?
Hello, Jennifer -

You can enter your brace in the comment section.

Thank you and have a wonderful day!

From Celena at

5/28/13 3:12 AM

I revently blew out my PCL and MCL. In order to skate derby or do any sports, Im told I'll need a brace. My question is about custom braces. Ive lost so much muscle since being limited in movement. When I need it, physio will not have my thigh back to what it was. So, even though its custom, is one able to purchase replacement straps that are smaller or would one need whole new brace? Im on a tight budget and not even sure if derby insurance will cover one therefore, I need the best brace for my situation.
Hello Celena,

Sounds like you need a Defiance Custom Brace with PCL Strapping/CI Strapping. Or an off the shelf brace, Armour with standard hinge and CI Strapping.

The Straps can be changed to accomodate for atrophy of the leg muscles.

http://www.betterbraces.com/donjoy-armor-knee-brace-with-fourcepoint-hinge
http://www.betterbraces.com/donjoy-defiance-iii-custom-knee-brace

Please contact us so that we may put you in touch with your Area Representative, who may assist you in placing your order.

1-888-405-3251.

Have a Great Day.

From Jo miller at

6/15/13 11:50 AM

Can I order the pads alone? My straps are ok.
Hello Jo,

Yes, please call into Customer Care. We can order replacement condyle pads for you.

1-800-336-6569.

Thanks for Contacting Donjoy.

From Jim at

7/17/13 5:57 PM

How do I replace the strap that the anti migration pad is attached to on defiance ACL brace? It is locked in place by a thin metal clamp.
Hello Jim,

Your area representative will need to change out that strap for you. You can find your representative at the link below.

http://www.djoglobal.com/contact-us/sales-rep-locator

Thanks for Contacting Donjoy.

From Brad at

10/23/13 6:06 PM

My serial number is almost completely worn off. I can make out SN I0321.... 00; there appears to be 5-6 other letters/numbers in between. The brace is a DonJoy Defiance from early 2000 and the upper thigh strap is SHOT. Can I provide measurements for the strap itself, or do you have to have the serial #?
Brad
I cannot find your brace under your name which is what I have to use since you have an incomplete brace/serial number. Is it is possible that your brace is under a different first name, ie you use a nickname? How old were you when you had the brace made, what color is it, I can only find one brace with the last name Macdonald made in 2000. If you have any other information email us at product.specialist@djoglobal.com


From Robert McGregor at

12/4/13 3:11 PM

I also have an old brace that I can hardly view the serial number.

It could be SN F1006-092-00 or
SN FI 006-092-00

It is a left leg Defiance Brace Colour Dlue and White,

I am looking for straps and padding
Robert
Thank you for contacting product support. You can order the replacemtn parts for your Defiance here: http://www.betterbraces.com/checkout/cart/ You will need your brace number, it is F1006-092

From Robin at

12/21/13 8:50 PM

If I have a defiance brace for ACL instability without the 2nd thigh strap (for CI), can I order that strap and add it to my brace or do I have to purchase a new CI brace that comes stock with that strap?
Thank you for your question. To convert a brace from ACL to CI strapping would depend on the type of strap pads you have. Contact your rep and they will be able to help you with the conversion.
http://www.djoglobal.com/contact-us/sales-rep-locator
Use to link above: Enter your zip code and contact the DonJoy rep in your area. If you need further assistance you can call us at 888.405.3251


From Rachel at

1/13/14 5:51 PM

Can I just purchase Donjoy Defiance III straps or do I have to purchase this whole kit?
Rachel
We only have the kit avilable on the website

From Pat at

2/3/14 7:04 PM

Hi,
I'd like to replace the pads and straps but these do not seem to match the ones I have. Mine are yellow. Do you have different materials available?
Thanks!
You have Chamis pads and when you order the replacement set you will need to provide Serial # for your brace and then the corrcet size and color should be what came with your brace

From PF at

2/7/14 12:21 PM

Can you tell the size of a Don-Joy knee brace with the following tag?
S/N I0331-108-00
P/N 13-8654-0-00000



Thank you for your question. Your thigh and calf shelll are Large. You can order these replacement parts for your custome brace via phone as well. 800.553.6019

From Beth at

6/24/14 5:37 AM

Can you please tell me which type of donjoy knee brace I have with serial number M1014 021 01? Thank you. I need to order a pad for it.
That is the Brace number for a custom brace Defiance
Ask Your Own Question
You'll receive your answer via email either the same or next business day