You're currently on:
>

DonJoy ComfortFORM Wrist Support
Health & Beauty > Health Care > Supports & Braces
81-978XX
in_stock
19.99
Product Description

Product Reviews
Ideal Application:
Ideal for sprains, strains and control of carpal tunnel syndrome symptoms. It's secret is it's ability to fit your wrist and hand snug and tight, for total support. Palmar and dorsal stays control wrist flexion, while the lightweight design is perfect for all day use. There's no other wrist guard like it! Adjustable straps secures the support around your wrist.
Features Benefits:
• Contoured design for proper fit and support
• Durable, lightweight material for added comfort
• Adjustable strapping
• Aluminium palmer stay to control wrist flexion
Measurement:
| | |
| --- | --- |
| Size | |
| XS | Less than 5.5" |
| S | 5.5" - 6.5" |
| M | 6.5" - 7.5" |
| L | 7.5" - 8.5" |
| XL | 8.5" and Over |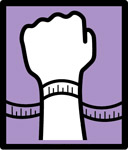 5
1
DonJoy ComfortFORM Wrist Support reviews
Boo
I have had many many splints for my wrists over the years. This is the LAST one I need to buy EVER. It fits perfectly, holds completely snug... without irritation or soreness hours later. It really DOES fit perfectly and I had given up on finding that. Thanks to my DR who put this one one me - I have ordered one for the other wrist. THANK YOU! -
Boo
Questions on DonJoy ComfortFORM Wrist Support
Sort by
From Rex Johnson at

12/19/14 7:43 AM

I have purchased two of your wrist splints and am happy with the fit and comfort and they have relieved my carpal tunnel symptoms.
My only question is this. The straps that are used to adjust they splint end up, when they are fastened, with about 6 inches of excess strap flapping about and there is not a Velcro strip to hold them neatly against my wrist.
Is there any problem with cutting off the excees strap material.
Rex
Those straps are often cut in when the braces are applied in a clinic to get rid of that excess strap. So yes you can trim them

From Lorraine Sunder at

12/18/14 1:52 PM

I need wrist braces to use while sleeping otherwise my wrists hurt in the morning. I have mild carpal tunnel. Can all of these braces be used for sleeping?
Lorraine
Yes these can be worn at night while sleeping

From Lena at

8/26/14 7:43 PM

Does this brace have vertical supports on either side of the hand? How long are they? Are they rigid? What material is used? Can you please give me the dimensions of the palm support? Thanks.
Lena
This brace has one dorsal aluminum stay in it that is 1.5 in wide and aprox imatley 7-8 long. The stay is removable

From Vernon at

4/27/14 7:10 PM

Hello!

I'm a computer programmer and have been diagnosed with carpal tunnel in both wrists. Will this brace interfere with my job?
Vernon
It may be slightly bulky. Take a look at the Procare CTS Wrist Brace: http://www.betterbraces.com/procare-cts-wrist-support This brace is a little thinner fabric but will still provide the immobilization of the wrist for CTS

From Star at

2/27/14 12:47 PM

Where is the product made?
It is made in two different countries. It is started in China then finished in Mexico

From Dinky at

1/24/14 6:00 PM

how many inches is the brace ? 6" or 8"?
Thank you for your question.
XS/S = 7.5" M = 8" L/XL = 8.5"

From Ken at

11/9/12 3:44 PM

Are the stays fixed or removable ?
Hello, Ken -

The aluminum stay is removable.

Thanks and have a great day!



From tami at

8/2/12 3:11 PM

I had great braces for carpal tunnel in the past that had a place for small ice packs that came with the braces. Do you have anything like that? Also does the ComfortFORM Wrist Support keep my wrist from bending back as well as forward?
No we do not have a brace with an area for ice packs. We do have a Dura Kold wrist wrap for icing. The Comfort Form Wrist Brace is a cock up splint it will keep the wrist from flexing but not extending, or bending backwards.

From Quick at

6/11/12 5:50 PM

Is the strap secured by hook and loop (velcro)?
Yes, the strap is secured via Velcro.

From jon at

2/2/12 10:18 AM

I had allergic reaction to procare wrist brace. I was wondering if this one is the same material.
The ComfortFORM is made by ProCare, which ProCare brace do you have?

From Ginny at

1/26/12 11:45 AM

How is this wrist support different from the Pro Care ComfortFORM Wrist support?
other than price....
Same product

From Alex at

12/10/11 7:35 AM

My wrist size is 7,5cm. What size should i wear?
Hi Alex,

I suggest ordering a large size based on your wrist measurements.

If you have additional questions, please call 1-800-553-6019.

Have a nice day.
Ask Your Own Question
You'll receive your answer via email either the same or next business day