You're currently on:
Health & Beauty > Health Care > Supports & Braces
81-873XX
in_stock
29.99
Product Description

Product Reviews
Ideal Application:
Recommended for moderate immobilization of wrist and thumb following injuries or surgical treatment, including treatment of accumulative trauma disorders of the thumb and wrist, stabilization for acute and chronic sprains and strains of the thumb joint (MCP),alleviating pain from advanced Carpal Tunnel Syndrome (CTS) or deQuervain's syndrome.
Features Benefits:
• Contoured design for proper fit and support
• Durable, lightweight material for added comfort
• Adjustable loop-lock strapping for easy application
• Malleable aluminum stays for control of wrist and thumb
• Available for right or left hand
Measurement:
| | |
| --- | --- |
| Size | |
| XS | Up to 5.5" |
| S | 5.5" - 6.5" |
| M | 6.5" - 7.5" |
| L | 7.5" - 8.5" |
| XL | 8.5" to X-Large |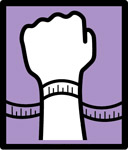 5
1
DonJoy ComfortForm Wrist & Thumb Support reviews
fcprincess
I have carpal tunnel and there are times when I can't do anything with my arm/hand and it hurts so much. I was to the point that I could not sleep because my arm would go numb and cold it would feel as if I had put my hand in the freezer and left it there for hours on end. I have been wearing this brace and as soon as I put it on I felt so much relief. I will be ordering a knee brace from here as well!!!! These guys got my brace here as fast as they could!!! -
fcprincess
Questions on DonJoy ComfortForm Wrist & Thumb Support
Sort by
From Serina at

12/5/2010 5:02 PM

i have the don joy ComfortForm Wrist & Thumb Support. I washed it and the metal piece that goes up my hand to the end of my thumb bent. What angle shoyld it be out of the box?

As long as you form the stay against the palm and wrist when you replace the stay in the brace it will provide the proper support.

From Jason Siderman at

9/27/2011 7:46 AM

Is the metal piece in the splint able to be removed?
Hi Jason,

Yes, the metal piece can be removed from the brace and molded to the correct fit.

If you have any additional questions please contace a Product Specialist at 1-800-553-6019

From Darla at

2/8/2014 3:19 PM

I use my hands ALOT at work and carpel tunnel setting in wrist and thumb. (manufacturing) I see the metal piece at the top of the brace. I used another brace previously and it really rubbed the top of my hand irritating it to the point I cant wear it long. It's fast work, at times up to 30 lbs repetitively, flipping and folding large drapes. Have you any idea if this brace will rub the top of the hand or any complaints of this being a problem.
Darla
The Procare Comfort form might rub your thumb because of the strap. I would suggest the Quickfitt WTO brace for your wrist and thumb. The straps are much more comfortable there is no metal sticking out to rubb anywhere.
http://www.betterbraces.com/procare-quick-fit-wto


From Cody Fowler at

6/20/2014 8:13 PM

From Earl at

9/30/2014 9:27 AM

Can my Son use this type of wrist brace for football? I've seen the other wrist brace displayed on your website, and this model looks like it provides the proper protection of the wrist.

Regards
Earl
Earl
This brace includes the thumb as well as the wrist. Make sure you want the thumb immobilized, a wrist brace can be worn for footmball

From craig at

9/30/2014 7:07 PM

What do I need to measure to get my size? The circumference of my wrist? The length of something? Will this brace work to immobilize my wrist even when sleeping?
raig
Measure the circumference of the wrist. Yes this will immobilize while you sleep

From Rox at

1/12/2015 1:17 PM

Can I use this brace: DonJoy ComfortForm Wrist & Thumb Support - when i swim laps?
Rox
Yes you can use this brace in the pool. rinse it afterwards and let it air dry

From Jeanette at

3/2/2015 9:11 PM

What is the lining of this brace made of?
Jeanette
The material is spandex on both sides and foam on the inside

From Jeanette at

3/6/2015 3:51 PM

Foam.....contains latex?
No this brace does not contain latex

From Jeanette at

3/6/2015 9:42 PM

Spandex and foam both contain latex? Does this brace contain any latex? Do you have a latex free version?
Jeanette
We have very few braces that contain latex and this is not one of them

From Donald Tucker at

3/11/2015 5:55 PM

Is this washable?
Donald
Yes wash by hand with a mild soap and let air dry

From Debbie at

4/29/2015 11:08 AM

I was diagnosed with DeQuervain's in my right thumb that leads up through my wrist into my forearm. Very painful. My doc wants me to get the Donjoy Comfortform wrist and Thumb support brace. I was wondering if there was a difference between this brace and the one with the abducted thumb or are they the same thing? I don't want anything rubbing on me, want to get the most comfortable brace that does the job it is intended to. Not sure if abducted thumb or not abducted thumb is the way to go.
Debbie
Those are the same brace I am not sure why we have them listed differently. the will do the job that you need. another option is the Quckfitt II WTO. http://www.betterbraces.com/procare-quick-fit-wto I feel that the Quickfit is a more supportive brace.
Ask Your Own Question
You'll receive your answer via email either the same or next business day