You're currently on:
Health & Beauty > Health Care > Supports & Braces
11-1XXX-X-XXXXX
in_stock
499.99
Product Description

Product Reviews
Considered the BEST off-the-shelf knee brace in orthopedic history.
The DonJoy Armor knee brace is the brace to use if you are an extremely active individual or athlete who suffers from an ACL, MCL, or PCL instability or injury. The Armor brace is the strongest and most supportive brace you can get without a prescription. In fact, many collegiate football teams require their linemen to wear this brace because it is so successful at preventing ACL injuries. If you are concerned about preventing a ligament injury, try the DonJoy Armor knee brace. It is one of the best ways to minimize your chances of suffering from these painful injuries.

This brace is ideal for athletes who play football, ski, snowboard, ride motorcross, surf, wakeboard, or participate in similar high impact sporting activities.
The DonJoy Armor knee brace is used to treat or prevent the following injuries:
Moderate to severe ACL or PCL instabilities
ACL/PCL combined instabilities (CI)
Recovery from ACL or PCL reconstructions
MCL or LCL instabilities
Hyperextension
Product Features…and the benefits you'll experience!
Available in ACL, PCL, and CI Versions
You get to choose the brace that is right for your injury, which means your knee will get the proper support where you need it most.
Four-Points of Leverage Dynamic System
This patented technology was developed to reduce the strain on the ACL by distributing the load placed on the ligament via four points. Click here to learn exactly how the Four-Points of Leverage works.
Custom Frame and Swiveling Strap Tabs
Get a perfect fit by molding the brace to your knee, as well as enhance the fit and suspension of the brace with the swiveling strap tabs.
6061 T6 Aircraft Aluminum Frame
You get the benefits of a lightweight and low profile knee brace that is also stronger, thicker, and more stable than the other lightweight knee braces on the market.
Anti-migration Supra Condyle Pad
Your knee brace will stay in place no matter how active you are.
Calf Pinch Guard
Provides a smooth transition between boot and calf cuff so you'll never pinch your calf again. This is an add-on accessory that is purchased separately.
Impact Guard
Protects the shin and knee against blunt blows, as well as prevents you from ripping pants or uniforms. This is an add-on accessory that is purchased separately.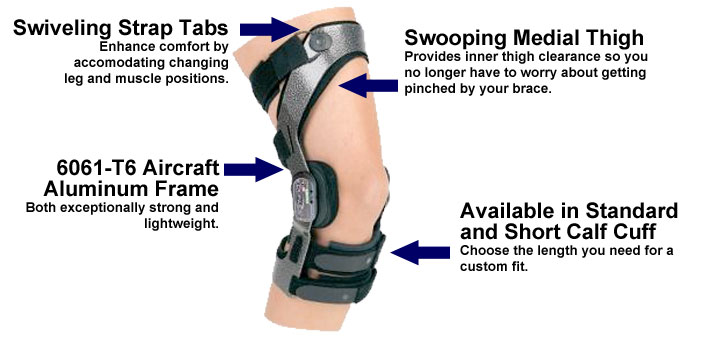 Sizing and Measurements
Click on the Size Chart tab above to learn how to measure your leg to determine what brace size you need.
Instructions for Use…how to put on your DonJoy Armor Knee Brace.
To ensure you are properly applying your brace, click on the Video tab above and watch our Fitting Video.
Shop our complete selection of knee braces or browse additional DonJoy products.
Take the measurement of your thigh and calf 6" above and below your kneecap using a flexible type tape measure. Use the circumference you measure here to choose your size.
| | | | |
| --- | --- | --- | --- |
| Size | Thigh | Knee Center | Calf |
| XS | 13" - 15.5" (33-39 cm) | 12"-13" (30-33 cm) | 10"-12" (25-30 cm) |
| S | 15.5" - 18 .5" (39-47 cm) | 13"-14" (33-35 cm) | 12"-14" (30-35 cm) |
| M | 18.5" - 21" (47-53 cm) | 14"-15" (35-38 cm) | 14"-16" (35-40 cm) |
| L | 21" - 23.5" (53-60 cm) | 15"-17" (38-43 cm) | 16"-18" (40-45 cm) |
| XL | 23.5" - 26.5" (60-67 cm) | 17"-19" (43-48 cm) | 18"-20" (45-50 cm) |
| XXL | 26.5" - 29.5" (67-75 cm) | 19"-21" (48-53 cm) | 20"-22" (50-55 cm) |
| XXXL | 29.5" - 32" (75-83 cm) | 21"-23" (53-58 cm) | 22"-24" (55-60 cm) |
| | |
| --- | --- |
| | 1.Stand with your legs shoulder-width apart, legs slightly bent and leg muscles contracted. |
| | 2. Measure up six inches from the center of your knee with a tape measure, as shown. |
| | 3. Measure the circumference of your thigh at the 6-inch mark, as shown. |
| | 4. Measure down six inches from the center of your knee with a tape measure, as shown. Then measure the circumference of your calf at the 6-inch mark. |
5
1
DonJoy Armor Knee Brace with Standard Hinge reviews
ACL repaired. Awesome brace. Easy to install, no mitigation, and is undetectable under clothing, even somewhat tight jeans! I have worn the brace during: soccer, football, snorkeling, extreme hiking/climbing/mountain biking. Durability: 10+ Comfort: 8.5 Cost: 7 (but it is alot cheaper than getting another surgery!) Con: Get an undersleeve for extended periods of wearing the brace (>6hours); Chafing is likely Would def recommend to a friend! - patters81

I ride motocross and have two bad ACL's. Where the DonJoy Armors everytime out. These bad boys have saved my knees a couple times. i just wish I was wearing them for protection the first time my knee got hurt. They fit really nice....although for Moto I'd recommend an undersleeve...adds to the comfort. - MotoJoJo

To be honest, thanks to the brace my knee has recuperated 100%. I very pleased - Roger

James
I wear this brace when I ride motorcross. It works well. -
James

About the Armor: A quick overview on the DonJoy Armor knee brace including the mechanics of the brace and how it can help someone who is suffering from ligament instabilities.


Fitting Video: learn the proper way to apply your knee brace.
Questions on DonJoy Armor Knee Brace with Standard Hinge
Sort by
From Rick Garcia at

9/19/2010 7:47 AM

My thigh and calf measurements place me in the medium size range but my knee size does so in the large range. Which size would fit best?
Hello Rick,

Send us an email @ service@betterbraces.com with your measurements so that I can give a more accurate recommendation.

From Greg Megowan at

11/17/2010 10:05 AM

My son plays high school football and is an offensive lineman. While he has not had any type of knee injury, I was considering whether it might be appropriate to get him knee braces that could prophylatically protect his knees. What type of brace, if any would you suggest in this situation.

Thank you,
Greg
If you watch closely most of the Top 25 NCAA College Football lineman all wear DonJoy Knee Braces to protect their knees. Most of them are wearing the DonJoy Defiance Custom Knee Brace provided by their athletic programs. These custom braces offer a better fit because they are custom made for the players leg. That customization comes at a cost and if you don't have the budget to go custom the DonJoy Armor Knee Brace is the perfect alternative. It provides about the same level of protection, but it comes in various sizes off-the-shelf and it is more affordable. There is a reason why the top colleges are wearing these braces so it makes sense to protect your son's knees so one day he can be out there as well.

From Ken at

1/3/2011 5:50 PM

I had a ACL repair but after playing soccer post rehab it got a little loose on me. Now when I play any type of dynamic sport my knee gets a little loose. What brace should I choose the full force. Defiance. The only dynamic sport I do now without instability is skiing. But I would like tp play soccer and b ball with my kids.
Which would be the best choice defiance, full force ?
Also what difference between rx braces and off the shelf. Thanks. Ken
Hello Ken,

The DonJoy Defiance is a custom knee brace that is built specifically to your measurements. Because of this, the Defiance will always be the best rigid brace we carry in support and ACL protection.

The DonJoy Fullforce is a great top of the line off the shelf brace (meaning sized like small, medium, large). This brace will add support and stability to the knee and help protect the ACL.

Neither braces will require a prescription.

Either brace will fit the application and activity level you described.

From Franz at

1/5/2011 5:55 AM

1. What is the difference in inches between the "standard" and "short" size?

2. What part of the brace is shorter on the "short" size, the part of the brace which is below the hinge or above the hinge?

3. I am purchasing the brace primarily to avoid knee hyper-extension ( PCL protection?). I see that in the "Knee Compartment" section above there are three options in the "Choose option..." box: ACL, CI and PCL. Does each of these represent a slight variation in the brace and if so, what are the variations?

Thank you.
Franz

Hello Franz,

1. 1 inch
2. Calf Cuff
3. The strapping sequence changes to address the ACL, PCL or both, (CI or combined instability)

From Whitney at

1/17/2011 5:12 PM

Is this brace good for me to play volleyball? i torn my acl, mcl, meniscus in 4 places, & sprained my pcl. Should i get another brace or this one?
Hello Whitney,

The DonJoy Armor is a great rigid brace. If you want the same protection in a lighter brace, also check out the DonJoy Full Force Ligament Knee Brace.

http://www.betterbraces.com/donjoy-full-force-ligament-knee-brace-28

From brian at

2/28/2012 5:32 PM

hey im a lineman in high school and i am a freshmen. i dont have any knee injuries im just trying to protect my knees. what knee brace is best for me besides the defiance?
Armor FP would be the best product for preventing ACL injuries as a football lineman.

From Matt at

5/23/2012 8:42 AM

Hi there i was looking on your sight about a knee brace that would help prevent injuries towards my right knee, i have a torn MCL and a slighty torn ACL i am a football athlete looking for something i can depend on. I was viewing the DonJoy Knee Brace with Standard Hinge. would this be something you recommend? With that said i also saw something about no delievy's to Canada, would this mean i cant purchase a brace from you're company?

Thank you for your time.

The Armor with FourcePoint Hinges are best for ACL injuries. You could use the standard hinge as well, it just provides less support specifically for the ACL. For Canadian orders please call our Canadian office at 866-866-5031.

From Brandon at

2/10/2013 2:13 AM

Does this brace come in any other colors?
Hello, Brandon -

No, this brace does not come in any other colors. The only braces that you are able to choose a color or pattern would be our custom Defiance braces.

Thank you and have a wonderful day!

From carol at

2/14/2013 11:23 PM

i don't know how to use the final strap, marked both 4 & 5,. directions are not clear
Hello, Carol -

Please refer to this link. You want to watch the video entitled DonJoy ACL Knee Brace Fitting. This video will teach you how to apply the strapping sequence appropriately.

http://www.djoglobal.com/education/videos

If you have further questions, please feel free to contact our product specialists at 888-405-3251.

Thank you and have a wonderful day!

From Lori at

4/3/2013 9:57 PM

Which Knee Compartment do I choose for an MCL/Meniscus tear injury?
thanks!
Hello, Lori -

If you have an MCL/Meniscus tear, the strapping does not affect these injuries. The strapping is for either ACL, PCL or CI (combined instability). It is normally recommended to choose ACL strapping, unless you know for sure you have PCL injury involvement because the ACL is the most commonly injured ligament.

Thank you and have a wonderful day!

From Nathalie at

6/16/2013 8:14 AM

hey,
I'm a girl of 16 years old and my knee is severely turned inside, about 60°.
Every day my acl hurts and sometimes my knee feels very unstable.
After gym sometimes it hurts so badly I can barely walk. 2 years ago I had a stress fracture. Since that day my acl feels unstable too.
Is there any brace you would recommend me?
Hello Nathlie,

Your Physician may better recommend a brace for you. What is your diagnosis?

We have a couple of ACL Braces, below find a link to those.



http://www.betterbraces.com/knee-braces/rigid-hinged-braces

thanks for contacting Donjoy.



From Tyler at

7/16/2013 10:32 AM

I have a meniscus tear but the ligaments are still in tact. Which knee compartment would you recommend for this brace?
Hello Tyler,

Are you interested in an Osteo Arthritis Brace? The Armor is not an OA Brace. Which compartment is affected, your medial or lateral?

Thanks for Contacting Donjoy.

From YOSHA at

8/1/2013 1:15 AM

Hello. I have an torn ACL, torn meniscus that was shaved down and removed debris and also little to no cartridge in my left knee. I recently purchased an armor action brace. Was that the wrong brace to purchase.
Hello Yosha,

The Armor is a great brace for the ACL. We also have Meniscus Knee braces if you are interested in providing off-loading to your knee. Please see the link below to learn about Arthritis Knee Braces.

http://www.djoglobal.com/products/donjoy/oa-fullforce-knee-brace

Thanks for Contacting Donjoy.

From John Jacobs at

8/31/2013 11:41 AM

I have an extreme bone contusion in my right knee on my Tibial Plateau. I am a serious wakeboard, and a high school pole vaulter. I am wondering about the support this brace will have on the bones in my knee? also i would like to know if it would prevent future bone contusions in my knee?
You should look at the Armor and the knee guard attachment that would give you the most support and protetction, i would also recommend a sports cover for when wakeboarding.

From Whay at

9/17/2013 6:02 PM

My thigh measures 17", calf 12 1/4", but my knee center is only 11 1/2". What size should I choose?
You should order a small. The Armor can be pushed in at the knee some to take up that gap and you can use a thicker condyle pad.

From Anne Thrax at

9/18/2013 7:45 AM

I torn my MCL and dislocated my knee cap playing Roller Derby. I would love to return to the sport, but need to wear a hinged brace. With so many options - I'm not sure which would work best for me.

The Tru-Pull Advanced with hinges will give you support for the MCL and the Tru-Pull will keep the kneecap in the groove and help keep it from dislocating derby on Anne!

From Jake at

9/25/2013 8:55 AM

I had and ACL reconstruction surgery and the front of my meniscus had to be removed 2 years ago and now my new ACL has stretched out a little but my LCL has also become stretched out and is not longer keeping my knee stable. My surgeon said surgery or wear a knee brace and right now I just can't go through another surgery so it will have to wait for a couple years. I'm 33 and don't really play sports or anything but I work all day and chase a toddler around after work and would like to be able to shoot some hoops from time to time and get back on a dirt bike. I just have a few questions.

1) Do I need to select the ACL option or the CI option?
2) Should I look at the standard hinge or the Forcepoint hinges?
3) Is the Armor the right brace for me or should I be looking at something else as I can't really find any of them that specifically say they are for the LCL and ACL combo. Thank you for your time.
Jake,

1. You would want to choose the ACL strapping option. The CI would pertain to those who also have PCL instability. The uprights are designed to give stability to the MCL and LCL. Going with ACL option will be perfect for you.
2. I would consider the Forece point hinge. They are designed with the ACL in mind. The ForcePoint hinge will react during leg extension and offer an increasing resistance in the last 35 degrees of extension, in order to reduce extension shock, protecting the ACL.
3. The armor is our strongest brace. It is thicker than any other we make. We recommend this brace to athletes in contact sports or those who work in rough environments, as it is very durable. This is a good option for you. If you are looking to compare and see what other choices you have I would recommend taking a look at the FullForce as well.

I hope this helps you out. If you have more questions please feel free to contact us again.


From Suzanne at

10/1/2013 10:29 AM

I have bone on bone on the right side of my right knee. It sometimes just gives out, doesn't hurt when it does it, but puts me on the ground. I need a brace to stabilize my knee until I can get it replaced (did the left one a little over a year ago). I also have post-polio syndrome, so I have weakness in the right leg, but I am more concerned about the stability of the knee. Which brace would work best? Thank you.
The OA Nano would be an excellent brace for your issue. You would order a lateral off loader to seperate the bones on the outside of the right knee and take that pressure off of the knee. It would also give stability to keep- your knee from giving out.

From carter at

11/7/2013 12:46 PM

So about a year and a half ago I tore my acl and pcl wakeboarding I am trying to get an idea of what the best brace for my situation would be. I still get pain every now and again especially when I am in the gym working it I play basketball 2 or 3 times a week but still feel like my knee is not stable. It's about to be snowboarding season and I need to invest in a brace that will hold my knee together in pretty much any situation. I guess my question is what brace is going to accomplish this better the armor or the defiance?
Carter
Both of these braces have the same technology, four-points of leverage strapping system and standard hinge. The difference is that the Defiance is custom made for your leg only whereas the Armor runs in sizes. If you were to measure your leg 6 inches above the mid-kneecap, 6 inches below mid-kneecap and around the center of your knee then check the sizing chart, if your measurements fall withing one of the sizes that would be the size you would need. If you thigh measures on size and the calf a different size then you would want to go with the Defiance because we will make it to the shape of your leg. Either brace will give you excellent protection while snowboarding.

From Albert at

12/1/2013 9:54 PM

I had PCL Reconstruction and still have minor stretching of the MCL. What would be the best brace for me when doing activities like Martial arts (e.g. Wrestling, Hapkido, and Ju-jitsu etc.), and Running. When running or sprinting to be exact I feel the tibia start to shift forward and back wards. Would the braces help stop or limit this movement?
Hello Albert,

I recommend looking at Donjoy's ACL/PCL Braces. We recommend the Armor for contact sports, or the Full-fource for non-contact sports/activities. Please take a look at the link below.
http://www.betterbraces.com/knee-braces/rigid-hinged-braces

Thanks for Contacting Donjoy.

From Todd at

1/1/2014 2:06 PM

I have a completely torn PCL from a hockey injury but my other ligaments and meniscus are completely normal. I have not had surgery and just rehabbed my knee. I have no pain or loss of function. I would like to go skiing and was wondering if you would recommend just the PCL version or the combination PCL and ACL version to prevent damage to the ACL.
Todd
The donJoy Armor with a standard hinge PCL strapping and short calf is what you want

From Mike at

4/24/2014 7:23 AM

I tore my lcl in my left knee playing football and I was wondering what brace options should I choose for the don joy armor
Mike
You should get the standard Hinge with CI strapping, and depending on your height, if over 5'2" get the standard calf length

From Chris V at

5/29/2014 7:55 AM

I'm an amateur strongman, so I carry extremely heavy loads over various distances. As an example, carrying a 350 pound block of concrete 50 feet in a straight line, turning back and carrying it back. Walking in a straight line with 800 pounds across my shoulders or holding 250+ pounds in each hand is also fairly common. Additionally, I have moderate-severe OA in both knees, mostly on the lateral compartment of each.

Which braces have the best chance of providing some support and stability while also withstanding that sort of loading?
Chris
Take a look at the DonJoy FullForce OA brace. http://www.betterbraces.com/oa-fullforce-knee-brace This brac is for mild to moderate OA and you can get it for the lateral compartment of your knees. The brace is lightwieght and low profile so you can wear it during your strongman stuff.

From Eric at

6/11/2014 10:30 AM

I'm an ocean lifeguard and an avid surfer and skimboarder. I was wondering if I could wear my DonJoy in the ocean regularly? Will the saltwater corrode the brace at all? Thank you!
Eric
You can wear the brace in the salt water just make sure to rinse the hinge afterwards to make sure no sand gets caught inside.

From Bea at

9/8/2014 7:04 AM

I had tkr 4 yrs ago. 6 mos after in rehab I had a moderate strain of mcl. Since have strained LDL and have moderate to severe hyperextension due to weakened Pcl.
I cannot undergo surgery now. The therapist has tried several donjoy braces but none prevent my knee from hyper extending even with limiting the hinging. What do you recommend? I do yoga and Pilates along w biking and elliptical. I cannot walk or play tennis. Comfort is important.
Bea
The only brace that will have the possiblity of limiting your hyperexteion would be a rigid knee brace with our fourcepoint hinge and extension stops. The hinge has resistance to extension and the stops will further decrease the movment but if you have already tried these products there may be no other option. You should speak to your therapist and physician for any other avilable treatments if bracing has not worked

From Michael Connoly at

9/28/2014 11:50 AM

I am recovering from an MCL strain, with a possible small tear in my medial meniscus. Which DonJoy brace would offer the best protection and support for both the MCL and the medial meniscus?
Michael
Any of our rigid knee braces with the standard hinge will protect the MCL and meniscus. It depends on what you would be doing in the brace. The Armor is for contact activities because the frame is stronger than some of our other braces.

From Dave at

10/1/2014 9:13 AM

I dislocated my knee cap and have slight ligament damage to mcl,lcl. Acl is fine. I am returning to football at the varsity high school level. What brace would you recommend? Donjoy armour CI version?
Dave
I would suggest the DonJoy Armor with the fourcepoint hinge, and also get the accessory Tru-Pull attachement. The fourcepoint hinge will protect the knee and the tru-pull attachement can be attached to it to keep the kneecap tracking correctly. http://www.betterbraces.com/donjoy-armor-knee-brace-with-fourcepoint-hinge http://www.djoglobal.com/products/donjoy/tru-pull-advanced-attachment
The tru-Pull attachment is not available on BetterBraces, it will need to be ordered from DJO Global direct 800-336-6569

From Eliot at

10/7/2014 11:26 AM

Hello:
I'am a mountain bike rider, in a competitive way, weeks ago I had an accident, in the MRI I have a stretching MCL 2-3 degree and a contusion on the femoral condyle.
Which knee brace is the one that I need? I'am thinking to come back again to the sport. The one that I have on mind is the Armor extreme,
Any advise ? Tks!!!
The Armor would be a good choice for a brace. It wil protect your kne and can be worn while riding your bike

From Tom at

11/27/2014 6:00 PM

I have a partially torn ACL and need a brace for tennis and skiing. I'm 5'11".
1. Will a short brace provide the proper protection for tennis or do I need both a standard and a short brace?
2. Is there any difference in the comfort and migration between a standard length brace and a short length brace?
Tom
In order to ski in the brace you will have to get the short calf, so that the brace will fit with the boots. The short calf is fine for other sports as well. The short calf will provid e better fit and avoid migration better

From Jesus at

12/4/2014 6:04 PM

From Helena Brack at

12/18/2014 10:43 AM

From Peter at

12/22/2014 7:54 AM

I've sprained my MCL and am looking for some protection and support heading to a long-awaited skiing trip. In the 'knee compartment' selection, MCL is not an option; the choices are ACL, CI and PCL. Which is the best option? Or is there a better suggestion for protecting the MCL during skiing/snowboarding? Thank you.
Peter
You will want to choose the CI strapping for a MCL injury. This will give you the most support for your knee.

From Bill at

2/1/2015 3:10 PM

My right knee hyperextends due to nerve damage from back surgery. I currently wear a KAFO due to the knee collapsing after the back surgery. The knee has gotten stronger over the last year and has not collapsed when I don't wear the KAFO. I would like to wear a smaller knee brace that is hinged and will allow normal walking movement. I would wear this brace mostly around the house and out walking. What is your recommendation for a knee brace?
Bill
The Armor Knee brace will provide that support that you want. Good choice, it also comes with extension stops that you can add if you need to to prevent hyper-extension

From Brian at

4/7/2015 1:05 PM

Would the "short" version of the Armor brace give me a better chance of being able to still wear my cowboy boots? I just had my PCL replaced 6 weeks ago and want out of the immobilizer and into a good everyday brace
Brian
Yes the short calf would wrok better with your boots

From D.M. at

5/30/2015 2:02 PM

I try to do a myriad of exercises for variation and flexibility. I am mainly concerned in preventing "ANY and All" knee damage when I do long-bar deadlifts, kettlebell deadlifts, bicycling, rowing, speed walking, and advanced aerobic routines. The DonJoy Armor Knee Brace with Standard Hinge has my attention of choice. Do you have a better recommendation? Please let me know as I want to purchase immediately for both knees as I have a decade of history of on-off meniscus and ligament moderate injuries with excellent recoveries, but hope braces will minimize further damage in future workouts. Please let me know. Thanks.
The Don Joy Armor Knee brace is one of the best braces we have and should work to protect you knees well

From John Neth at

6/22/2015 10:16 AM

I have been wearing the brace for about a year and a half. I have no patella in my left leg. Brace helps a lot and it will be a long term item. Where can I get replacement pads which go on the frame itself and the foam that goes on the straps. Thanks JOhn
We have a complete replacement softgoods kit for the Armor Knee Brace, you can order it by clicking this link: http://www.betterbraces.com/donjoy-armor-fourcepoint-ci-full-replacement-kit

From kekahi at

6/28/2015 12:55 AM

Hi im a sophmore football player and i suffer from moderate to severe jumpers knee, it varies from the two and im looking for a good suitable hinged brace to help me recover and prevent furthermore damage. What brace do you consider to be the best fit for my predicaments?
Hello Kekahi!

I would recommend the DONJOY ARMOR FOURCEPOINT KNEE BRACE while doing any extreme or contact support. It will give you the moderate to severe support for any instabilities, recovery and hyperextension prevention.

Thanks,
Christine de Luna
Ask Your Own Question
You'll receive your answer via email either the same or next business day
You may also be interested in the following product(s)
| | | | |
| --- | --- | --- | --- |
| Increases comfort and minimizes chafing from the brace by protecting the skin. Easy to apply. Machine washable for convenience. | The strongest and most supportive off-the-shelf knee brace for contact sports with added ACL support via the FourcePoint Hinge. | Helps protect others from your brace during sports, as well as keeping dirt and debris away from the brace hinges. | To help prevent pinching of skin between your brace and ski boot. |