You're currently on:
>

Bracing for Knee Osteoarthritis
Bracing Provides Relief for Knee Osteoarthritis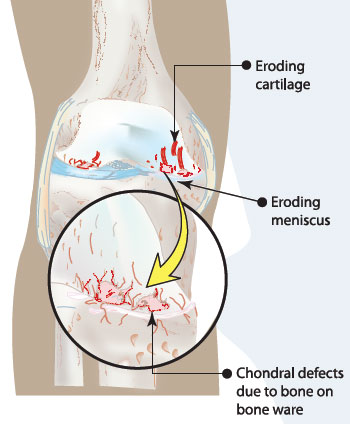 Knee osteoarthritis (OA) is one of the most common causes of disability. Persons with knee pain resulting from OA often cannot perform activities of daily living, work, and sports.

Your chance of suffering from knee OA increase with age. About 10% of persons over the age of 65 years will suffer from symptomatic knee OA. The number of Americans older than 65 is expected to double in the next 25 years making knee OA a condition that will plague many Americans. The risk of knee OA is significantly increased if a person is obese, involved in occupational bending and lifting, or suffered from a pervious knee injury or surgery.

Many therapies for knee OA have been proven to be effective. However, for patients to achieve a high quality of life the physician must consider biomechanical interventions, rather than just relying on surgery or medications.

Knee bracing is one of the non-surgical and non-pharmacologic therapies for knee OA. Benefits include correction of malalignment, reduction of the load across the involved compartment, reduction of the varus moment, increased proprioception, stabilization of an unstable knee, and increased patient perception of stability. With their rigid shells and hinge systems, well-fit knee OA knee braces provide patients with increased stability.




Shop our selection of Knee Braces for Osteoarthritis (OA)